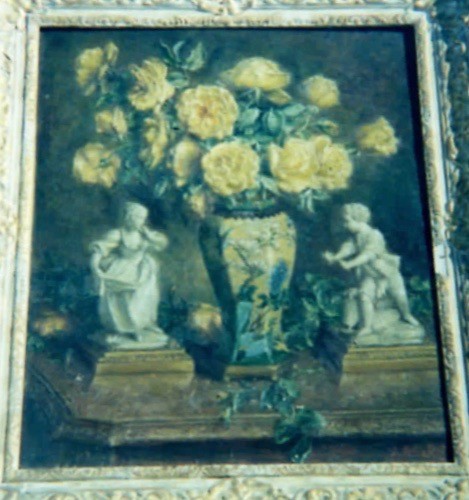 Yellow Roses with Bisque Statuettes
Description:
Two statuettes on gilded bases either side of a vase filled with yellow roses, and standing on the edge of a commode, oil on canvas, 30" x 24.3/4". Signed and dated lower right 'A. Muller Ury 19(3)5'. (The date is indistinct.)
Location:
Private collection.
Provenance:
By family descent from H. O. Havemeyer (died 1965) to the late Mrs. Sophie Bigelow (Mrs Peter Quinn).
Notes
Henry O. Havemeyer Sr. wrote in a letter to Nadea Loftus dated May 26, 1960 (original in the editor's possession) that he owned four rose paintings by Muller-Ury.
This was the only picture by Muller-Ury for which the Wildenstein Gallery retained a photograph in their archives.
Notice
: id was called
incorrectly
. Product properties should not be accessed directly. Backtrace: require('wp-blog-header.php'), require_once('wp-includes/template-loader.php'), include('/themes/proud/woocommerce/single-product.php'), wc_get_template_part, load_template, require('/themes/proud/woocommerce/content-single-product.php'), woocommerce_output_related_products, woocommerce_related_products, wc_get_template, include('/themes/proud/woocommerce/single-product/related.php'), WC_Abstract_Legacy_Product->__get, wc_doing_it_wrong Please see
Debugging in WordPress
for more information. (This message was added in version 3.0.) in
/var/www/wp-includes/functions.php
on line
4903
Notice
: id was called
incorrectly
. Product properties should not be accessed directly. Backtrace: require('wp-blog-header.php'), require_once('wp-includes/template-loader.php'), include('/themes/proud/woocommerce/single-product.php'), wc_get_template_part, load_template, require('/themes/proud/woocommerce/content-single-product.php'), woocommerce_output_related_products, woocommerce_related_products, wc_get_template, include('/themes/proud/woocommerce/single-product/related.php'), WC_Abstract_Legacy_Product->__get, wc_doing_it_wrong Please see
Debugging in WordPress
for more information. (This message was added in version 3.0.) in
/var/www/wp-includes/functions.php
on line
4903