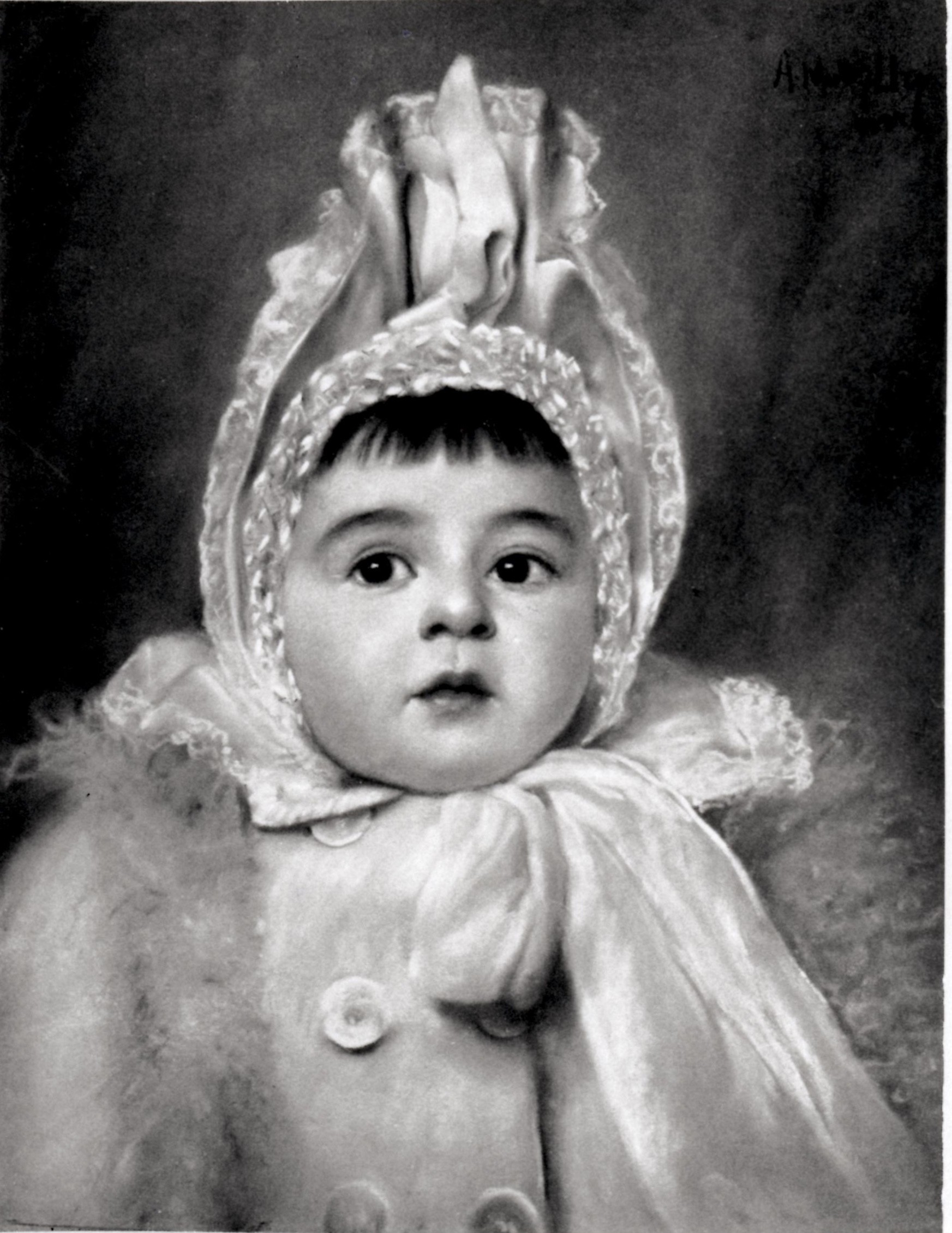 WASSERMANN, Miss
Location:
Present whereabouts unknown.
Exhibition:
A portrait of a baby from the Wasserman family was exhibited at M. KNOEDLER & CO., 170, Fifth Avenue (corner Twenty-second Street), New York, February 1 – 15, 1894.
Notes
The photograph in the artist's files is almost certainly mislabeled by the artist, as he was not known to have painted a 'Miss Havemeyer' in 1893/4 and the only picture of a baby currently known is this one that was painted at the same time as Monsignor Satolli, and is visible in photographs of his studio in the Sherwood taken at this time, and this picture would fit with the February 1894 Knoedler exhibition.
Muller-Ury is recorded in the New York Tribune, Tuesday, February 16, 1904 as attending a dinner given by Mr. and Mrs. Edward Wassermann at 33 West 56th Street, followed by a musical the previous Saturday, attended by Mr. and Mrs. D. Guggenheim, Walter Damrosch, Mr. and Mrs. E. Berry Wall, and Mr. and Mrs. Henry Seligman.
Notice
: id was called
incorrectly
. Product properties should not be accessed directly. Backtrace: require('wp-blog-header.php'), require_once('wp-includes/template-loader.php'), include('/themes/proud/woocommerce/single-product.php'), wc_get_template_part, load_template, require('/themes/proud/woocommerce/content-single-product.php'), woocommerce_output_related_products, woocommerce_related_products, wc_get_template, include('/themes/proud/woocommerce/single-product/related.php'), WC_Abstract_Legacy_Product->__get, wc_doing_it_wrong Please see
Debugging in WordPress
for more information. (This message was added in version 3.0.) in
/var/www/wp-includes/functions.php
on line
4986
Notice
: id was called
incorrectly
. Product properties should not be accessed directly. Backtrace: require('wp-blog-header.php'), require_once('wp-includes/template-loader.php'), include('/themes/proud/woocommerce/single-product.php'), wc_get_template_part, load_template, require('/themes/proud/woocommerce/content-single-product.php'), woocommerce_output_related_products, woocommerce_related_products, wc_get_template, include('/themes/proud/woocommerce/single-product/related.php'), WC_Abstract_Legacy_Product->__get, wc_doing_it_wrong Please see
Debugging in WordPress
for more information. (This message was added in version 3.0.) in
/var/www/wp-includes/functions.php
on line
4986