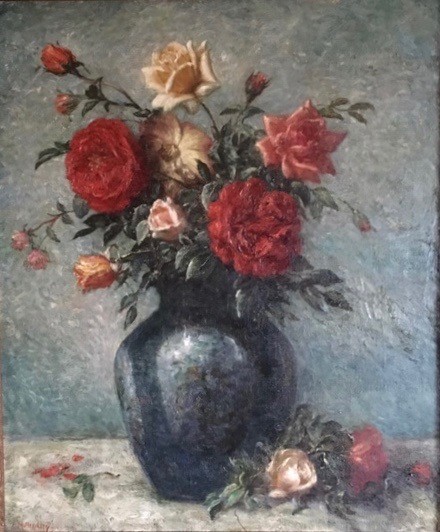 Variety of Roses in a Chinese Vase
Description:
Oil on canvas, 24" x 20" (61 x 51 cm), signed lower left 'A. Muller-Ury'. The frame bears a label of the Newcomb-Maclin Co., New York.
Location:
K. J. E. Gavin Esq., London.
Provenance:
Alexander Macdonald, an employee of the Duveen Brothers offices at 4, Grafton Street, London in the 1920s and 1930s. By descent to his son, Donald Macdonald, Street, Somerset.
Unsold, Phillips Auctioneers, Bath, Avon, November 16, 1999, Lot 83, illustrated in colour inside back cover of catalogue.
Sold, Phillips Auctioneers, Bath, Avon, March 15, 1999, Lot 164 (£650.00 or $1053 Dollars).
Mallams, Oxford, Wednesday 18th October, 2017, Lot 261, Est. £300-500, bizarrely catalogued as "Adolph Phelix Muller-Ury: Still life – a stoneware vase of roses and peonies, signed, oil on canvas, 59 x 49cm". Sold to K. J. E. Gavin Esq.
Notes
The picture dates from about 1930. Contrary to the descriptions in auction catalogues there are no paeonies in the composition.
The fact that it belonged to a Duveen employee in London raises the faint possibility that this is actually the still life Muller-Ury sent to Dorothy Duveen on her marriage to William Garthwaite in 1931. Certainly, no picture by Muller-Ury was found in her estate in the 1980s, which is corroborated by the comment made by an audience member who had known her after a lecture given by the editor at the Swiss Embassy that 'Dolly' Duveen had sold off a great many of her possessions.
Notice
: id was called
incorrectly
. Product properties should not be accessed directly. Backtrace: require('wp-blog-header.php'), require_once('wp-includes/template-loader.php'), include('/themes/proud/woocommerce/single-product.php'), wc_get_template_part, load_template, require('/themes/proud/woocommerce/content-single-product.php'), woocommerce_output_related_products, woocommerce_related_products, wc_get_template, include('/themes/proud/woocommerce/single-product/related.php'), WC_Abstract_Legacy_Product->__get, wc_doing_it_wrong Please see
Debugging in WordPress
for more information. (This message was added in version 3.0.) in
/var/www/wp-includes/functions.php
on line
4778
Notice
: id was called
incorrectly
. Product properties should not be accessed directly. Backtrace: require('wp-blog-header.php'), require_once('wp-includes/template-loader.php'), include('/themes/proud/woocommerce/single-product.php'), wc_get_template_part, load_template, require('/themes/proud/woocommerce/content-single-product.php'), woocommerce_output_related_products, woocommerce_related_products, wc_get_template, include('/themes/proud/woocommerce/single-product/related.php'), WC_Abstract_Legacy_Product->__get, wc_doing_it_wrong Please see
Debugging in WordPress
for more information. (This message was added in version 3.0.) in
/var/www/wp-includes/functions.php
on line
4778