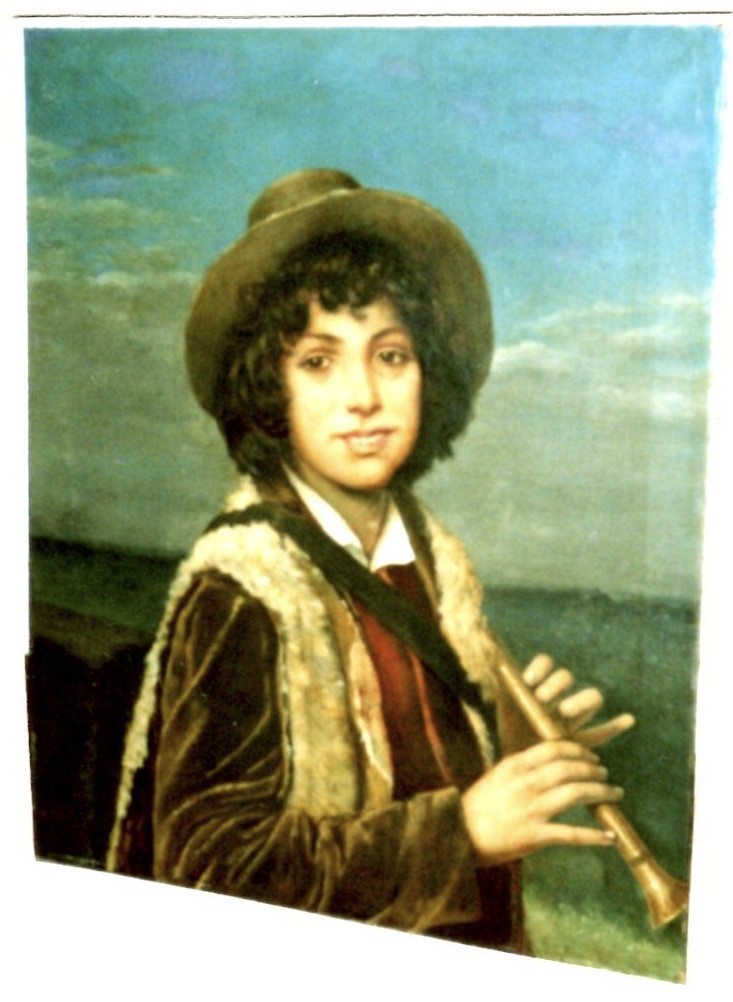 Shepherd Boy from Bergamo
Description:
Half-length, standing against a sky, wearing a gilet of sheepskin over a brown jacket? and wearing a hat on the back of his head, and holding a flute. Oil on canvas 73 x 60 cm.
Location:
Private Collection, Swizerland.
Provenance:
Mrs. Rene Blaser-Müller, Lucerne, Switzerland to 2010.
Notes
An early picture, painted about 1883-84. The picture has been cut down as the paint surface extends around the stretcher revealing cut edges. It is reminiscent of some of the work of Frank Buchser (1828-90) an artist who went to the United States at the time of the American Civil War.  It had three patched holes as at July 2010.
Notice
: id was called
incorrectly
. Product properties should not be accessed directly. Backtrace: require('wp-blog-header.php'), require_once('wp-includes/template-loader.php'), include('/themes/proud/woocommerce/single-product.php'), wc_get_template_part, load_template, require('/themes/proud/woocommerce/content-single-product.php'), woocommerce_output_related_products, woocommerce_related_products, wc_get_template, include('/themes/proud/woocommerce/single-product/related.php'), WC_Abstract_Legacy_Product->__get, wc_doing_it_wrong Please see
Debugging in WordPress
for more information. (This message was added in version 3.0.) in
/var/www/wp-includes/functions.php
on line
4986
Notice
: id was called
incorrectly
. Product properties should not be accessed directly. Backtrace: require('wp-blog-header.php'), require_once('wp-includes/template-loader.php'), include('/themes/proud/woocommerce/single-product.php'), wc_get_template_part, load_template, require('/themes/proud/woocommerce/content-single-product.php'), woocommerce_output_related_products, woocommerce_related_products, wc_get_template, include('/themes/proud/woocommerce/single-product/related.php'), WC_Abstract_Legacy_Product->__get, wc_doing_it_wrong Please see
Debugging in WordPress
for more information. (This message was added in version 3.0.) in
/var/www/wp-includes/functions.php
on line
4986