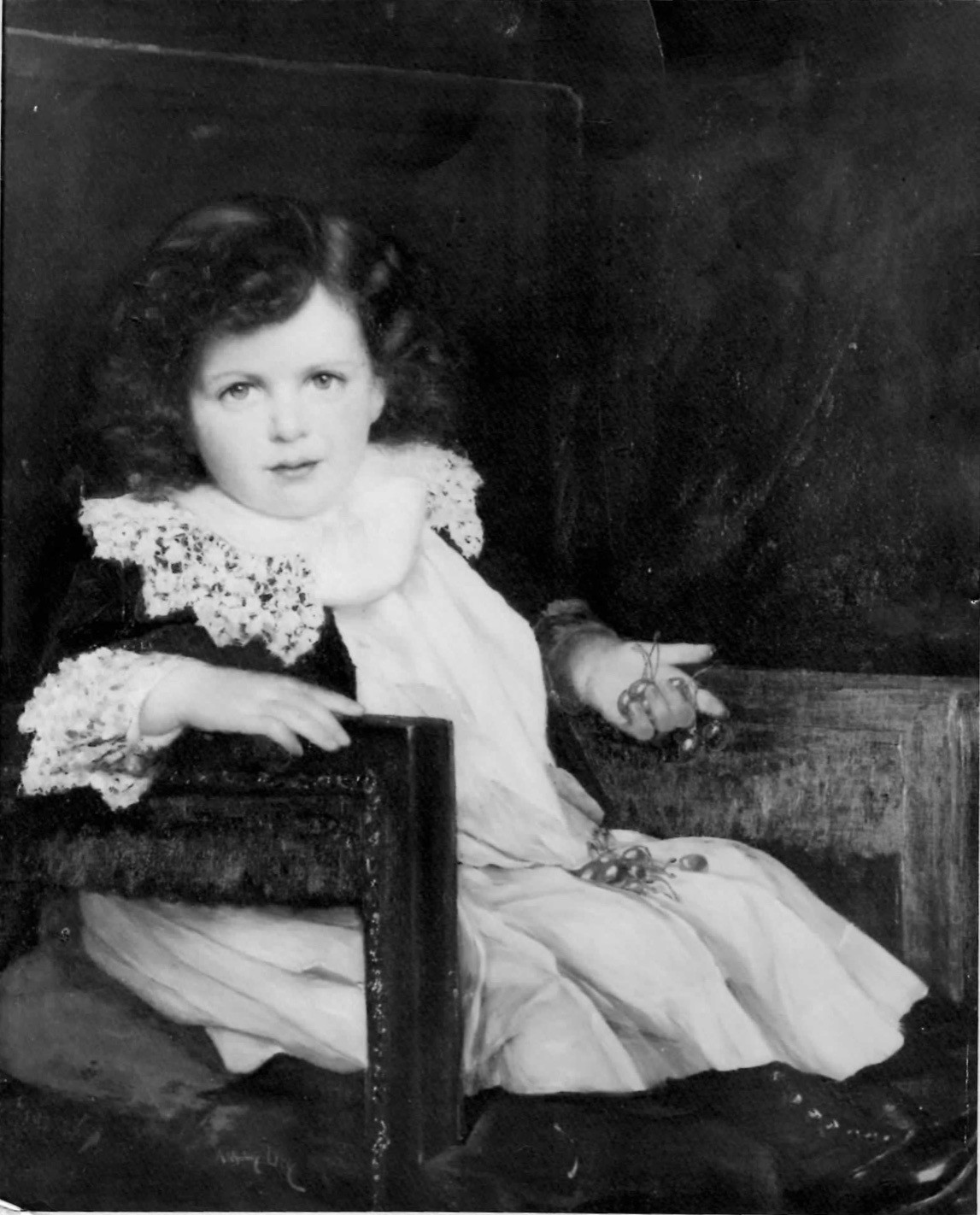 SELIGMAN, Joseph Lionel
Description:
A little boy, wearing a huge frilled collar and cuffs, seated with one arm holding the arm of the chair, cherries in his lap and his left hand. Oil on canvas, 32" x 24" (81.3 cm x 61 cm). Signed lower centre left 'A. Muller-Ury'.
Location:
Private Collection, San Francisco, California, USA.
Exhibition:
A picture of 'Master J. J.[sic] Seligman', which must be this sitter, was exhibited at the Artist's studio, 58, West 57th Street, New York, January 12 & 13, 1892.
Bibliography:
Evening Post, New York, January 16, 1892.
Notes
Joseph Lionel Seligman was born in New York on 18 April 1887, the son of Isaac Newton Seligman, became a partner in the firm of J. & W. Seligman on January 1, 1917; he retired from the firm on December 31, 1920. He married Josephine Knowles (1889-1985). Their daughter Muriel Guta Seligman died as a one year old in 1920. He was an army officer in the First World War, and a Navy officer in the second. He died in Pensacola, Florida on 8 April 1944.
Notice
: id was called
incorrectly
. Product properties should not be accessed directly. Backtrace: require('wp-blog-header.php'), require_once('wp-includes/template-loader.php'), include('/themes/proud/woocommerce/single-product.php'), wc_get_template_part, load_template, require('/themes/proud/woocommerce/content-single-product.php'), woocommerce_output_related_products, woocommerce_related_products, wc_get_template, include('/themes/proud/woocommerce/single-product/related.php'), WC_Abstract_Legacy_Product->__get, wc_doing_it_wrong Please see
Debugging in WordPress
for more information. (This message was added in version 3.0.) in
/var/www/wp-includes/functions.php
on line
4903
Notice
: id was called
incorrectly
. Product properties should not be accessed directly. Backtrace: require('wp-blog-header.php'), require_once('wp-includes/template-loader.php'), include('/themes/proud/woocommerce/single-product.php'), wc_get_template_part, load_template, require('/themes/proud/woocommerce/content-single-product.php'), woocommerce_output_related_products, woocommerce_related_products, wc_get_template, include('/themes/proud/woocommerce/single-product/related.php'), WC_Abstract_Legacy_Product->__get, wc_doing_it_wrong Please see
Debugging in WordPress
for more information. (This message was added in version 3.0.) in
/var/www/wp-includes/functions.php
on line
4903