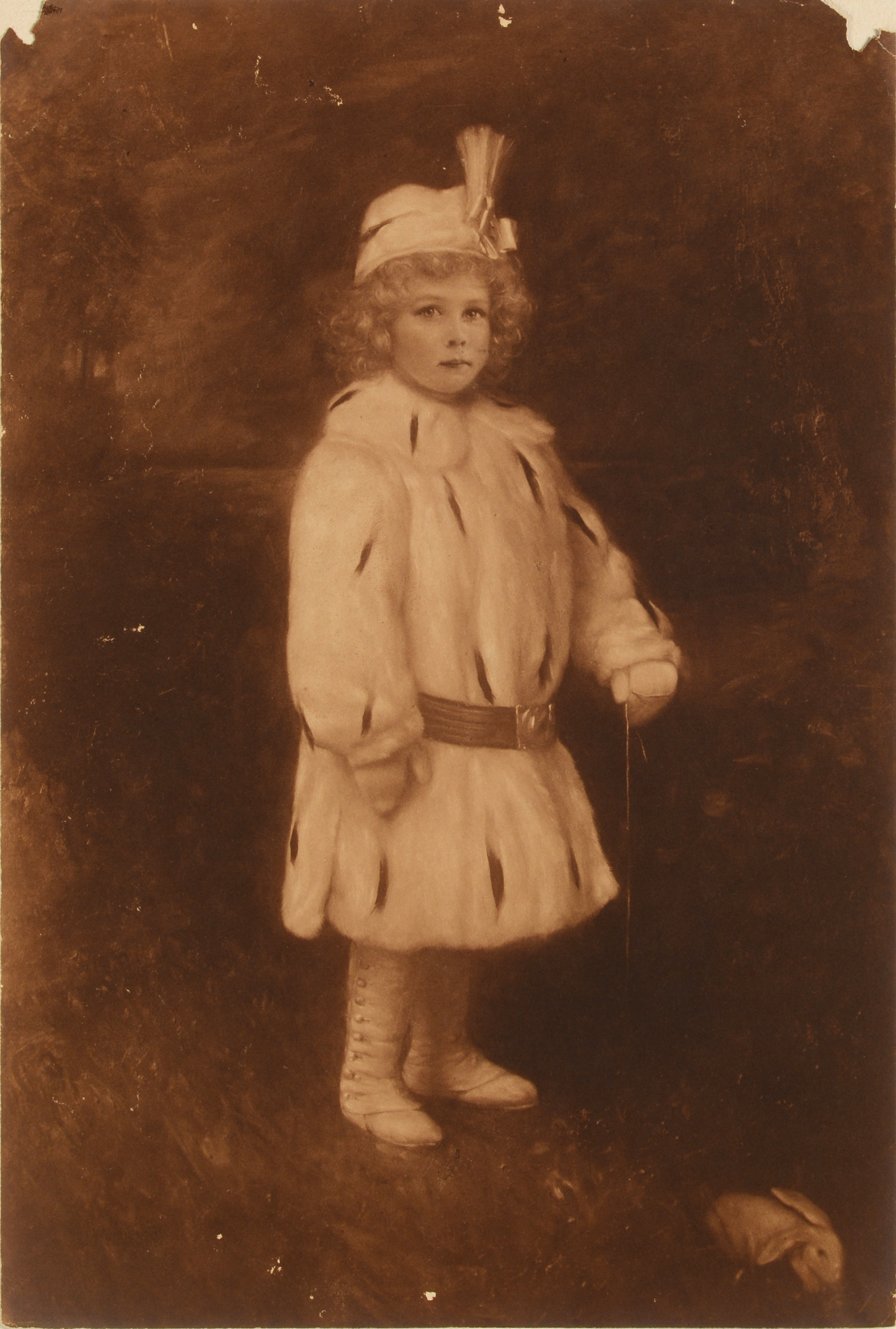 SEILERN, Count Antoine
Description:
Full length standing in a landscape as a little boy, facing right, dressed in ermine, a rabbit on a string.
Location:
Present whereabouts unknown.
Exhibitions:
M. KNOEDLER & CO., 355, Fifth Avenue (corner of Thirty-fourth Street), New York, January 13 – 23, 1907, No. 5 ('Count S.').
THE CORCORAN GALLERY OF ART, Washington D.C., February 4 – 19, 1908, No. 4.
Bibliography:
Daily Eagle, Brooklyn, January 14, 1908
New York Sun, January 18, 1908
American Art News, Vol. 6, No. 14, New York, January 18, 1908, p. 6, merely stating it was 'a full length of a little boy.'
Catholic News, New York, January 18, 1908
Stephen Conrad, "Re-introducing Adolfo Müller-Ury (1862-1947): The artist, two dealer, four counts and the Kaiser: a hitherto unknown episode in international art history" in The British Art Journal, Vol. 4, No. 2, (2003) pp. 57-65.
Notes
Count Antoine Edward Seilern und Anspang was born in Frensham, Surrey, on 17 September 1901. He was the youngest of the three sons of the Austrian Count Carl Seilern und Aspang (1866–1940) and the American heiress Antoinette "Nettie" née Woerishoffer (1875-1901). He therefore enjoyed citizenship of both Austria and the United Kingdom. Muller-Ury was a close friend of his mother and father and he had acted as an usher at their wedding in New York in February 1898, and, along with the other ushers, had been given a gold cigarette box by 'Carlo' Seilern by way of thanks. Seilern's ancestors had been ennobled after successful involvement with the Pragmatic Sanction of 1713. His father's sister Ida was married to Phillip Hennessy, whose sister Nora was the wife of the Royal Academician, Lord Methuen. He was both an art collector and an art historian. He was considered to be one of a handful of important collectors who was also a respected scholar. Seilern died in hospital in London in the early hours of 6 July 1978 (31 years to the day after Muller-Ury). He was buried on 13 July in the churchyard in Frensham, Surrey. His family later had the body exhumed and had it re-interred in the family vault at Schloss Schönbühel, approximately 80 km west of Vienna. The bulk of his very important art collection, rich in old masters, particularly Rubens, Tiepolo and Michelangelo Drawings, was bequeathed to the Courtauld Institute of Art in London.
—
The original of the two versions.
The pose was later used for BERCKMANNS, Bruce.
Notice
: id was called
incorrectly
. Product properties should not be accessed directly. Backtrace: require('wp-blog-header.php'), require_once('wp-includes/template-loader.php'), include('/themes/proud/woocommerce/single-product.php'), wc_get_template_part, load_template, require('/themes/proud/woocommerce/content-single-product.php'), woocommerce_output_related_products, woocommerce_related_products, wc_get_template, include('/themes/proud/woocommerce/single-product/related.php'), WC_Abstract_Legacy_Product->__get, wc_doing_it_wrong Please see
Debugging in WordPress
for more information. (This message was added in version 3.0.) in
/var/www/wp-includes/functions.php
on line
4903
Notice
: id was called
incorrectly
. Product properties should not be accessed directly. Backtrace: require('wp-blog-header.php'), require_once('wp-includes/template-loader.php'), include('/themes/proud/woocommerce/single-product.php'), wc_get_template_part, load_template, require('/themes/proud/woocommerce/content-single-product.php'), woocommerce_output_related_products, woocommerce_related_products, wc_get_template, include('/themes/proud/woocommerce/single-product/related.php'), WC_Abstract_Legacy_Product->__get, wc_doing_it_wrong Please see
Debugging in WordPress
for more information. (This message was added in version 3.0.) in
/var/www/wp-includes/functions.php
on line
4903