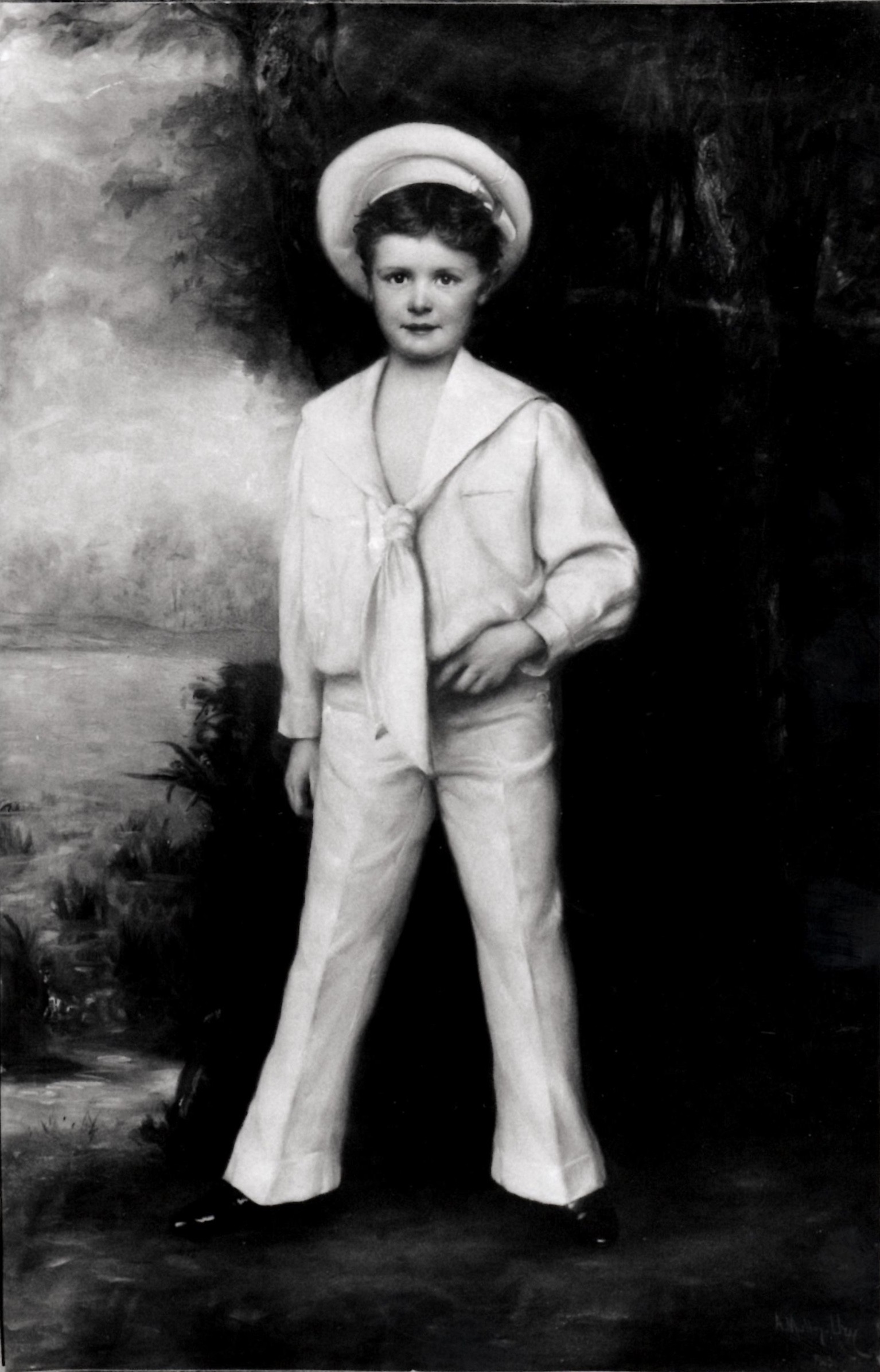 SCHWAB, Charles Munhall
Description:
Full-length standing in a woodland, dressed in cream flannel suit with round cap, legs astride.
Location:
Present Whereabouts Unknown.
Bibliography:
Town & Country, August 22, 1903, 'A Successful Portrait Painter', by S. E. Leisha, p.21 (reproduced)
Broadway Magazine, March 1904, p.459.
Notes
The sitter was born 18 February 1897 and died in Morristown, New Jersey, on 3 May 1976. He was the son of Mr. Joseph Edward Schwab (born 23 February 1864, Williamsburg, Pennsylvania; died New York, February 1922, aged 57) and his wife Esther Bonner Munhall (died Loretto, PA, August 1922, aged 51) daughter of John Munhall, oil and coal producer, one of the business partners with his brother, Charles Michael Schwab. He was the nephew of Charles Michael Schwab and was born on the same day as his uncle and named after him (The Broadway Magazine wrongly states that he was the son of Charles M. Schwab.) He had a younger sister called Dorothy.  His parents separated in 1907 when Charles was 9 and Dorothy 3 according to the New York Times 16 December 1907. He married Margaret Lillia Lethbridge who was born in May 1898 and died on 8 March 1961. They had two children, Charles Munhall Schwab Jr. (September 20, 1923 – April 27, 2004) who married Margaret Ann Lothrop (1927-2003) and Peggy Schwab (August 9, 1925 – April 12, 2016) who married Alfred Schanze Pfeil Jr. (1927-2011).
Painted in March 1903.
Notice
: id was called
incorrectly
. Product properties should not be accessed directly. Backtrace: require('wp-blog-header.php'), require_once('wp-includes/template-loader.php'), include('/themes/proud/woocommerce/single-product.php'), wc_get_template_part, load_template, require('/themes/proud/woocommerce/content-single-product.php'), woocommerce_output_related_products, woocommerce_related_products, wc_get_template, include('/themes/proud/woocommerce/single-product/related.php'), WC_Abstract_Legacy_Product->__get, wc_doing_it_wrong Please see
Debugging in WordPress
for more information. (This message was added in version 3.0.) in
/var/www/wp-includes/functions.php
on line
4903
Notice
: id was called
incorrectly
. Product properties should not be accessed directly. Backtrace: require('wp-blog-header.php'), require_once('wp-includes/template-loader.php'), include('/themes/proud/woocommerce/single-product.php'), wc_get_template_part, load_template, require('/themes/proud/woocommerce/content-single-product.php'), woocommerce_output_related_products, woocommerce_related_products, wc_get_template, include('/themes/proud/woocommerce/single-product/related.php'), WC_Abstract_Legacy_Product->__get, wc_doing_it_wrong Please see
Debugging in WordPress
for more information. (This message was added in version 3.0.) in
/var/www/wp-includes/functions.php
on line
4903