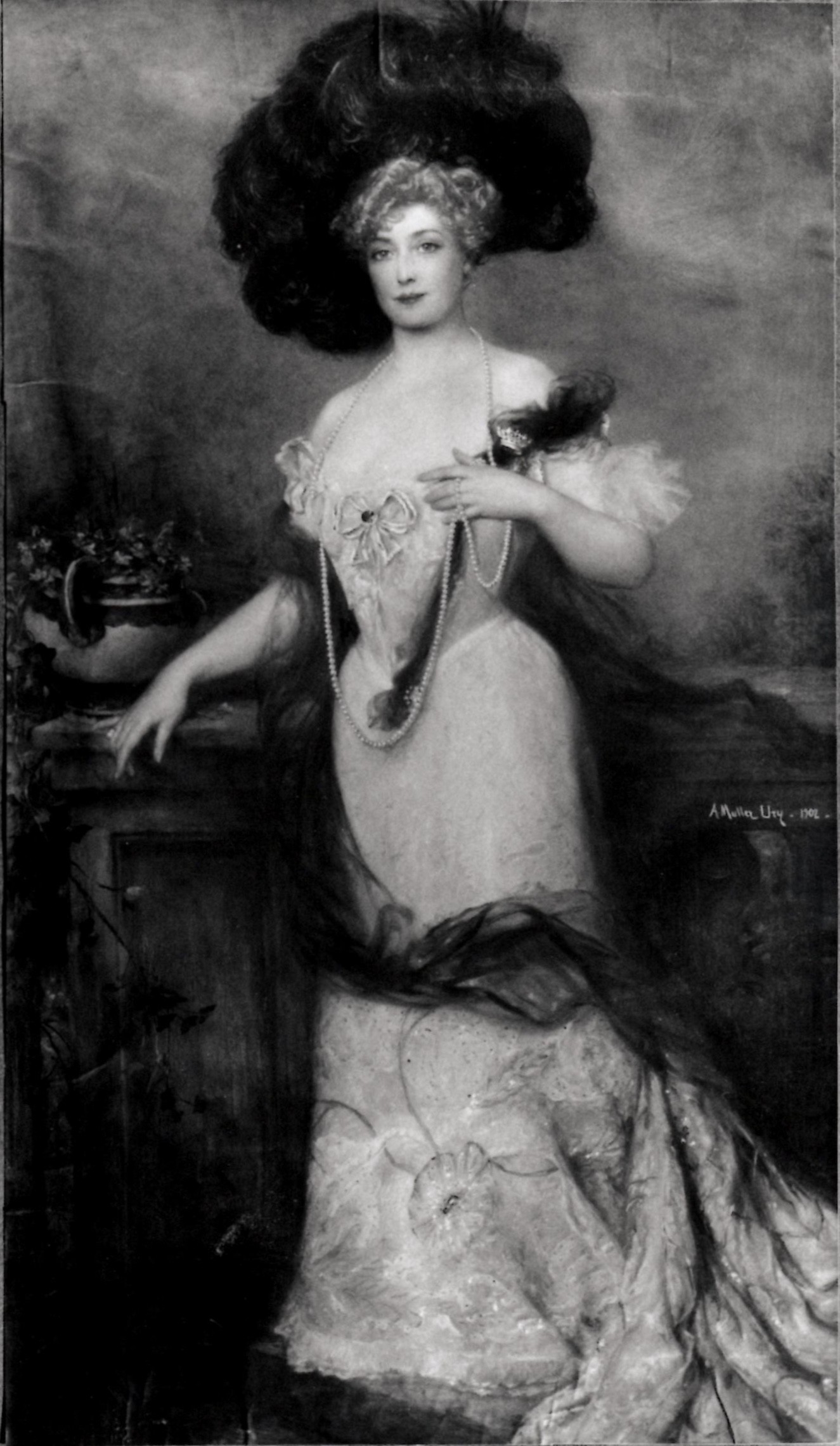 RUSSELL, Lillian
Description:
Full-length portrait standing by a balustrade. Signed and dated centre right 'A. Muller-Ury 1902'.
Location:
Present Whereabouts Unknown.
Exhibition:
A full-length portrait was shown by Müller-Ury at a studio tea on April 7, 1902, (New York Journal, April 8, 1902).
NOE ART GALLERIES, 368, Fifth Avenue, New York, January 5 – 19, 1903.
Bibliography:
New York Journal, April 8, 1902
New York Evening Telegram, January 7, 1903
Art Interchange, February 1903
Notes
Lillian Russell was born in Clinton, Iowa on December 4, 1861 but brought up and educated in Chicago. She studied music under Leopold Damrosch. She was married four times, lastly to Alexander P. Moore, the editor of the Pittsburgh (Pa.) Leader, on June 11, 1912. She sang in theatrical and opera companies, and frequently appeared in vaudeville. She was active in the Red Cross and the Liberty Loan campaigns during the First World War. She died on June 6, 1922.
Bibliography:
P. Morell, Lillian Russell: The Era of Plush, New York, 1940.
Armond Fields, Lillian Russell: A Biography of "America's Beauty", Jefferson, North Carolina, 1999.
—
A theatre in Philadelphia, originally owned by the B. F. Keith organization, may possibly have possessed this full-length portrait in their Lillian Russell Room around the time of the sitter's death.
Notice
: id was called
incorrectly
. Product properties should not be accessed directly. Backtrace: require('wp-blog-header.php'), require_once('wp-includes/template-loader.php'), include('/themes/proud/woocommerce/single-product.php'), wc_get_template_part, load_template, require('/themes/proud/woocommerce/content-single-product.php'), woocommerce_output_related_products, woocommerce_related_products, wc_get_template, include('/themes/proud/woocommerce/single-product/related.php'), WC_Abstract_Legacy_Product->__get, wc_doing_it_wrong Please see
Debugging in WordPress
for more information. (This message was added in version 3.0.) in
/var/www/wp-includes/functions.php
on line
4903
Notice
: id was called
incorrectly
. Product properties should not be accessed directly. Backtrace: require('wp-blog-header.php'), require_once('wp-includes/template-loader.php'), include('/themes/proud/woocommerce/single-product.php'), wc_get_template_part, load_template, require('/themes/proud/woocommerce/content-single-product.php'), woocommerce_output_related_products, woocommerce_related_products, wc_get_template, include('/themes/proud/woocommerce/single-product/related.php'), WC_Abstract_Legacy_Product->__get, wc_doing_it_wrong Please see
Debugging in WordPress
for more information. (This message was added in version 3.0.) in
/var/www/wp-includes/functions.php
on line
4903