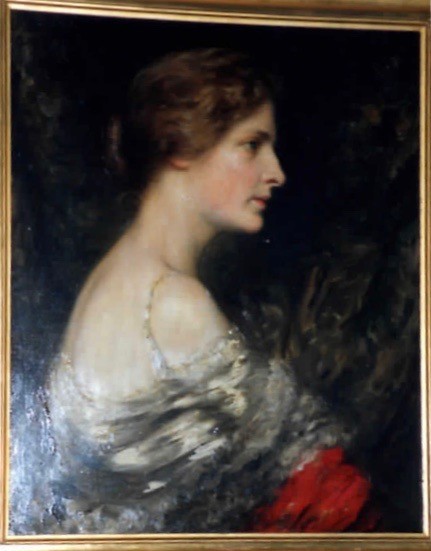 RIVES, Mildred (Later Mrs. Frederick M. Godwin)
Description:
Bust-length portrait profil-perdu, facing to the right. Oil on canvas, 24″ x 20″, signed upper right 'A. Muller-Ury'.
Location:
Present Whereabouts Unknown.
Provenance:
By descent to Prof. and Mrs. William Donald MacLennan (died 2002), Aros House, Templar Place, Gullane, East Lothian, Scotland (the sitter's daughter was his wife Milly).
Notes
The sitter was born in July 1893 and died in childbirth on December 22, 1927. She married Frederick Marquand Godwin on April 11, 1917 in the Ambroise Chapel of the Cathedral of St. John the Divine, New York, the chapel having being built by her father George Lockhart Rives in memory of his wife's family. Frederick Godwin was the son of Mr. and Mrs. Harold Godwin of Roslyn, Long Island, grandson of Parke Godwin, Editor of the New York Evening Post, and great-grandson of the poet William Cullen Bryant.
Almost certainly painted around the time of her marriage according to the late Professor William Donald MacLennan.
Notice
: id was called
incorrectly
. Product properties should not be accessed directly. Backtrace: require('wp-blog-header.php'), require_once('wp-includes/template-loader.php'), include('/themes/proud/woocommerce/single-product.php'), wc_get_template_part, load_template, require('/themes/proud/woocommerce/content-single-product.php'), woocommerce_output_related_products, woocommerce_related_products, wc_get_template, include('/themes/proud/woocommerce/single-product/related.php'), WC_Abstract_Legacy_Product->__get, wc_doing_it_wrong Please see
Debugging in WordPress
for more information. (This message was added in version 3.0.) in
/var/www/wp-includes/functions.php
on line
4986
Notice
: id was called
incorrectly
. Product properties should not be accessed directly. Backtrace: require('wp-blog-header.php'), require_once('wp-includes/template-loader.php'), include('/themes/proud/woocommerce/single-product.php'), wc_get_template_part, load_template, require('/themes/proud/woocommerce/content-single-product.php'), woocommerce_output_related_products, woocommerce_related_products, wc_get_template, include('/themes/proud/woocommerce/single-product/related.php'), WC_Abstract_Legacy_Product->__get, wc_doing_it_wrong Please see
Debugging in WordPress
for more information. (This message was added in version 3.0.) in
/var/www/wp-includes/functions.php
on line
4986