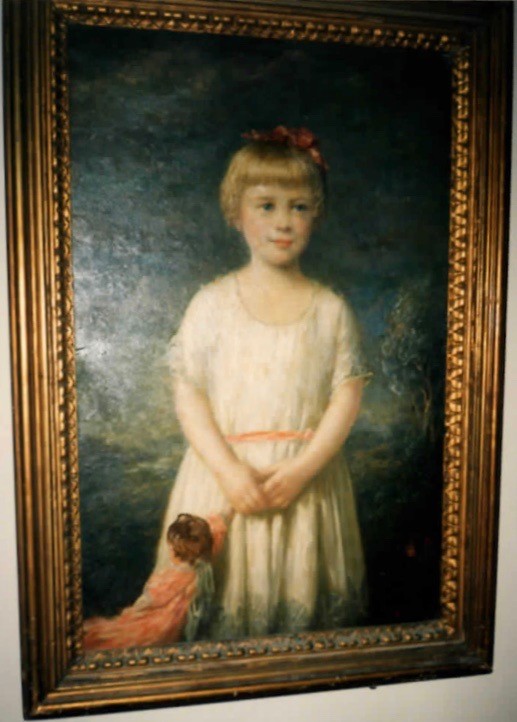 REISINGER, Miss Mary Harrison (Later Mrs. Charles Joseph Stevens)
Description:
A little girl in a pale blue dress holding a salmon pink doll in her hands, standing in a landscape. Oil on canvas, 37" x 24", signed and dated 'A. Muller-Ury 1924' (the last digit is unclear) and identified in pencil on the stretcher in the artist's hand as 'Miss Mary Reisinger'.
Location:
Private Collection, Bryn Mawr, Pennsylvania, USA (2000)
Provenance:
The artist; Jessica Dragonette; her husband Nicholas M. Turner; purchased by the sitter's family in October 2000.
Exhibition:
THE DUVEEN GALLERIES, 720 Fifth Avenue, New York, April 6 – 18, 1925, No. 16.
Notes
Mary Harrison Reisinger Stevens was born in New York on December 3, 1919. She was the daughter of Mary Lodge McKee Reisinger (Mrs Curt Hugo Reisinger). She graduated from Connecticut College in 1941. Mary was the great-granddaughter of both President Benjamin Harrison, 23rd President of the United States, and Adolphus Busch, founder of Anheuser-Busch Inc. She was also a direct descendant of William Henry Harrison, 9th President of United States and Benjamin Harrison of Virginia, a signer of the Declaration of Independence on July 4, 1776. Her husband, Charles Joseph Stevens (born 1906) died in 1990. She died in Fort Lauderdale, Florida, on 6 June 2017 aged 97.
Notice
: id was called
incorrectly
. Product properties should not be accessed directly. Backtrace: require('wp-blog-header.php'), require_once('wp-includes/template-loader.php'), include('/themes/proud/woocommerce/single-product.php'), wc_get_template_part, load_template, require('/themes/proud/woocommerce/content-single-product.php'), woocommerce_output_related_products, woocommerce_related_products, wc_get_template, include('/themes/proud/woocommerce/single-product/related.php'), WC_Abstract_Legacy_Product->__get, wc_doing_it_wrong Please see
Debugging in WordPress
for more information. (This message was added in version 3.0.) in
/var/www/wp-includes/functions.php
on line
4986
Notice
: id was called
incorrectly
. Product properties should not be accessed directly. Backtrace: require('wp-blog-header.php'), require_once('wp-includes/template-loader.php'), include('/themes/proud/woocommerce/single-product.php'), wc_get_template_part, load_template, require('/themes/proud/woocommerce/content-single-product.php'), woocommerce_output_related_products, woocommerce_related_products, wc_get_template, include('/themes/proud/woocommerce/single-product/related.php'), WC_Abstract_Legacy_Product->__get, wc_doing_it_wrong Please see
Debugging in WordPress
for more information. (This message was added in version 3.0.) in
/var/www/wp-includes/functions.php
on line
4986