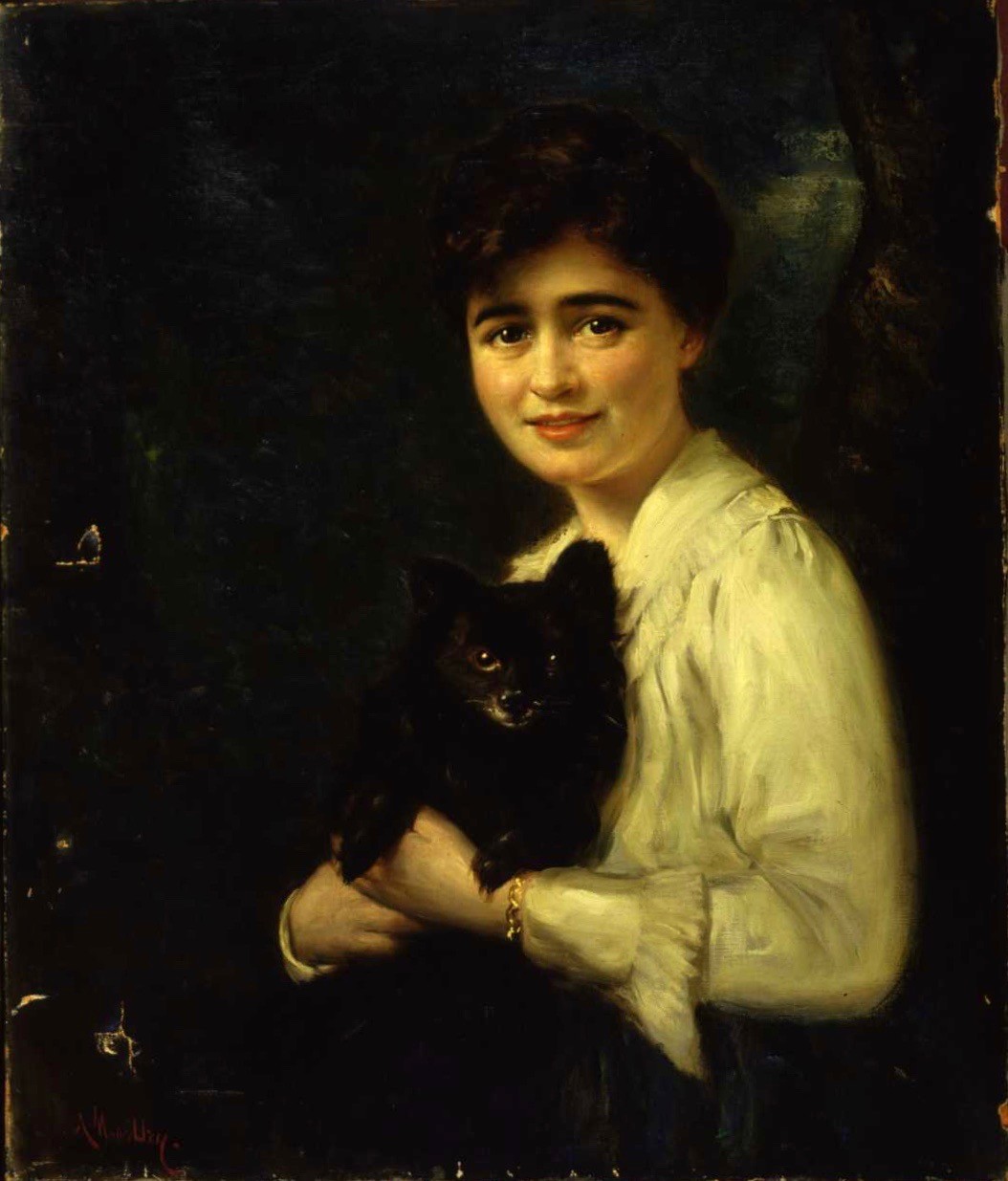 READ, Miss A.
Description:
Half-length, standing holding a black Pomeranian.
Location:
Preservation Society of Newport Country, Newport, RI, USA.
Provenance:
Jessica Dragonette; Nicholas M. Turner; his gift to the University of Wyoming, 1987; their gift to the Newport Preservation Society 2008.
Exhibition:
RALSTON GALLERIES, 567, Fifth Avenue, New York, February 1916.
Possibly FRENCH & CO. INC., 210, East 57th Street, New York, April 21 – May 3, 1947, No. 30 as 'Miss L. Reed'.
Bibliography:
New York Evening World, February 24, 1916
Notes
Described in the New York Evening World, February 24, 1916, as '…half-length, stands, holding a black Pomeranian, with brilliant beady eyes and pointed ears. The girl's face, with her dark eyes, is full of pleasing expression. The brunette hair contributes a fine balance to the color scheme.' The Ralston show included works by thirteen other painters.
As this portrait was once the property Jessica Dragonette, it was almost certainly in the artist's studio at his death, and therefore is the portrait later exhibited at French & Co. in 1947 (the names on the handlist are not always accurate).
Notice
: id was called
incorrectly
. Product properties should not be accessed directly. Backtrace: require('wp-blog-header.php'), require_once('wp-includes/template-loader.php'), include('/themes/proud/woocommerce/single-product.php'), wc_get_template_part, load_template, require('/themes/proud/woocommerce/content-single-product.php'), woocommerce_output_related_products, woocommerce_related_products, wc_get_template, include('/themes/proud/woocommerce/single-product/related.php'), WC_Abstract_Legacy_Product->__get, wc_doing_it_wrong Please see
Debugging in WordPress
for more information. (This message was added in version 3.0.) in
/var/www/wp-includes/functions.php
on line
4986