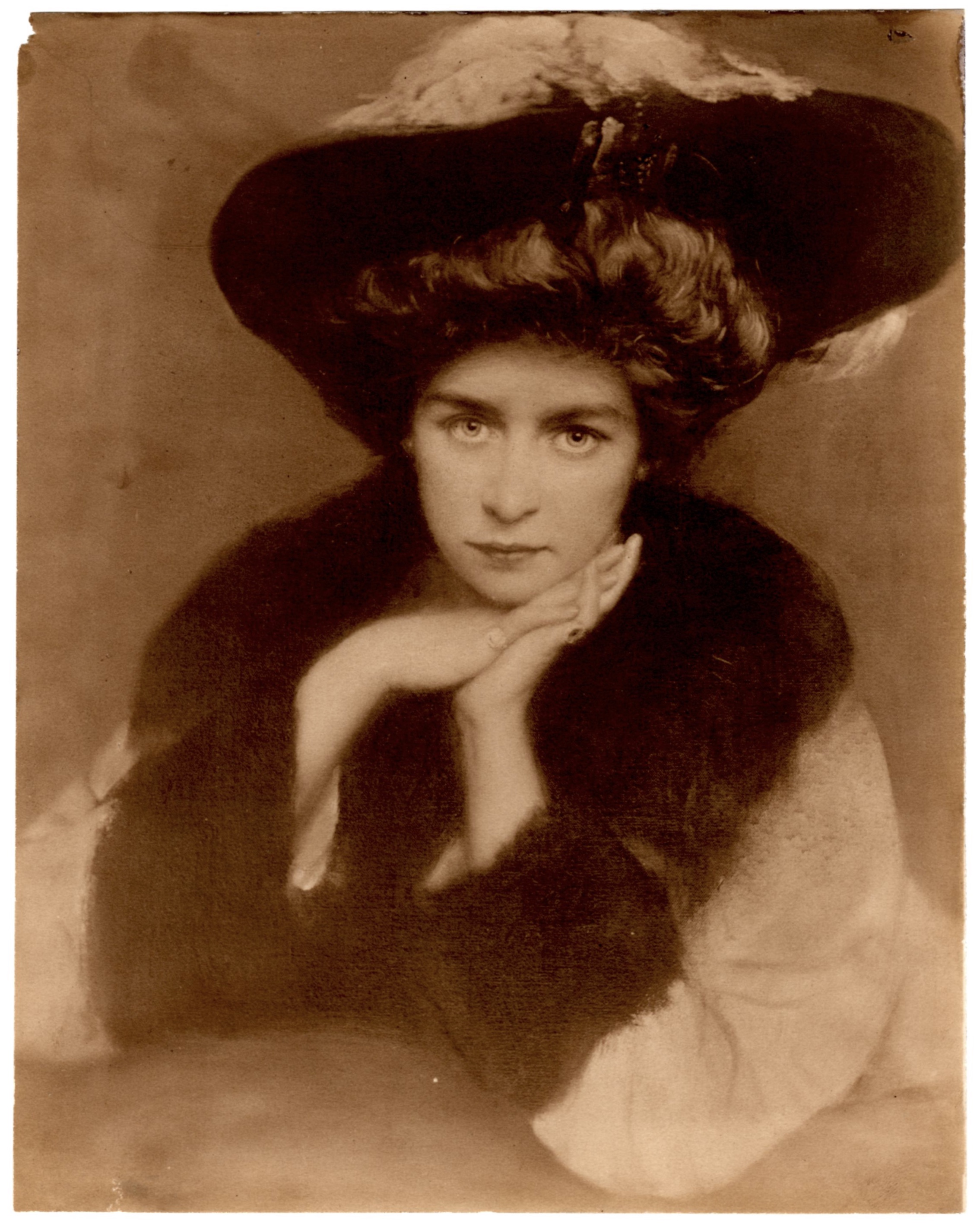 PRATT, Constance (Later Mrs Walter Negley Stillman) (1st Version?)
Description:
Town & Country, January 25, 1908 described the picture: '…she wears a big black hat and a coat with a fur collar, her elbows on the table and her cheek resting on her clasped hands. It is a picture freely handled and has the strength of directness. To say that it is a good likeness is equal to pronouncing it a beautiful picture.' Oil on canvas, presumably c. 30" x 24".
Location:
Present Whereabouts Unknown.
Exhibition:
M. KNOEDLER & CO., 355, Fifth Avenue, New York, January 13 – 22, 1908, No. 6.
Bibliography:
Daily Eagle, Brooklyn, January 14, 1908
New York Sun, January 18, 1908
New York Evening Sun, January 18, 1908
American Art News, Vol. 6, No. 14, New York, January 18, 1908, p. 6
Town & Country, New York, January 25, 1908
Notes
The sitter was the second daughter of Dallas Bache Pratt (1848-1929) and Mary Gordon Pratt (born 1857) whom he married in 1881, and the sister of Katharine Pratt (Mrs Lycurgus Winchester). Her father was a partner in the firm of Maitland, Coppell & Company and was one of the foremost bankers in New York and rear-commodore of the New York Yacht Club.
Walter Negley Stillman was a business executive for Stillman Maynards & Co. of 61, Broadway, New York (died on January 6, 1956) married Constance Pratt, the second daughter of Dallas Bache Pratt, on 2 November 1910 at Grace Church. They lived at 640, Park Avenue, New York.
The artist appears to have painted quite a few pictures of Constance Pratt, the first three quarter portrait for her parents in 1904. Constance remained the artist's friend all her life. Her son, P. Gordon Stillman, told the editor that he remembered Muller-Ury's old fashioned manners and chivalric behaviour towards his mother when he met him as a boy.
This portrait was probably painted in 1907.
Notice
: id was called
incorrectly
. Product properties should not be accessed directly. Backtrace: require('wp-blog-header.php'), require_once('wp-includes/template-loader.php'), include('/themes/proud/woocommerce/single-product.php'), wc_get_template_part, load_template, require('/themes/proud/woocommerce/content-single-product.php'), woocommerce_output_related_products, woocommerce_related_products, wc_get_template, include('/themes/proud/woocommerce/single-product/related.php'), WC_Abstract_Legacy_Product->__get, wc_doing_it_wrong Please see
Debugging in WordPress
for more information. (This message was added in version 3.0.) in
/var/www/wp-includes/functions.php
on line
4903
Notice
: id was called
incorrectly
. Product properties should not be accessed directly. Backtrace: require('wp-blog-header.php'), require_once('wp-includes/template-loader.php'), include('/themes/proud/woocommerce/single-product.php'), wc_get_template_part, load_template, require('/themes/proud/woocommerce/content-single-product.php'), woocommerce_output_related_products, woocommerce_related_products, wc_get_template, include('/themes/proud/woocommerce/single-product/related.php'), WC_Abstract_Legacy_Product->__get, wc_doing_it_wrong Please see
Debugging in WordPress
for more information. (This message was added in version 3.0.) in
/var/www/wp-includes/functions.php
on line
4903