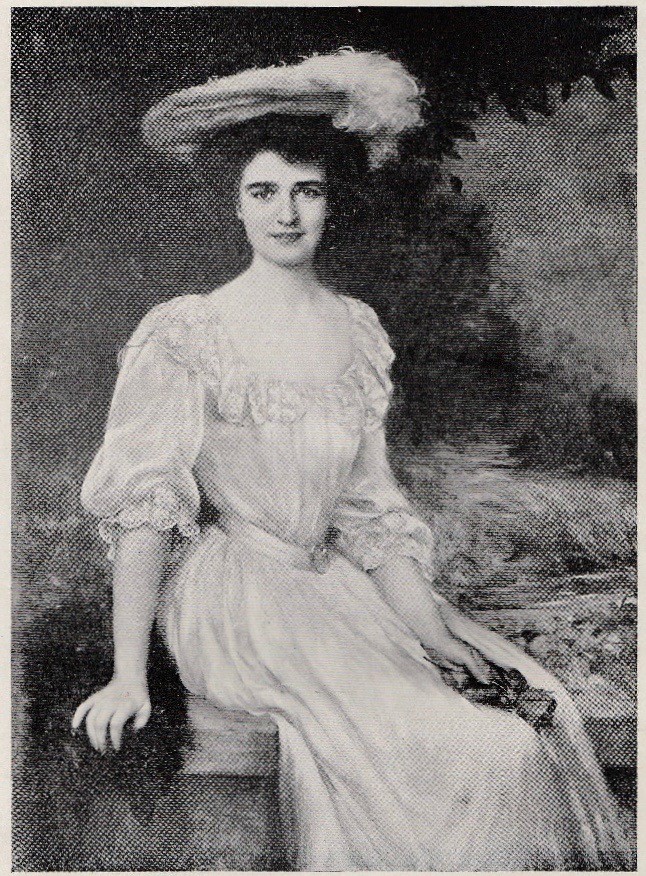 PFIZER, Alice M. H. (Later Baroness Reinhart Bachofen von Echt)
Description:
Three-quarter length seated dressed in white, wearing a hat with a feather, with rose in her left hand. Oil on canvas, 50″ x 37″ (127 x 94.6 cm), signed lower centre left 'Muller-Ury' and slightly further to left dated 1903. The picture has been relined and restored and the surface of the picture has suffered a little in the relining process, with darkening of the face and eyes.
Location:
Private Collection, London (1999) and Switzerland.
Provenance:
The present owner is the great-nephew of the sitter.
Bibliography:
Brooklyn Daily Eagle, New York, Sunday, April 5, 1903 p. 6, (reproduced)
Town & Country, August 22, 1903, 'A Successful Portrait Painter', by S.E. Leisha, p.19 (reproduced)
Notes
The sitter, Alice Marguerite Henriette, was born on 16 September 1877 in Brooklyn to Charles Pfizer (1824-1906) and his wife Anna Pfizer, and died in New York on May 19, 1959. She was the sister of Charles M. Jr., Ann, Gustav and Emile Pfizer. She married Reinhart Clemens Friedrich Justus Bachofen von Echt (born October 7, 1877 in Vienna) at Newport, Rhode Island on September 5, 1904. She had no children. She died in 1959 after suffering for some time from Parkinson's disease. The sitter was the aunt of, but apparently the same age as, Lulu Pfizer..
This portrait was rediscovered by Simon A. Stock in 1999.
She wrote two books: Haus Sonnenuhr: Geschichten aus Altweimar, Weimar 1935, and an auto-biography Sketches on the Sands of Time, which was published privately in New York, during the Second World War.
The Brooklyn Daily Eagle said: "Of interest to Brooklyn and Manhattan as well is the reproduction on this page of one of the best known of Brooklyn girls of the day, Miss. Alice M. H. Pfizer of Washington Avenue. This is a photograph form a painting by A. Muller-Ury, who has an extraordinary faculty in the catching of personalities. Muller-Ury has painted Miss Pfizer well and vividly."
Notice
: id was called
incorrectly
. Product properties should not be accessed directly. Backtrace: require('wp-blog-header.php'), require_once('wp-includes/template-loader.php'), include('/themes/proud/woocommerce/single-product.php'), wc_get_template_part, load_template, require('/themes/proud/woocommerce/content-single-product.php'), woocommerce_output_related_products, woocommerce_related_products, wc_get_template, include('/themes/proud/woocommerce/single-product/related.php'), WC_Abstract_Legacy_Product->__get, wc_doing_it_wrong Please see
Debugging in WordPress
for more information. (This message was added in version 3.0.) in
/var/www/wp-includes/functions.php
on line
4778
Notice
: id was called
incorrectly
. Product properties should not be accessed directly. Backtrace: require('wp-blog-header.php'), require_once('wp-includes/template-loader.php'), include('/themes/proud/woocommerce/single-product.php'), wc_get_template_part, load_template, require('/themes/proud/woocommerce/content-single-product.php'), woocommerce_output_related_products, woocommerce_related_products, wc_get_template, include('/themes/proud/woocommerce/single-product/related.php'), WC_Abstract_Legacy_Product->__get, wc_doing_it_wrong Please see
Debugging in WordPress
for more information. (This message was added in version 3.0.) in
/var/www/wp-includes/functions.php
on line
4778