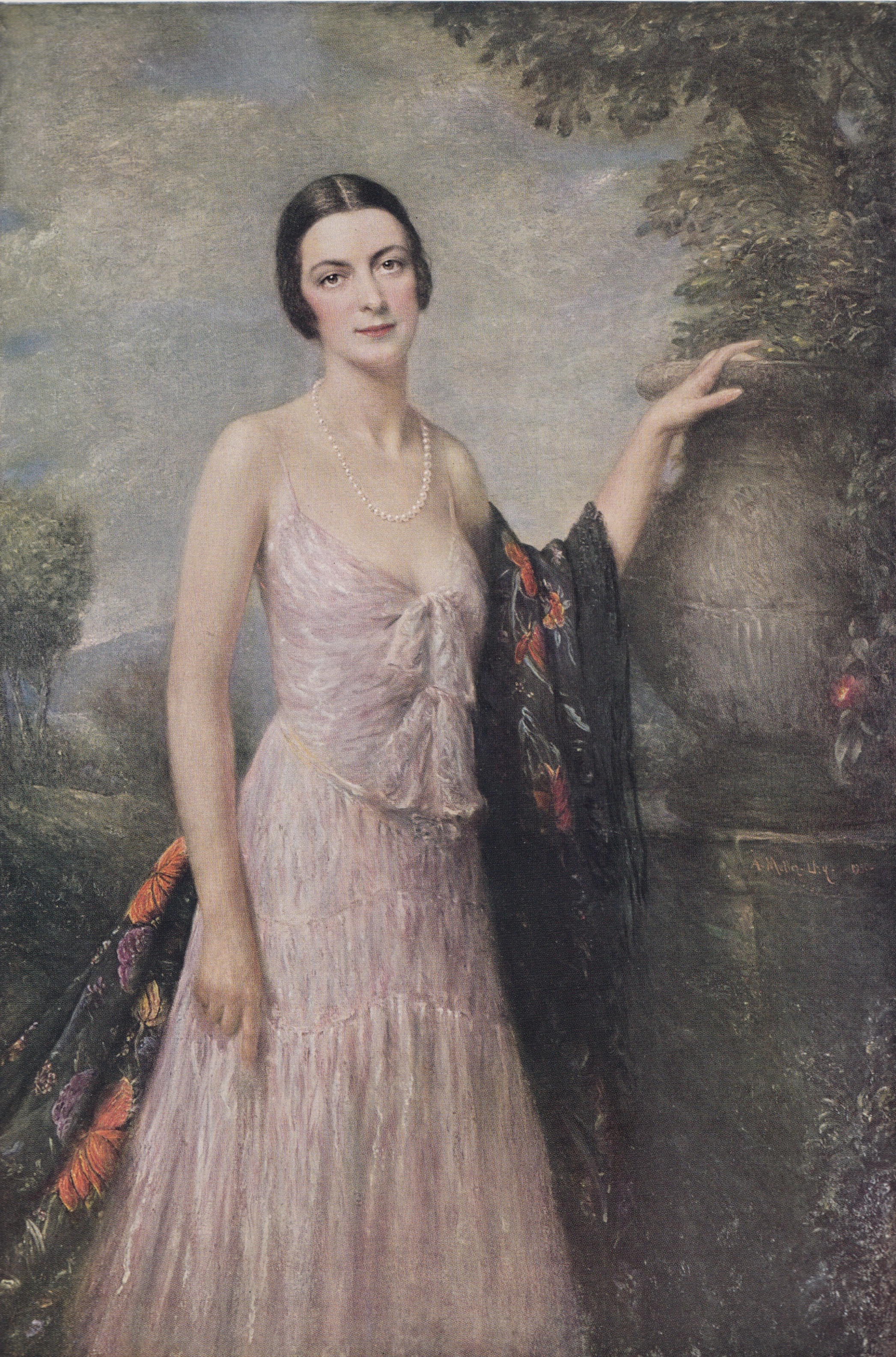 PEABODY, Mrs Frederick G. (Gladys Ruth Quarré; Later Mrs Theodore Knapp)
Description:
Three quarter length standing in a garden, dressed in pink, her hand resting on an urn. Signed and dated centre right 'A. Muller-Ury 1930'.
Location:
Present Whereabouts Unknown.
Bibliography:
The Spur, March 1, 1931, Vol. XLVII, No. 5, p.30. (Reproduced in colour) The picture is there said to be courtesy of the Duveen Galleries.
Notes
Miss Quarré came from San Francisco, her mother was Carlotta Jackson Quarré (Mrs Emil Quarré) and niece of Mrs. Harry Hill (Ruth Jackson Baird Hill).
She lived in 1927 at the Talmadge Apartments, Los Angeles, was married 7 August 1926 to Frederick Griffiths Peabody millionaire shirt manufacturer, and in 1930 lived at Montecito, Santa Barbara, CA; in 1932 she lived at 1035 Fifth Avenue, New York and was divorced at Carson City in April 1935 charging him with cruelty.
She became Gladys Quarré Knapp, having married Theodore Jackson Knapp (1892-1947) of 1001 Park Avenue, New York and Oakdale L.I. on 1 February 1947; she married again 19 June 1958 a Mr. W Howard Bell.
In 1938 she knew Douglas Fairbanks, Sr., Hedy Lamarr, Richard Tauber, Charles Boyer, Edward G. Robinson, Leslie Howard and Basil Rathbone.
In 1984 she lived at 'Chiens d'Or', 764 San Ysidro Lane, Santa Barbara CA 93108, U.S.A.
Bibliography of sitter:
David Knapp, A Lady Undefined: From Carriage to Concorde (2010)
—
Painted in 1930. On January 11, 1931 Muller-Ury recorded in his diary that "Mrs. Fred Peabody came to lunch with Mr. and Mrs. Neil McCarthy and then I went to the Huntington – Mrs P. is alone here for a few days and he [her husband] has not even come to see the portrait and this annoys me."
Notice
: id was called
incorrectly
. Product properties should not be accessed directly. Backtrace: require('wp-blog-header.php'), require_once('wp-includes/template-loader.php'), include('/themes/proud/woocommerce/single-product.php'), wc_get_template_part, load_template, require('/themes/proud/woocommerce/content-single-product.php'), woocommerce_output_related_products, woocommerce_related_products, wc_get_template, include('/themes/proud/woocommerce/single-product/related.php'), WC_Abstract_Legacy_Product->__get, wc_doing_it_wrong Please see
Debugging in WordPress
for more information. (This message was added in version 3.0.) in
/var/www/wp-includes/functions.php
on line
4778
Notice
: id was called
incorrectly
. Product properties should not be accessed directly. Backtrace: require('wp-blog-header.php'), require_once('wp-includes/template-loader.php'), include('/themes/proud/woocommerce/single-product.php'), wc_get_template_part, load_template, require('/themes/proud/woocommerce/content-single-product.php'), woocommerce_output_related_products, woocommerce_related_products, wc_get_template, include('/themes/proud/woocommerce/single-product/related.php'), WC_Abstract_Legacy_Product->__get, wc_doing_it_wrong Please see
Debugging in WordPress
for more information. (This message was added in version 3.0.) in
/var/www/wp-includes/functions.php
on line
4778