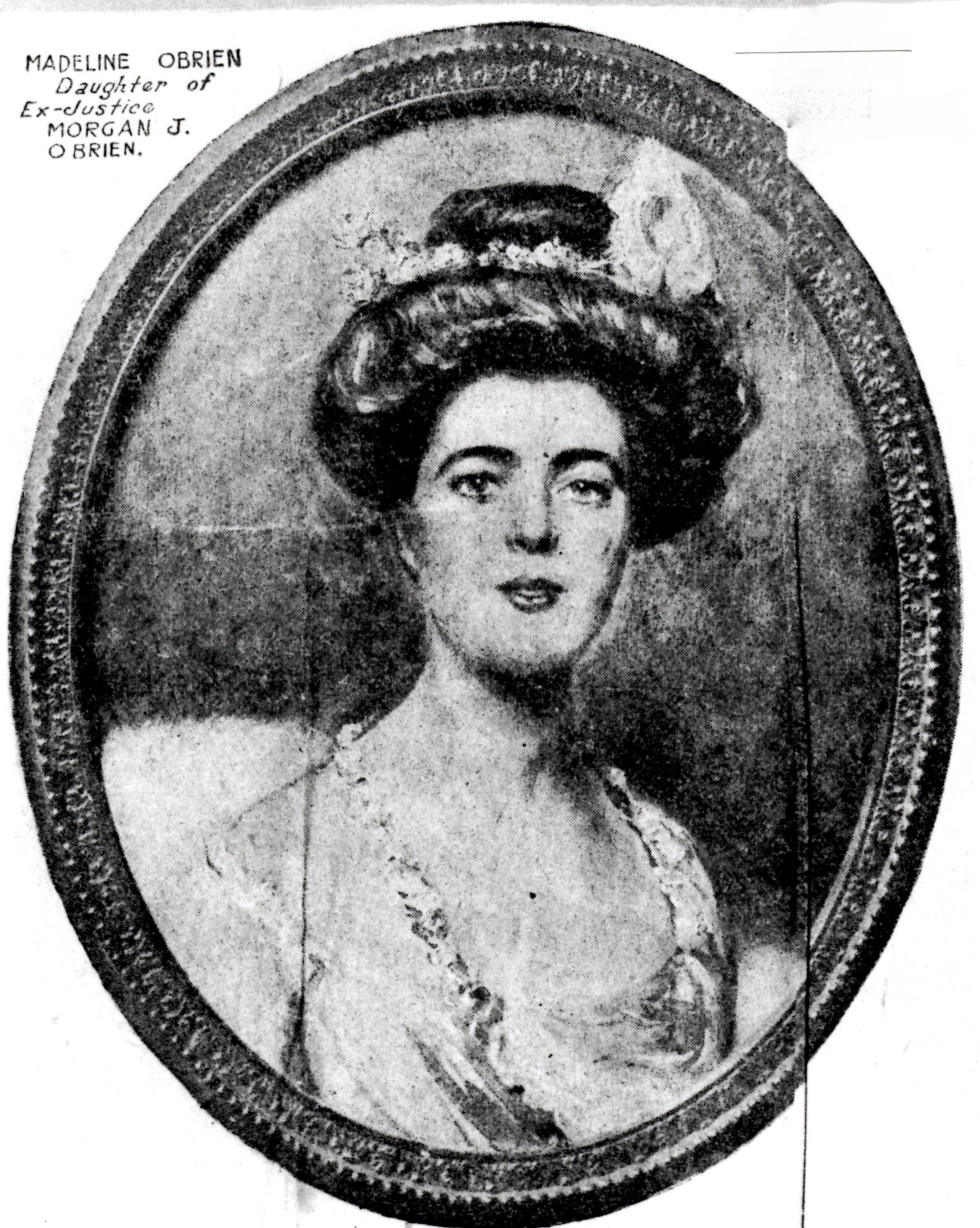 O'BRIEN, Madeleine (Later Mrs Stuart Duncan Preston)
Description:
Oval, bust-length portrait.
Location:
Present Whereabouts Unknown.
Exhibition:
M. KNOEDLER & CO., 355, Fifth Avenue (corner of Thirty-fourth Street), New York, January 13 – 22, 1908, No. 7.
Bibliography:
American Art News, New York, January 4, 1908.
The World Magazine, January 12, 1908 (reproduced)
Catholic News, New York, January 18, 1908
New York Evening Mail, January 18, 1908
Notes
The sitter (born c. 1886) was the daughter of Judge Morgan O'Brien and Rose Mary Crimmins O'Brien, who lived in 1914 at 729 Park Avenue. She married Stuart Duncan Preston, grandson of James C. Fargo, a banker and insurance officer, on 10 September 1914 at the home of her parents Rose Crest, Good Ground, Long Island. She died at 125 East 72nd Street in June 1974.
One of her two sons was the art critic and socialite Stuart D. Preston ("The Sargeant") who was to become a critic of the New York Times and lived the last 30 years of his life in Paris. The other son was called John.
Notice
: id was called
incorrectly
. Product properties should not be accessed directly. Backtrace: require('wp-blog-header.php'), require_once('wp-includes/template-loader.php'), include('/themes/proud/woocommerce/single-product.php'), wc_get_template_part, load_template, require('/themes/proud/woocommerce/content-single-product.php'), woocommerce_output_related_products, woocommerce_related_products, wc_get_template, include('/themes/proud/woocommerce/single-product/related.php'), WC_Abstract_Legacy_Product->__get, wc_doing_it_wrong Please see
Debugging in WordPress
for more information. (This message was added in version 3.0.) in
/var/www/wp-includes/functions.php
on line
4903
Notice
: id was called
incorrectly
. Product properties should not be accessed directly. Backtrace: require('wp-blog-header.php'), require_once('wp-includes/template-loader.php'), include('/themes/proud/woocommerce/single-product.php'), wc_get_template_part, load_template, require('/themes/proud/woocommerce/content-single-product.php'), woocommerce_output_related_products, woocommerce_related_products, wc_get_template, include('/themes/proud/woocommerce/single-product/related.php'), WC_Abstract_Legacy_Product->__get, wc_doing_it_wrong Please see
Debugging in WordPress
for more information. (This message was added in version 3.0.) in
/var/www/wp-includes/functions.php
on line
4903