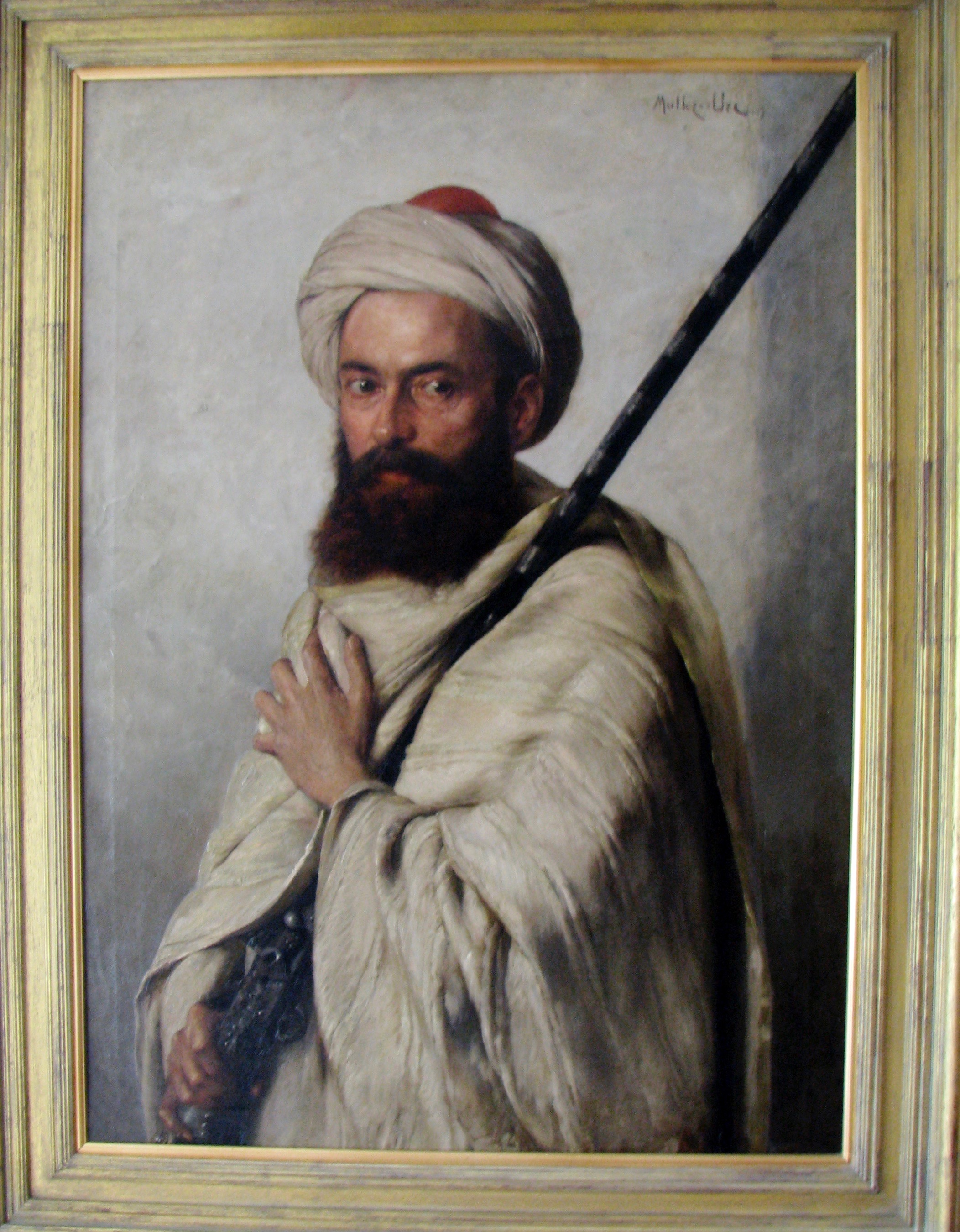 North African Man with Gun
Description:
Half-length of a man, probably a North African, wearing a burnous, a turban, and holding a gun over his left shoulder. Oil on canvas, 36" x 26" (91 x 66.1 cm), signed and dated upper right 'Muller d'Uri 1889'.
Location:
Private Collection, London, UK.
Provenance:
The artist; Jessica Dragonette; her husband, Nicholas M. Turner; gift to the present owner 1994.
Notes
A photograph of this or a very similar picture in the artist's papers, is labelled 'V. Gestee.' The burnous which the man wears, may have been reduced in size at some time, when the background was changed at an early date. There is evidence of the pentimento around the figure visible to the naked eye, and the beard may have once been pointed. Although known as the 'Portrait of an Arab' for more than 60 years, it is possible that the sitter may actually represent a Sephardic Jew from North Africa.
Restored (cleaned and strip-lined) by Sarah-Jane Nall-Cain in 1997.
Notice
: id was called
incorrectly
. Product properties should not be accessed directly. Backtrace: require('wp-blog-header.php'), require_once('wp-includes/template-loader.php'), include('/themes/proud/woocommerce/single-product.php'), wc_get_template_part, load_template, require('/themes/proud/woocommerce/content-single-product.php'), woocommerce_output_related_products, woocommerce_related_products, wc_get_template, include('/themes/proud/woocommerce/single-product/related.php'), WC_Abstract_Legacy_Product->__get, wc_doing_it_wrong Please see
Debugging in WordPress
for more information. (This message was added in version 3.0.) in
/var/www/wp-includes/functions.php
on line
4986
Notice
: id was called
incorrectly
. Product properties should not be accessed directly. Backtrace: require('wp-blog-header.php'), require_once('wp-includes/template-loader.php'), include('/themes/proud/woocommerce/single-product.php'), wc_get_template_part, load_template, require('/themes/proud/woocommerce/content-single-product.php'), woocommerce_output_related_products, woocommerce_related_products, wc_get_template, include('/themes/proud/woocommerce/single-product/related.php'), WC_Abstract_Legacy_Product->__get, wc_doing_it_wrong Please see
Debugging in WordPress
for more information. (This message was added in version 3.0.) in
/var/www/wp-includes/functions.php
on line
4986