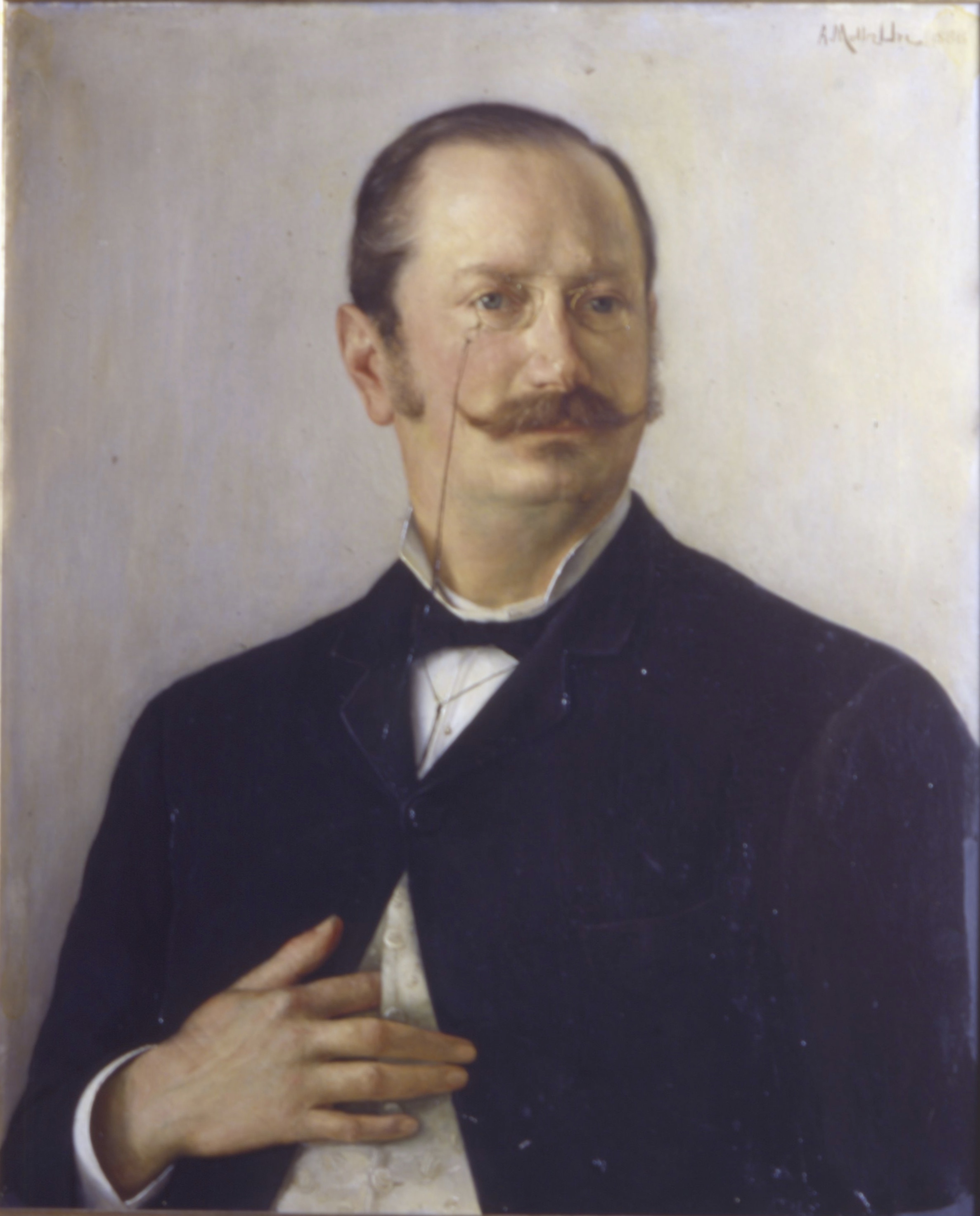 MUHEIM, Gustav
Description:
Half-length, one hand raised across the chest. Cream background. Oil on canvas, 28.3/4" x 23" (73 cm x 58.5 cm), signed upper right 'A. Muller Uri 1888'.
Location:
Historisches Museum von Uri, Altdorf, Switzerland.
Provenance:
By Family Descent. Gift to the Museum c.1988
Bibliography:
Karl Iten, Uri Damals: Photographien und Zeitdokumente 1855-1925, Altdorf, 1984 (illustrated p.395)
Karl Iten, URI: Die Kunst- und Kulturlandschaft am Weg zum Gotthard, Altdorf, 1991, p.243. (Illustrated in colour)
Karl Iten, "Aber den rechten Wilhelm haben wir…" Die Geschichte des Altdorfer Telldenkmals, Altdorf, 1995, p.263 (illustrated)
Notes
Gustav Georg Felix Muheim was born on 11 September 1851 and died on 4 April 1917. He was a Swiss politician and President of the Swiss Council of States (1890). He was educated at schools in Altdorf and Freiburg. He studied philosophy and law (license) in Würzburg, Heidelberg and Zurich (1869-1873). He was the founder, co-owner and editor of the local newspaper, the Urner Wochenblatt. He came from a rich family and followed a brilliant political career: president of the municipality of Altdorf (1875-1879), state councillor (1882-1903), Landamman in 1884-1888, 1892-1896 and 1898-1902). Member of the Council of States (1877-1901, President in 1891) and of the National Council (1905-1911), leader of the Catholic conservative group in the Federal Assembly (1892-1895). He presided in Lucerne the session which came to birth in August 1894 the Catholic People's Party, which he held the presidency in 1894-1895. In the Federal Parliament he campaigned for state aid for antiquities collections, for the creation of the National Museum and the National Library, and for the development of the Federal Institute of Technology. At the cantonal level, he was responsible for drafting a large number of laws. He supported the restoration of the historical monuments of his canton, the creation of the Historical Society of Uri, the erection of the monument of William Tell in Altdorf, the foundation of the cantonal college and the opening of an educational institution for poor and abandoned children. As a moderate representative of political Catholicism, he defended in all his functions the principle of the rule of law. He married Anna Arnold, daughter of Josef Arnold in 1884. They had three children.
Notice
: id was called
incorrectly
. Product properties should not be accessed directly. Backtrace: require('wp-blog-header.php'), require_once('wp-includes/template-loader.php'), include('/themes/proud/woocommerce/single-product.php'), wc_get_template_part, load_template, require('/themes/proud/woocommerce/content-single-product.php'), woocommerce_output_related_products, woocommerce_related_products, wc_get_template, include('/themes/proud/woocommerce/single-product/related.php'), WC_Abstract_Legacy_Product->__get, wc_doing_it_wrong Please see
Debugging in WordPress
for more information. (This message was added in version 3.0.) in
/var/www/wp-includes/functions.php
on line
4986
Notice
: id was called
incorrectly
. Product properties should not be accessed directly. Backtrace: require('wp-blog-header.php'), require_once('wp-includes/template-loader.php'), include('/themes/proud/woocommerce/single-product.php'), wc_get_template_part, load_template, require('/themes/proud/woocommerce/content-single-product.php'), woocommerce_output_related_products, woocommerce_related_products, wc_get_template, include('/themes/proud/woocommerce/single-product/related.php'), WC_Abstract_Legacy_Product->__get, wc_doing_it_wrong Please see
Debugging in WordPress
for more information. (This message was added in version 3.0.) in
/var/www/wp-includes/functions.php
on line
4986