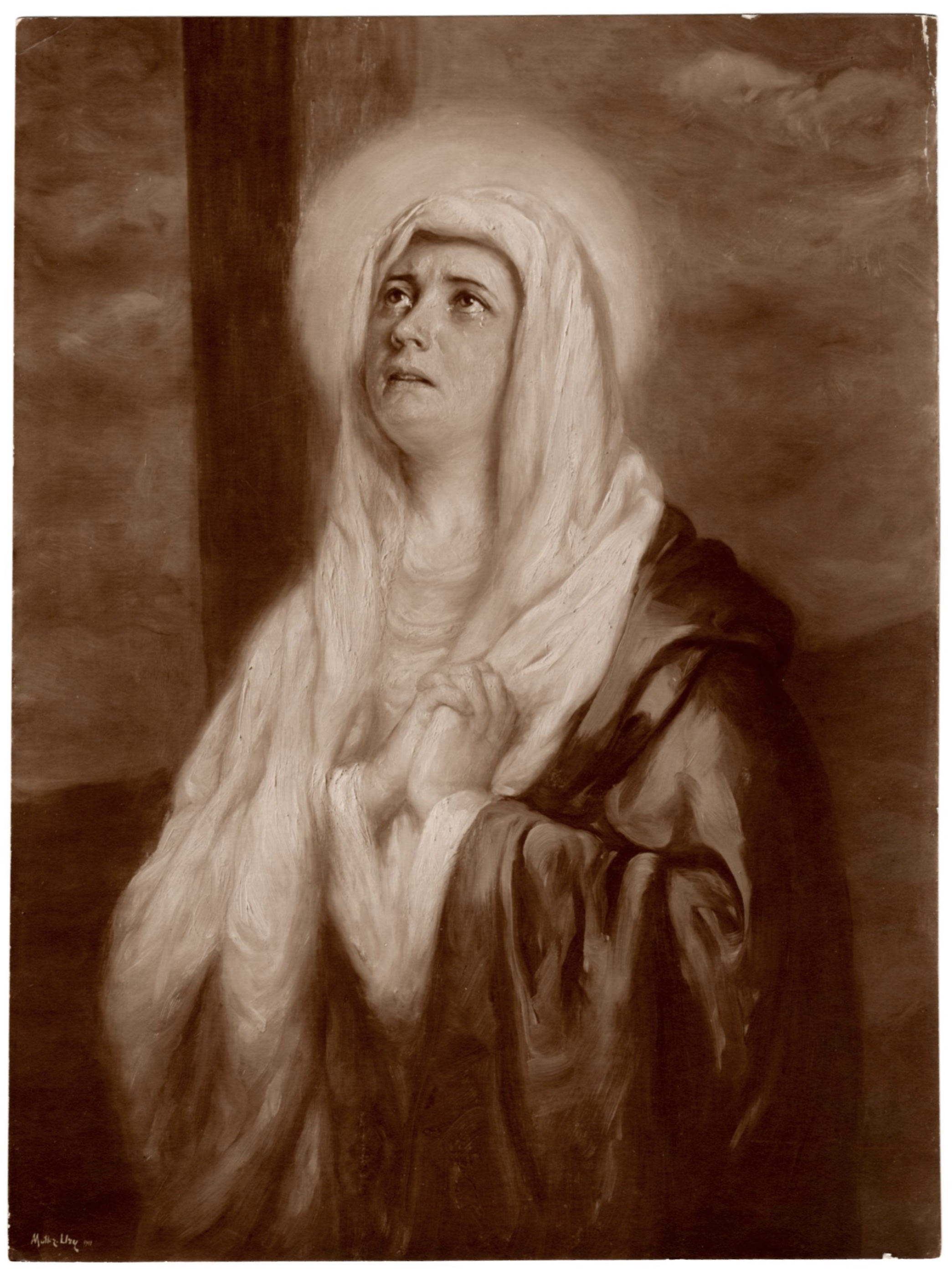 Mater Dolorosa
Description:
Oil on canvas, 38" x 28" (96.5 x 71 cm), signed and dated lower left 'Muller Ury 1911'
Location:
Private Collection, Zumdorf, Switzerland.
Provenance:
The artist; Adolf Muller, Andermatt, the present owner.
Exhibition:
M. KNOEDLER & CO., 556-558, Fifth Avenue, New York, March 31 – April 12, 1913, No. 14
Bibliography:
New York Herald, April 2, 1913
Brooklyn Eagle, April 6, 1913
Notes
The New York Herald, April 2, 1913 described it as 'a modern and powerful conception.' The Brooklyn Eagle, April 6, 1913 described the picture as follows: 'The only self-creative example is the artist's "Mater Dolorosa," and it is a masterly work, not only technically, but also in the vividness of the message it gives. There is rare skill in the depiction of the suffusion of the eyes, in the pinched nose, in the expression of the upper lip and in the nerveless fall of the under lip and lower jaw.' This must be the picture signed and dated lower left 'Muller Ury 1911' of which a photograph exists in the artist's papers.
Notice
: id was called
incorrectly
. Product properties should not be accessed directly. Backtrace: require('wp-blog-header.php'), require_once('wp-includes/template-loader.php'), include('/themes/proud/woocommerce/single-product.php'), wc_get_template_part, load_template, require('/themes/proud/woocommerce/content-single-product.php'), woocommerce_output_related_products, woocommerce_related_products, wc_get_template, include('/themes/proud/woocommerce/single-product/related.php'), WC_Abstract_Legacy_Product->__get, wc_doing_it_wrong Please see
Debugging in WordPress
for more information. (This message was added in version 3.0.) in
/var/www/wp-includes/functions.php
on line
4986
Notice
: id was called
incorrectly
. Product properties should not be accessed directly. Backtrace: require('wp-blog-header.php'), require_once('wp-includes/template-loader.php'), include('/themes/proud/woocommerce/single-product.php'), wc_get_template_part, load_template, require('/themes/proud/woocommerce/content-single-product.php'), woocommerce_output_related_products, woocommerce_related_products, wc_get_template, include('/themes/proud/woocommerce/single-product/related.php'), WC_Abstract_Legacy_Product->__get, wc_doing_it_wrong Please see
Debugging in WordPress
for more information. (This message was added in version 3.0.) in
/var/www/wp-includes/functions.php
on line
4986