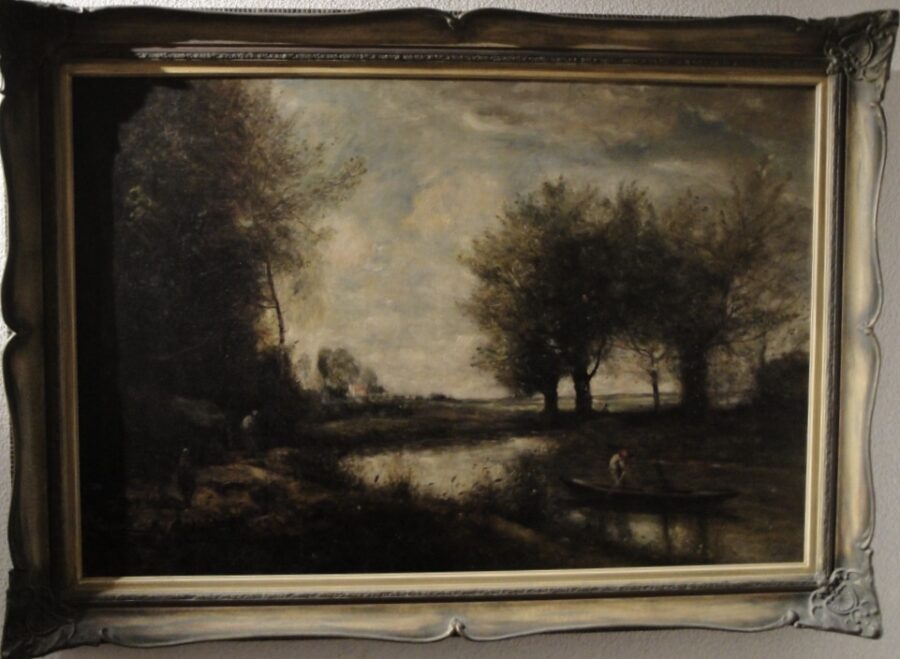 Landscape (Copy after Corot)
Description:
Oil on canvas, 140 x 96 cm.
Location:
Private Collection, Switzerland
Provenance:
Sent to Switzerland by Otto Müller, the artist's brother, in 1947. The late Mr. Armin Müller, Switzerland; purchased by the present owner from the estate of their cousin.
Bibliography:
American Art News, Vol. 3. No. 63, New York, January 21st, 1905, p. 2
Notes
On Saturday 11th August 1900 Mary T. Hill records in her diary that 'Muller-Uri is copying Corot's Ferryman.' (Hill Family Collection, Minnesota Historical Society, St. Paul). This is presumably the picture given by Hill's family after his death to the Minneapolis Institute of Arts:
Camille Corot, 1796-1875
The Ferryman
Oil on canvas, 35 3/4 x 52 inches
American Art News, January 21st, 1905, p. 2 states 'A fine copy of a beautiful Corot owned by J. J. Hill was made with the owner's permission, when Muller-Ury was engaged upon his portrait.' The latter part of the statement is probably untrue.
The picture is included on a small list of the more important pictures which were being returned to Switzerland after the artist's death which is the possession of the Tresch family, Amsteg, Switzerland.
Notice
: id was called
incorrectly
. Product properties should not be accessed directly. Backtrace: require('wp-blog-header.php'), require_once('wp-includes/template-loader.php'), include('/themes/proud/woocommerce/single-product.php'), wc_get_template_part, load_template, require('/themes/proud/woocommerce/content-single-product.php'), woocommerce_output_related_products, woocommerce_related_products, wc_get_template, include('/themes/proud/woocommerce/single-product/related.php'), WC_Abstract_Legacy_Product->__get, wc_doing_it_wrong Please see
Debugging in WordPress
for more information. (This message was added in version 3.0.) in
/var/www/wp-includes/functions.php
on line
4986
Notice
: id was called
incorrectly
. Product properties should not be accessed directly. Backtrace: require('wp-blog-header.php'), require_once('wp-includes/template-loader.php'), include('/themes/proud/woocommerce/single-product.php'), wc_get_template_part, load_template, require('/themes/proud/woocommerce/content-single-product.php'), woocommerce_output_related_products, woocommerce_related_products, wc_get_template, include('/themes/proud/woocommerce/single-product/related.php'), WC_Abstract_Legacy_Product->__get, wc_doing_it_wrong Please see
Debugging in WordPress
for more information. (This message was added in version 3.0.) in
/var/www/wp-includes/functions.php
on line
4986