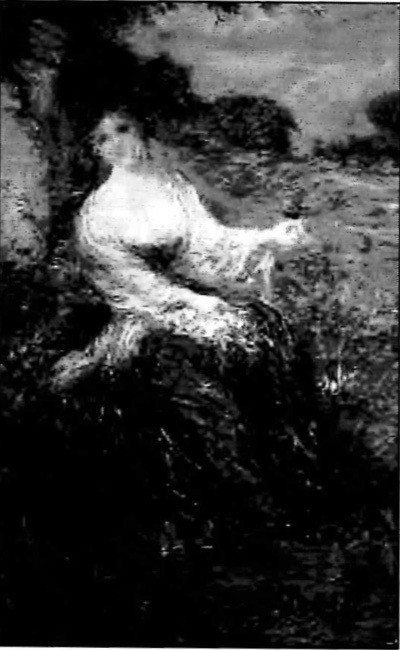 Lady in a Garden
Description:
Woman in dress of c.1910, seated under a tree holding a rose in her left hand. Oil on board, 11.75" x 7.5" (30×19.5cm) signed lower left 'Muller Ury'. Fragment of a newspaper obituary of the artist stuck on verso.
Provenance:
Richard Ofper Auctioneering Inc., 1919 Greenspring Drive, MD 21093, Thursday, 30 March 2006, Lot 148; purchased by Great Vintage Finds, Antique Row Stalls, 809 North Howard Street, Baltimore, MD 21201 (2006)
Notes
This may possibly by the picture 'Lady in a Garden' sold at Sloan's Auctioneers, North Bethesda, May 13, 1988, Sale 798, Lot 1881 ($750.00) the dimensions of which are given as 12 x 8 ins.
Notice
: id was called
incorrectly
. Product properties should not be accessed directly. Backtrace: require('wp-blog-header.php'), require_once('wp-includes/template-loader.php'), include('/themes/proud/woocommerce/single-product.php'), wc_get_template_part, load_template, require('/themes/proud/woocommerce/content-single-product.php'), woocommerce_output_related_products, woocommerce_related_products, wc_get_template, include('/themes/proud/woocommerce/single-product/related.php'), WC_Abstract_Legacy_Product->__get, wc_doing_it_wrong Please see
Debugging in WordPress
for more information. (This message was added in version 3.0.) in
/var/www/wp-includes/functions.php
on line
4986
Notice
: id was called
incorrectly
. Product properties should not be accessed directly. Backtrace: require('wp-blog-header.php'), require_once('wp-includes/template-loader.php'), include('/themes/proud/woocommerce/single-product.php'), wc_get_template_part, load_template, require('/themes/proud/woocommerce/content-single-product.php'), woocommerce_output_related_products, woocommerce_related_products, wc_get_template, include('/themes/proud/woocommerce/single-product/related.php'), WC_Abstract_Legacy_Product->__get, wc_doing_it_wrong Please see
Debugging in WordPress
for more information. (This message was added in version 3.0.) in
/var/www/wp-includes/functions.php
on line
4986