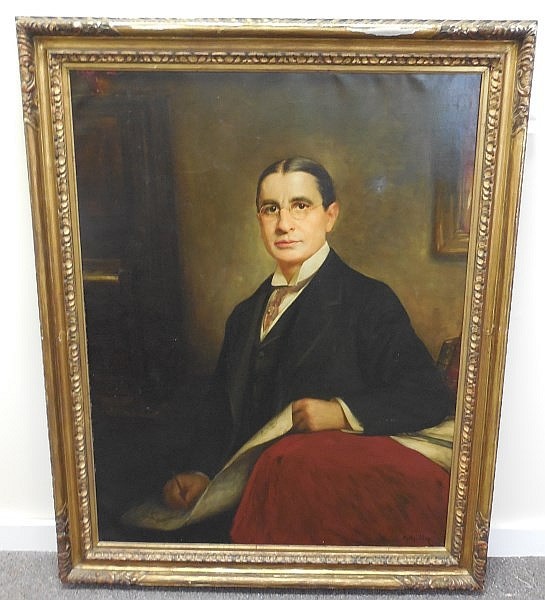 KOHLER, Charles J.
Description:
A black-haired man seated by a table covered in a red cloth on which he rests his arm, a drawing or plan in his left hand and the lower half rested on his lap with a pencil poised, wearing a dark suit and a white shirt with a winged collar, wearing a necktie and round metal-rimmed spectacles; a piano to the sitter's left and a picture frame on the right in the background. Oil on canvas, 44 x 33 ins, signed lower right 'Muller-Ury', apparently inscribed on the back 'Grandpa Kohler'.
Provenance:
State Line Auctions, 80 Main St, PO Box 865, Canaan, CT 06018 USA. July Estate Auction, July 13th 2014, Lot 97. Est: $2000-3000. Sold for $950.00.
Notes
Charles J. Kohler was born in Newark, NJ, on 13 September 1868 and died in Paris on 4 June 1913, aged only 44. He was a wealthy piano manufacturer – and once amateur boxing champion, who was reported by the Brooklyn Eagle, April 6, 1913, to be '…making a stir in racing circles in Europe.'  He attended Princeton and married Veronica M. Byrne (1872-1937), daughter of William C. Byrne of New Rochelle, in 1893 and they lived at 14 West 54th Street in New York. Kohler learned about the piano business from his wife's brother. In 1896, he formed, with a partner John Calvin Campbell, the Kohler and Campbell Piano Company in New York. By 1904, an original $6,000 investment was worth $4,000,000.
Despite his active business life, Charles Kohler was able to become a well-known sportsman. He was a member of the New York Yacht Club and the New York Athletic Club and was elected president of the Saratoga Association. His particular interest was racing horses, and he put much of his wealth into purchasing and breeding them at his Ramapo Stock Farm which eventually consisted of 547 acres. In 1910, one of his horses, Novelty, won $80,000, the largest winner for that year in the United States, and in 1911, and 1912, according to his grand-daughter Mrs. Rita Mathews, Novelty was again his leading money winning mount. Another of his successful horses was named Fitzherbert.
It was while crossing from England to France in late May 1913, that Kohler became seriously ill with kidney and liver troubles. He left property of US$ 5 million, his widow receiving $25,000 per year, his stock farm at Hohokus, New Jersey, the New York house and his jewellery. His three daughters and their heirs received the remainder of the estate but for $31,000 in charitable bequests and $36,000 to relatives and employees. He died some ten months before the wedding of his daughter Olga to Nils Florman of Stockholm, Sweden that took place in St Patrick's Cathedral on 5 April 1914. Kohler was to commission several portraits from Muller-Ury.
Notice
: id was called
incorrectly
. Product properties should not be accessed directly. Backtrace: require('wp-blog-header.php'), require_once('wp-includes/template-loader.php'), include('/themes/proud/woocommerce/single-product.php'), wc_get_template_part, load_template, require('/themes/proud/woocommerce/content-single-product.php'), woocommerce_output_related_products, woocommerce_related_products, wc_get_template, include('/themes/proud/woocommerce/single-product/related.php'), WC_Abstract_Legacy_Product->__get, wc_doing_it_wrong Please see
Debugging in WordPress
for more information. (This message was added in version 3.0.) in
/var/www/wp-includes/functions.php
on line
4903
Notice
: id was called
incorrectly
. Product properties should not be accessed directly. Backtrace: require('wp-blog-header.php'), require_once('wp-includes/template-loader.php'), include('/themes/proud/woocommerce/single-product.php'), wc_get_template_part, load_template, require('/themes/proud/woocommerce/content-single-product.php'), woocommerce_output_related_products, woocommerce_related_products, wc_get_template, include('/themes/proud/woocommerce/single-product/related.php'), WC_Abstract_Legacy_Product->__get, wc_doing_it_wrong Please see
Debugging in WordPress
for more information. (This message was added in version 3.0.) in
/var/www/wp-includes/functions.php
on line
4903