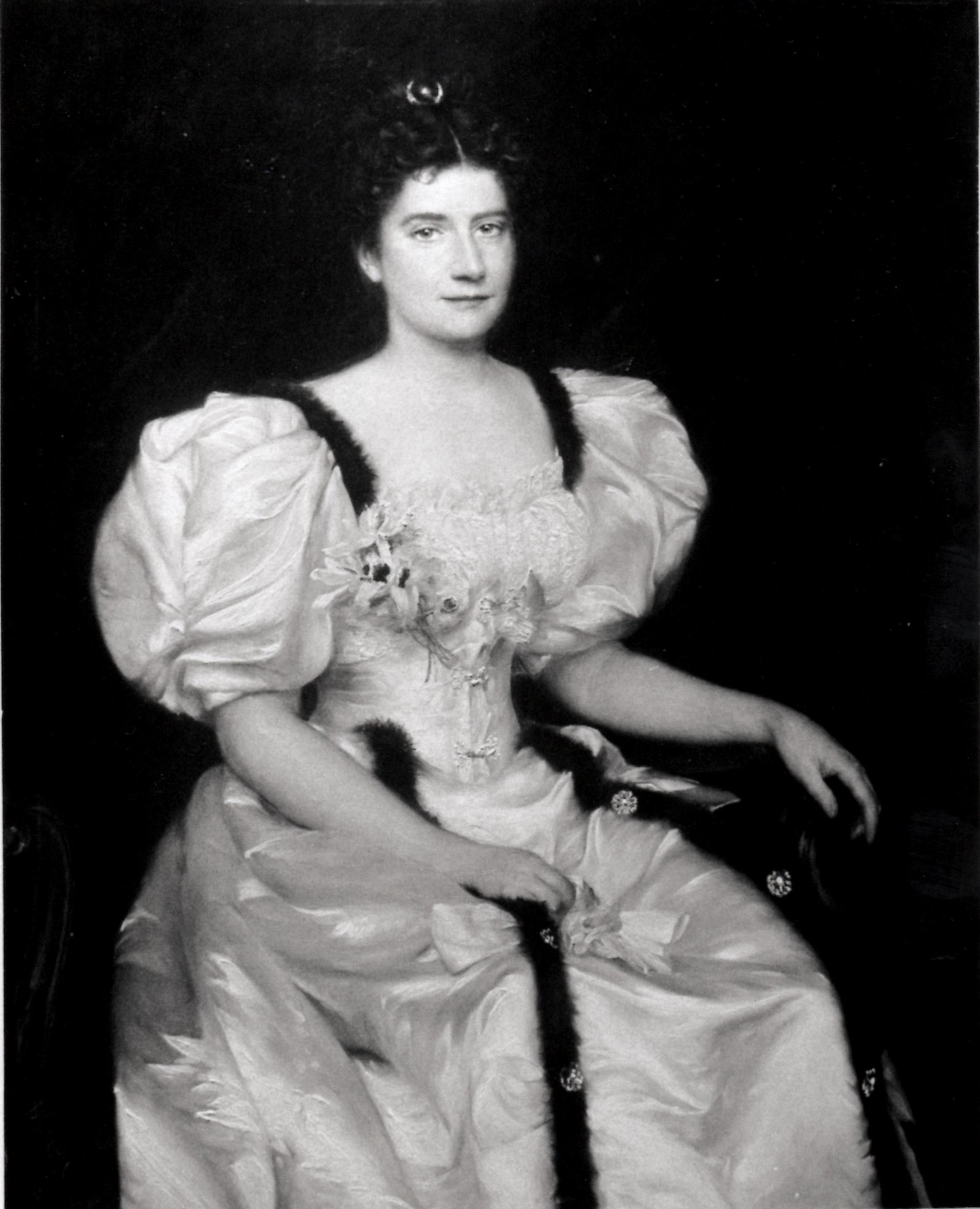 KING, Mrs William F.
Description:
Three-quarter length seated in a white satin dress, head in profile. Oil on canvas, 50" x 40 1/2", signed lower left 'A. Muller Ury'.
Location:
See under Notes below.
Exhibition:
THE NATIONAL ACADEMY OF DESIGN, New York, Loan Exhibition of Portraits, October 31 – December 7, 1895, No. 221.
Bibliography:
Town Topics, October 31, 1895
Notes
Mrs. King's face was depicted looking straight at the viewer and in her hair was a fashionable 'Diana crescent' of diamonds. It was catalogued as follows in 1895, October 31st – December 7th, at the NATIONAL ACADEMY OF DESIGN, New York, 'Loan Exhibition of Portraits':
[221: Mrs. Wm. F. King. Lent by William F. King. Esq.]
Perhaps after being exhibited Mrs. King decided she did not like the picture and her husband returned it to the artist? Whatever the reason, at some point afterward, the artist has clearly scraped out the head of Mrs. King and inserted the profile of his sister Adelina. At the same time he covered the décolletage of Mrs. King, the New York socialite, with suitable white material for his married sister in provincial Eastern Switzerland.
The photograph of this portrait in its original state is from the artist's papers. This is certainly the portrait mentioned under GÄHLER-MÜLLER, Adelina.
Notice
: id was called
incorrectly
. Product properties should not be accessed directly. Backtrace: require('wp-blog-header.php'), require_once('wp-includes/template-loader.php'), include('/themes/proud/woocommerce/single-product.php'), wc_get_template_part, load_template, require('/themes/proud/woocommerce/content-single-product.php'), woocommerce_output_related_products, woocommerce_related_products, wc_get_template, include('/themes/proud/woocommerce/single-product/related.php'), WC_Abstract_Legacy_Product->__get, wc_doing_it_wrong Please see
Debugging in WordPress
for more information. (This message was added in version 3.0.) in
/var/www/wp-includes/functions.php
on line
4986
Notice
: id was called
incorrectly
. Product properties should not be accessed directly. Backtrace: require('wp-blog-header.php'), require_once('wp-includes/template-loader.php'), include('/themes/proud/woocommerce/single-product.php'), wc_get_template_part, load_template, require('/themes/proud/woocommerce/content-single-product.php'), woocommerce_output_related_products, woocommerce_related_products, wc_get_template, include('/themes/proud/woocommerce/single-product/related.php'), WC_Abstract_Legacy_Product->__get, wc_doing_it_wrong Please see
Debugging in WordPress
for more information. (This message was added in version 3.0.) in
/var/www/wp-includes/functions.php
on line
4986