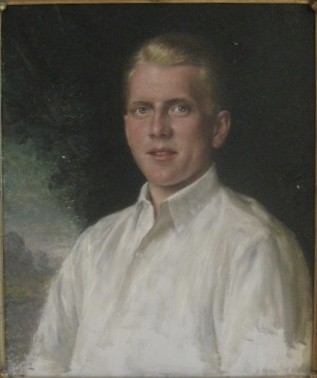 KEELY, Charles Clark
Description:
Oil on canvas, 24" x 20", signed and dated 'A. Muller-Ury 1926' lower right.
Location:
Private Collection, California.
Provenance:
Mrs. Russell McDonnell Taylor; her son Charles Clarke Keely; his youngest daughter Ann Keely (Mrs. Robert M. Matthiessen, 1937-2014) of Pasadena, then San Marino and latterly Bishop, California; by descent.
Notes
The sitter (born 24 December 1902) was the son from the first marriage of Virginia Keely, Mrs. Russell McDonnell Taylor. According to the Los Angeles Times 28 May 1933, Charles Clarke Keely married Miss Beatrice Sargeant of Denver, Colorado, on 30 June 1933. They had three children. He died in 1990.
Notice
: id was called
incorrectly
. Product properties should not be accessed directly. Backtrace: require('wp-blog-header.php'), require_once('wp-includes/template-loader.php'), include('/themes/proud/woocommerce/single-product.php'), wc_get_template_part, load_template, require('/themes/proud/woocommerce/content-single-product.php'), woocommerce_output_related_products, woocommerce_related_products, wc_get_template, include('/themes/proud/woocommerce/single-product/related.php'), WC_Abstract_Legacy_Product->__get, wc_doing_it_wrong Please see
Debugging in WordPress
for more information. (This message was added in version 3.0.) in
/var/www/wp-includes/functions.php
on line
4986
Notice
: id was called
incorrectly
. Product properties should not be accessed directly. Backtrace: require('wp-blog-header.php'), require_once('wp-includes/template-loader.php'), include('/themes/proud/woocommerce/single-product.php'), wc_get_template_part, load_template, require('/themes/proud/woocommerce/content-single-product.php'), woocommerce_output_related_products, woocommerce_related_products, wc_get_template, include('/themes/proud/woocommerce/single-product/related.php'), WC_Abstract_Legacy_Product->__get, wc_doing_it_wrong Please see
Debugging in WordPress
for more information. (This message was added in version 3.0.) in
/var/www/wp-includes/functions.php
on line
4986