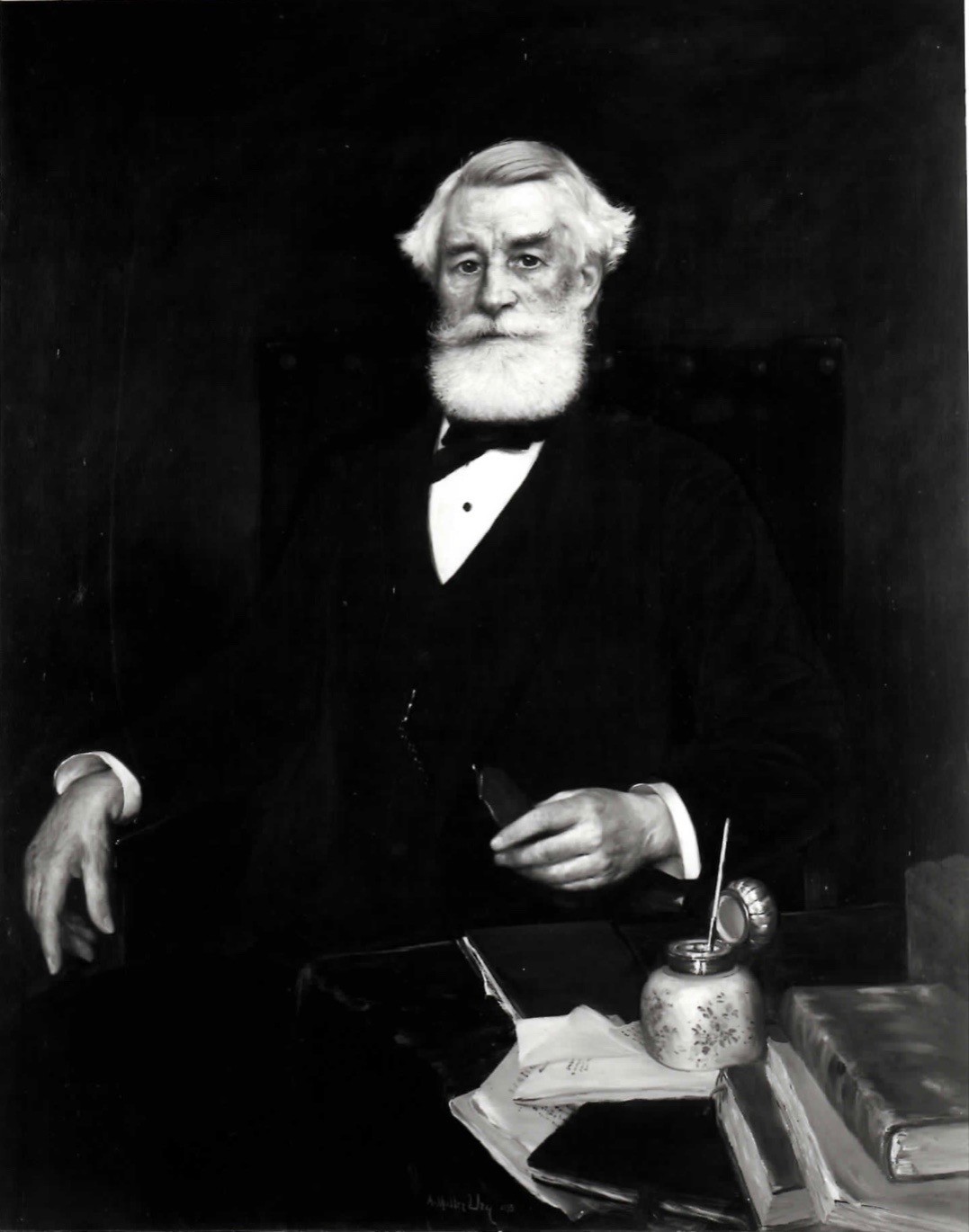 CONSTABLE, James
Description:
Three quarter-length, seated. Oil on canvas, 120.6cm x 95.7cm (47½" x 37 11/16") [Framed 60" x 52" (152.4cm x 132.1cm)], signed and dated lower centre 'A. Muller Ury 1893'.
Location:
The American Museum of Natural History, New York, N.Y. 10024, U.S.A
Provenance:
Presented by the Trustees of the Museum in 1893 (not in 1905).
Exhibition:
M. KNOEDLER & CO., 170, Fifth Avenue (corner Twenty-second Street), New York, February 1 – 15, 1894.
Bibliography:
New Yorker Staats Zeitung, February 4, 1894 ('John Constable')
The American University Magazine, May 1895, Vol. II, No. 1
Notes
The sitter was born August 19, 1812 in Stoningham, England, the son of James and Sophia Constable. His wife was born Henrietta Arnold (1822-February 11, 1884), and they had three children Frederick Augustus Constable, Amy Henrietta Weatherbee (Born 1858, married to Edwin Henry Weatherbee) and Harriet M. Constable. Constable came to America in 1838, joined a dry goods firm, Arnold & Co. , by 1842 he was a full partner in the firm, and in 1845 married the daughter of its founder, Aaron Arnold (1794–1876) thus forming Arnold, Constable & Co. Four of their buildings still stand, one at Broadway and 19th, one on Lady's Mile, one at 40th Street and 5th Avenue used as a branch of the New York Public Library, and their original "Marble Palace" of 1857 at Mercer and Canal. He owned the Constable Building at 5th Avenue and 11th Street. He died in New York May 12, 1900. According to a New York Times, June 12, 1900, he owned a collection of pictures which were to be distributed evenly amongst his children.
James Constable's obituary in the American Museum of Natural History's Annual Report, 1900, states that Mr. Constable became a Fellow of the Museum in 1871 and a Trustee the following year. He became Chairman of the Executive Committee and later, in 1890, First Vice-President. It was Constable's generosity in 1882 which helped to establish an education department at the Museum.
According to a letter from Theodore Havemeyer to the artist dated May 25, 1893 (artist's papers), '…It gave me great pleasure at the meeting of the trustees of the American Museum of Natural History to hear the criticisms passed upon your picture of Mr. Constable. It met with universal approbation and there appeared to be but one opinion; that it was an excellent likeness and exceedingly well executed.'
It may be that more than one picture of James Constable was made in 1893 as in a letter (same source), dated December 21, 1893, the sitter says that he '…is pleased to say all the portraits give so much satisfaction.'
Notice
: id was called
incorrectly
. Product properties should not be accessed directly. Backtrace: require('wp-blog-header.php'), require_once('wp-includes/template-loader.php'), include('/themes/proud/woocommerce/single-product.php'), wc_get_template_part, load_template, require('/themes/proud/woocommerce/content-single-product.php'), woocommerce_output_related_products, woocommerce_related_products, wc_get_template, include('/themes/proud/woocommerce/single-product/related.php'), WC_Abstract_Legacy_Product->__get, wc_doing_it_wrong Please see
Debugging in WordPress
for more information. (This message was added in version 3.0.) in
/var/www/wp-includes/functions.php
on line
4986
Notice
: id was called
incorrectly
. Product properties should not be accessed directly. Backtrace: require('wp-blog-header.php'), require_once('wp-includes/template-loader.php'), include('/themes/proud/woocommerce/single-product.php'), wc_get_template_part, load_template, require('/themes/proud/woocommerce/content-single-product.php'), woocommerce_output_related_products, woocommerce_related_products, wc_get_template, include('/themes/proud/woocommerce/single-product/related.php'), WC_Abstract_Legacy_Product->__get, wc_doing_it_wrong Please see
Debugging in WordPress
for more information. (This message was added in version 3.0.) in
/var/www/wp-includes/functions.php
on line
4986