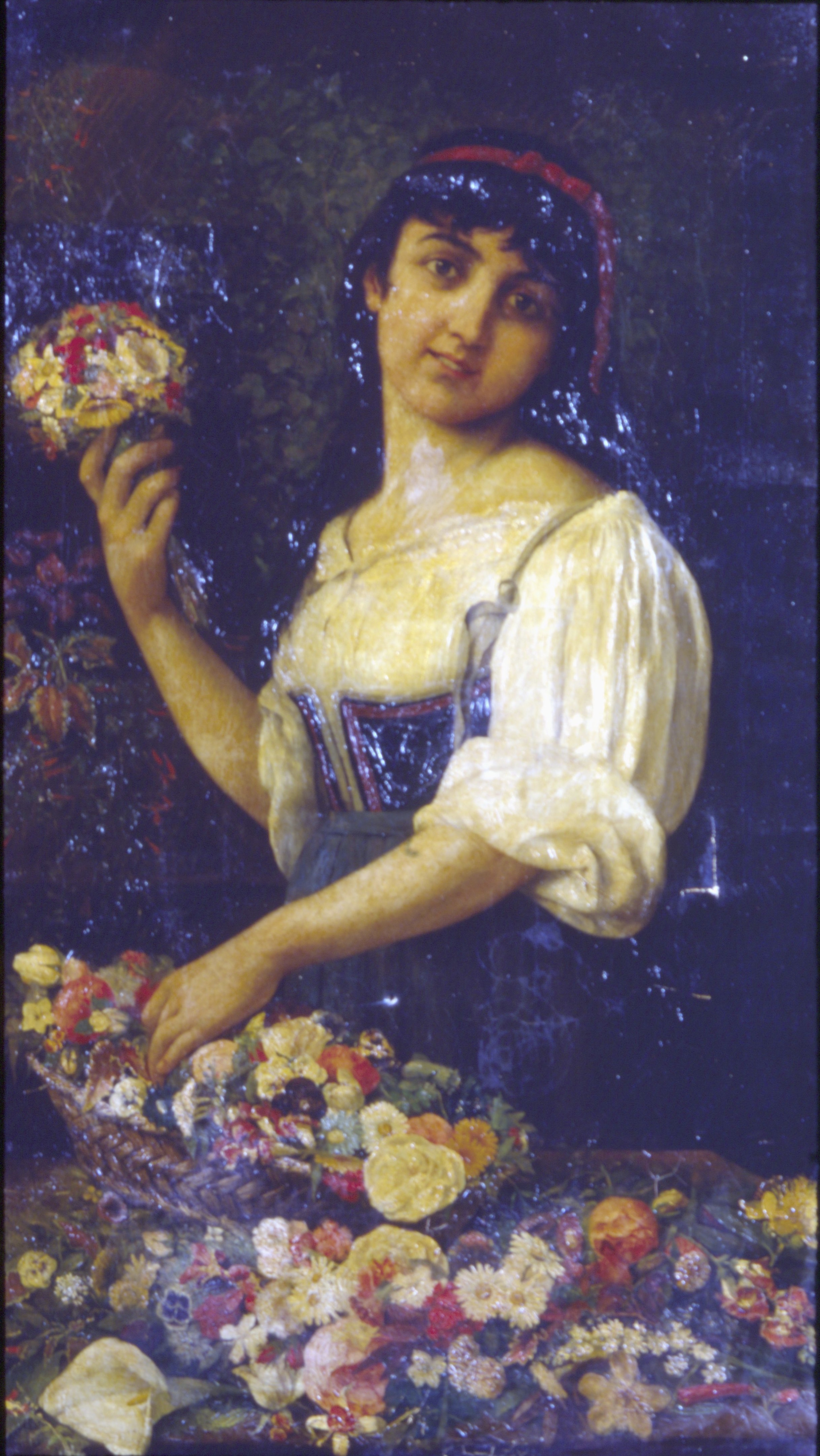 Flower Girl
Description:
A woman in Italianate costume with a basket of flowers. Oil on canvas, 43.1/4″ x 24.1/4″ (109.8 cm x 61.5 cm)
Location:
Adolfo Muller-Ury Stiftung, Hospental, Switzerland.
Notes
The stretcher bears the words "A. Muller d'Uri, Sherwood Building, corner 57th Street 6th Avenue", and upper right "Room C". The style of name implies a date of around 1889 as the Portrait of a North African Man with a Gun is signed Muller d'Uri.
Somewhat difficult to be certain due to the picture's poor condition, but painted in emulation of similar pictures by Cabanel, like that of La Chiaruccia painted in 1848.
Notice
: id was called
incorrectly
. Product properties should not be accessed directly. Backtrace: require('wp-blog-header.php'), require_once('wp-includes/template-loader.php'), include('/themes/proud/woocommerce/single-product.php'), wc_get_template_part, load_template, require('/themes/proud/woocommerce/content-single-product.php'), woocommerce_output_related_products, woocommerce_related_products, wc_get_template, include('/themes/proud/woocommerce/single-product/related.php'), WC_Abstract_Legacy_Product->__get, wc_doing_it_wrong Please see
Debugging in WordPress
for more information. (This message was added in version 3.0.) in
/var/www/wp-includes/functions.php
on line
4986
Notice
: id was called
incorrectly
. Product properties should not be accessed directly. Backtrace: require('wp-blog-header.php'), require_once('wp-includes/template-loader.php'), include('/themes/proud/woocommerce/single-product.php'), wc_get_template_part, load_template, require('/themes/proud/woocommerce/content-single-product.php'), woocommerce_output_related_products, woocommerce_related_products, wc_get_template, include('/themes/proud/woocommerce/single-product/related.php'), WC_Abstract_Legacy_Product->__get, wc_doing_it_wrong Please see
Debugging in WordPress
for more information. (This message was added in version 3.0.) in
/var/www/wp-includes/functions.php
on line
4986