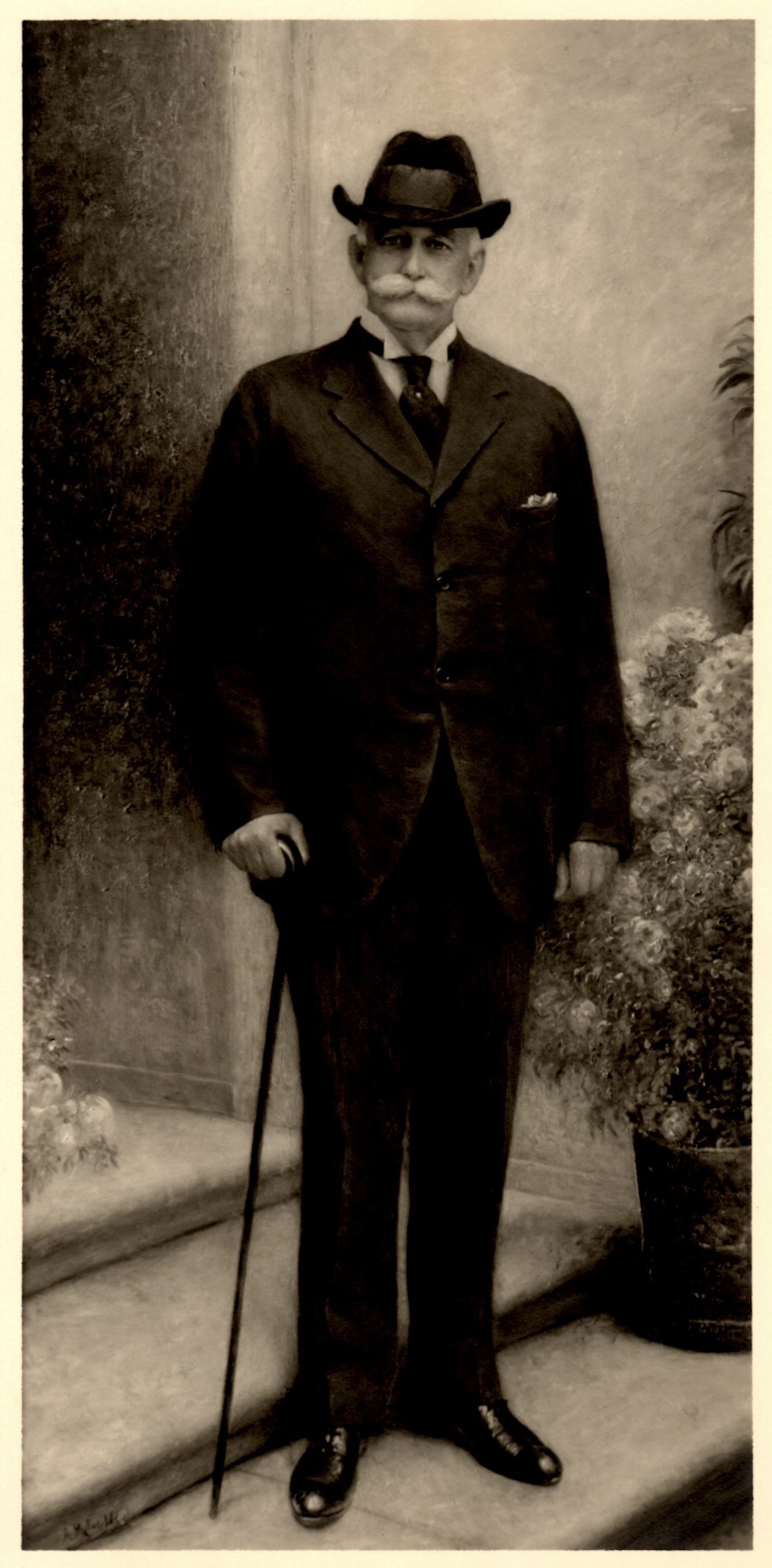 HUNTINGTON, Henry Edwards
Description:
Full-length, standing on a step, in front of a doorway. Oil on canvas, 83.1/2" x 41.1/2" (212 x 105.4 cms) framed, signed lower left.
Location:
Huntington Memorial Hospital, Pasadena, California, U.S.A.
Provenance:
How it was acquired by the hospital is unknown. Did the artist leave it with friends in LA when he left San Marino in September 1933?
Notes
Henry Edwards Huntington was born on February 27, 1850. He married Mary Alice Prentice in 1873, birth sister of his Uncle Collis Huntington's adopted daughter, in 1910 and married Arabella Wortham Huntington (widow of his uncle Collis Huntington) on July 16, 1913 after Mary Alice's death. He had four children with Mary Alice (Howard Edward, Clara Leonora, Elizabeth Vincent, and Marian Prentice), but none with Arabella. Arabella's son Archer, from her prior marriage from which she was widowed, had earlier been adopted by Collis Huntington.
He was a railroad magnate and collector of art and rare books. Huntington, though born in Oneanta, New York, settled in Los Angeles where he owned the Pacific Electric Railway, as well as substantial real estate interests. Huntington provided Los Angeles with passenger friendly streetcars on 24/7 schedules, which the railroads could not match. This was facilitated by the boom in Southern California land development, where housing was built in places such as Huntington Beach, a Huntington development. Connectivity to Downtown Los Angeles made such suburbs feasible. By 1910, the Huntington trolley systems spanned approximately 1,300 miles (2,100 km) of southern California. In addition to being a businessman and art collector, Huntington was a major promoter of Los Angeles as a place to live in the late 19th and early 20th centuries. In San Marino many places are named after him. Huntington retired from business in 1916 and died in Philadelphia while undergoing surgery on May 23, 1927.
—
Painted from a well-known photograph in 1926/7.
The duotone photograph in the artist's papers is stamped 'Keystone Photo Service, 1231 South Olive Street, Los Angeles, Cal.'
Notice
: id was called
incorrectly
. Product properties should not be accessed directly. Backtrace: require('wp-blog-header.php'), require_once('wp-includes/template-loader.php'), include('/themes/proud/woocommerce/single-product.php'), wc_get_template_part, load_template, require('/themes/proud/woocommerce/content-single-product.php'), woocommerce_output_related_products, woocommerce_related_products, wc_get_template, include('/themes/proud/woocommerce/single-product/related.php'), WC_Abstract_Legacy_Product->__get, wc_doing_it_wrong Please see
Debugging in WordPress
for more information. (This message was added in version 3.0.) in
/var/www/wp-includes/functions.php
on line
4986
Notice
: id was called
incorrectly
. Product properties should not be accessed directly. Backtrace: require('wp-blog-header.php'), require_once('wp-includes/template-loader.php'), include('/themes/proud/woocommerce/single-product.php'), wc_get_template_part, load_template, require('/themes/proud/woocommerce/content-single-product.php'), woocommerce_output_related_products, woocommerce_related_products, wc_get_template, include('/themes/proud/woocommerce/single-product/related.php'), WC_Abstract_Legacy_Product->__get, wc_doing_it_wrong Please see
Debugging in WordPress
for more information. (This message was added in version 3.0.) in
/var/www/wp-includes/functions.php
on line
4986