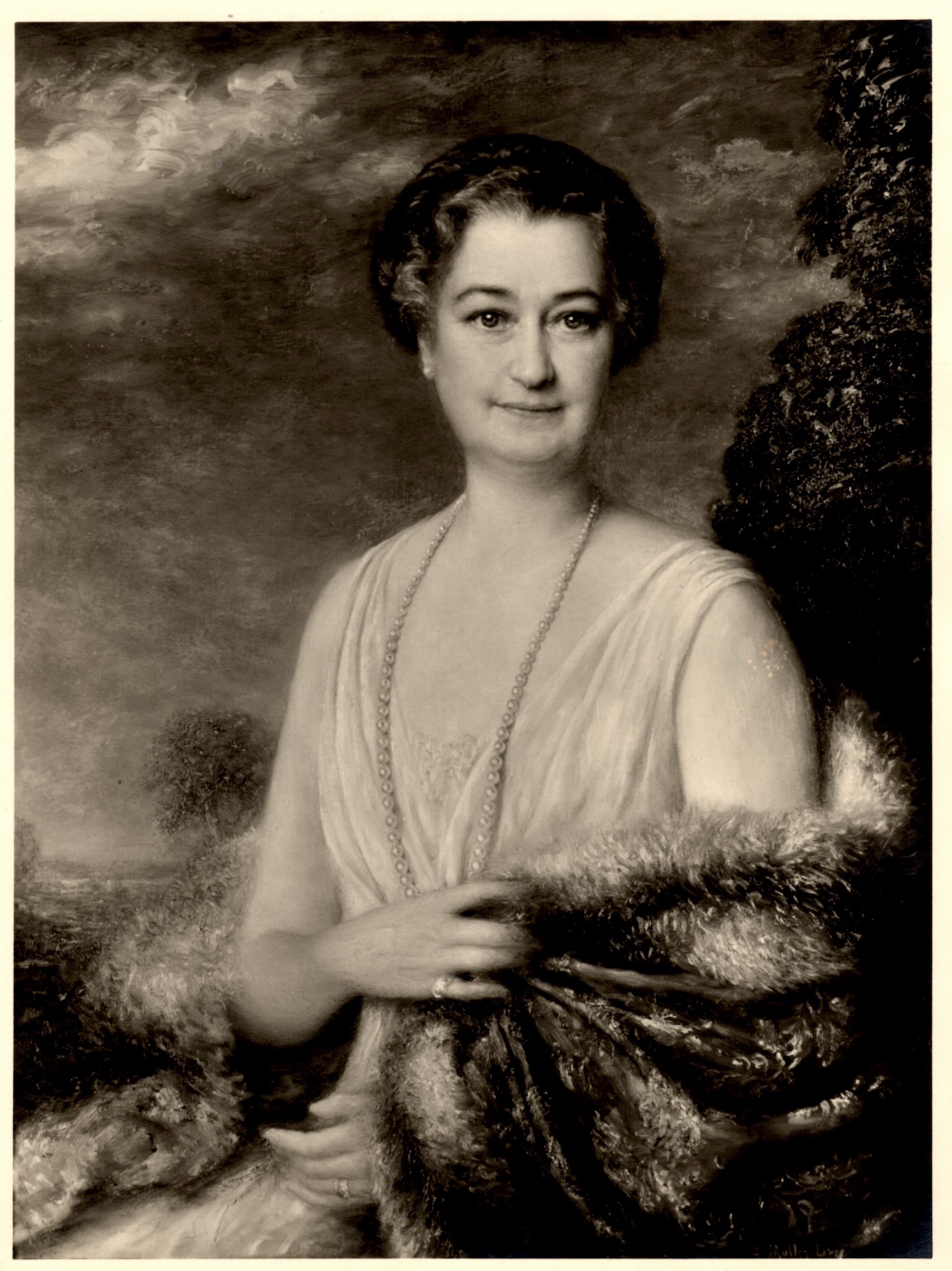 Hostetter, Mrs. David Herbert (Miriam Gerdes)
Description:
Half-length seated before a landscape, wearing a pale dress without sleeves and a single string of graduated pearls, beginning to draw a fur-edged embroidered wrap around her lower shoulders. Oil on canvas, 33.1/2″ x 25.3/8″ signed lower right 'A. Muller-Ury'.
Location:
Private Collection, California, USA.
Notes
The sitter was the wife of David Herbert Hostetter whom Muller-Ury painted posthumously in 1926. Miriam Gerdes who was born 24 January 1869 married him in 1887 and died on 13 May 1946.
The portrait was painted in California in the Spring of 1927. In a long and chatty letter which Muller-Ury wrote to Duveen, dated April 17, 1927, in the Getty Research Institute, Research Library, Los Angeles, Duveen Archive 960015, Box 381, he states:
'I paint another Lady's portrait now Mrs. Hostetter of Pittsburgh of whom husband I painted last year & made great success — it will be finished next week.'
A duotone photograph of the portrait in the artist's papers from the Keystone Photo Service, 1231 South Olive Street, Los Angeles, California is labelled No. C7939. 
The style and handling of the picture appears quite different from that of her husband's larger portrait. 
Notice
: id was called
incorrectly
. Product properties should not be accessed directly. Backtrace: require('wp-blog-header.php'), require_once('wp-includes/template-loader.php'), include('/themes/proud/woocommerce/single-product.php'), wc_get_template_part, load_template, require('/themes/proud/woocommerce/content-single-product.php'), woocommerce_output_related_products, woocommerce_related_products, wc_get_template, include('/themes/proud/woocommerce/single-product/related.php'), WC_Abstract_Legacy_Product->__get, wc_doing_it_wrong Please see
Debugging in WordPress
for more information. (This message was added in version 3.0.) in
/var/www/wp-includes/functions.php
on line
4986
Notice
: id was called
incorrectly
. Product properties should not be accessed directly. Backtrace: require('wp-blog-header.php'), require_once('wp-includes/template-loader.php'), include('/themes/proud/woocommerce/single-product.php'), wc_get_template_part, load_template, require('/themes/proud/woocommerce/content-single-product.php'), woocommerce_output_related_products, woocommerce_related_products, wc_get_template, include('/themes/proud/woocommerce/single-product/related.php'), WC_Abstract_Legacy_Product->__get, wc_doing_it_wrong Please see
Debugging in WordPress
for more information. (This message was added in version 3.0.) in
/var/www/wp-includes/functions.php
on line
4986