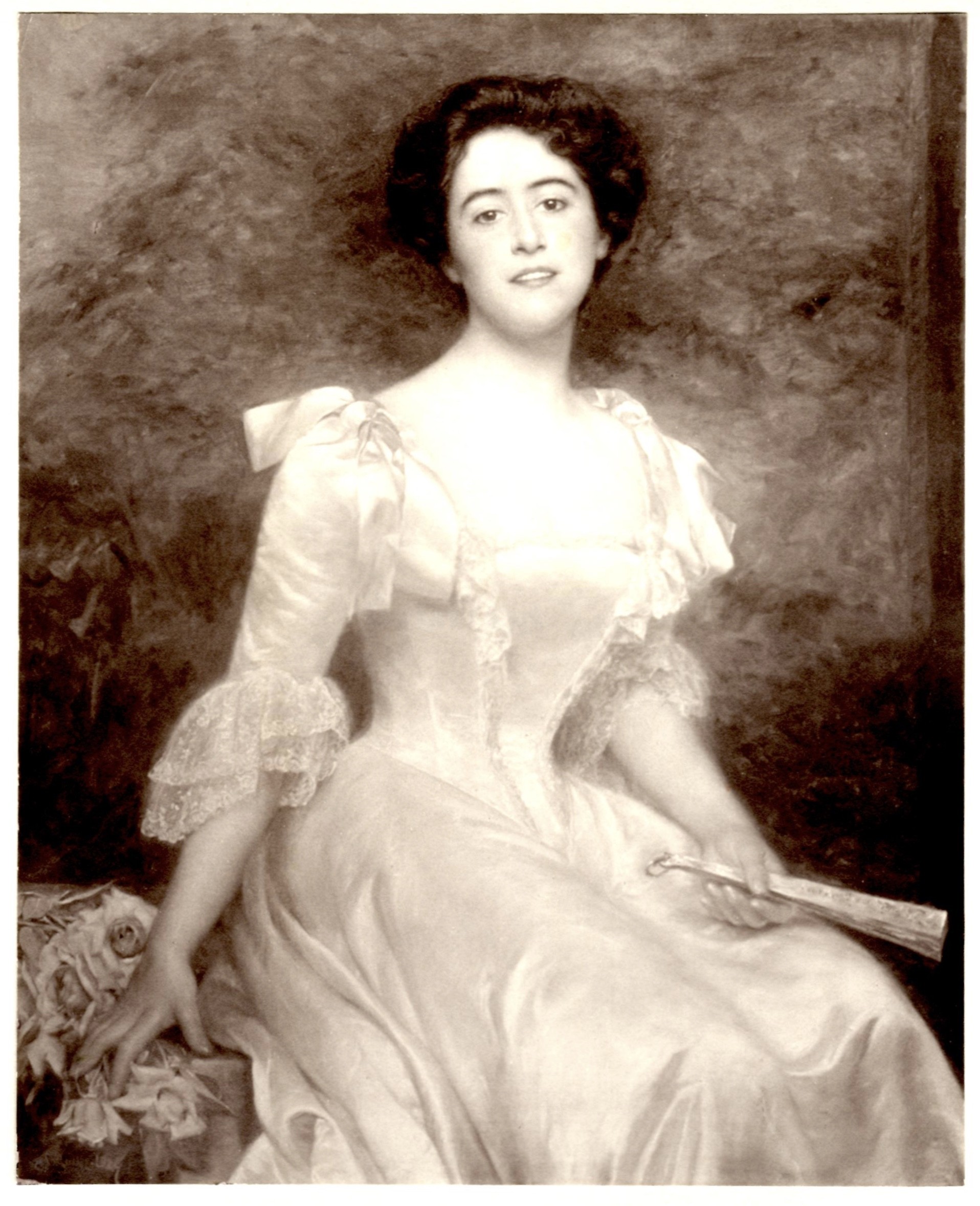 HOFFMAN, Emily (Later Mrs Fred Dalziel)
Description:
Three-quarter length seated, dressed in Nile-green silk, holding a fan.
Location:
Present Whereabouts Unknown.
Exhibitions:
DURAND-RUEL GALLERIES, 389, Fifth Avenue, New York, March 1 – 15, 1897.
THE NATIONAL ACADEMY OF DESIGN, New York, December 1898 – January 17, 1899 in the 'Loan Exhibition of Portraits'.
Bibliography:
New York Times, August 30, 1896
New York Press, August 30, 1896
New York Recorder, September 6, 1896
New York Sun, September 6, 1896
New York Commercial Advertiser, September 9, 1896
Newport Herald, September 16, 1896
New York Times, December 25, 1896 (reproduced)
Mail and Express, New York, February 27, 1897
New Yorker Staats Zeitung, February 28, 1897
New York Times, March 2, 1897
New York Herald, March 14, 1897
Town Topics, March 18, 1897
New York World, April 18, 1897
Amanda Mackenzie Stuart, Diana Vreeland, Empress of Fashion, London, 2012, p. 16.
Notes
Emily Hoffman (1876-1927) was the daughter of George Hoffman and Francis Scott Key of Baltimore; granddaughter of Mr. John Washington Ellis and Mary Martin Ellis (died 1920) of New York and Newport. She had a reputation as a dancer, but married a penniless Scot named Frederick Young Dalziel (died 1960) and lived for many years in Paris on the Avenue du Bois and in London. She was cited as the co-respondent in a divorce case after visiting Africa for a safari in early 1927, but died on September 12, 1927. One of her two daughters was the fashion guru Diana Vreeland, who worked for American Vogue in the 1960s, the other, who was called Alexandra, had a daughter, Emily Louise Kinloch "Emi-Lou", who became Mrs. Hugh Astor.
Painted in August 1896. The sitter gave Muller-Ury a photograph of herself signed 'With recollections of delightful August mornings.' (artist's papers) The New York Press of August 30, 1896 wrote that '…the pose is exceedingly natural and graceful, and the artist has caught Miss Hoffman's sweetness of expression to perfection, and has most charmingly rendered her exquisite coloring of face and hair. As Miss Hoffman is considered by many people the most beautiful of Newport's maidens, this portrait has naturally made much stir and will add much to Mr. Muller-Ury's reputation.' Described by the New York Times, March 2, 1897, in its review as '…altogether charming, due probably to the loveliness of the subject as much as the art of the painter. The pose of the face and the grace of the figure, the expression, with the lips half parted, and the rendering of the sheen of the Nile green satin dress, combine to make a work of more than ordinary merit. In this portrait particularly Mr. Muller-Ury's refinement is noticeable, and it is truly the portrait of a lady by a gentleman.'
Notice
: id was called
incorrectly
. Product properties should not be accessed directly. Backtrace: require('wp-blog-header.php'), require_once('wp-includes/template-loader.php'), include('/themes/proud/woocommerce/single-product.php'), wc_get_template_part, load_template, require('/themes/proud/woocommerce/content-single-product.php'), woocommerce_output_related_products, woocommerce_related_products, wc_get_template, include('/themes/proud/woocommerce/single-product/related.php'), WC_Abstract_Legacy_Product->__get, wc_doing_it_wrong Please see
Debugging in WordPress
for more information. (This message was added in version 3.0.) in
/var/www/wp-includes/functions.php
on line
4903
Notice
: id was called
incorrectly
. Product properties should not be accessed directly. Backtrace: require('wp-blog-header.php'), require_once('wp-includes/template-loader.php'), include('/themes/proud/woocommerce/single-product.php'), wc_get_template_part, load_template, require('/themes/proud/woocommerce/content-single-product.php'), woocommerce_output_related_products, woocommerce_related_products, wc_get_template, include('/themes/proud/woocommerce/single-product/related.php'), WC_Abstract_Legacy_Product->__get, wc_doing_it_wrong Please see
Debugging in WordPress
for more information. (This message was added in version 3.0.) in
/var/www/wp-includes/functions.php
on line
4903