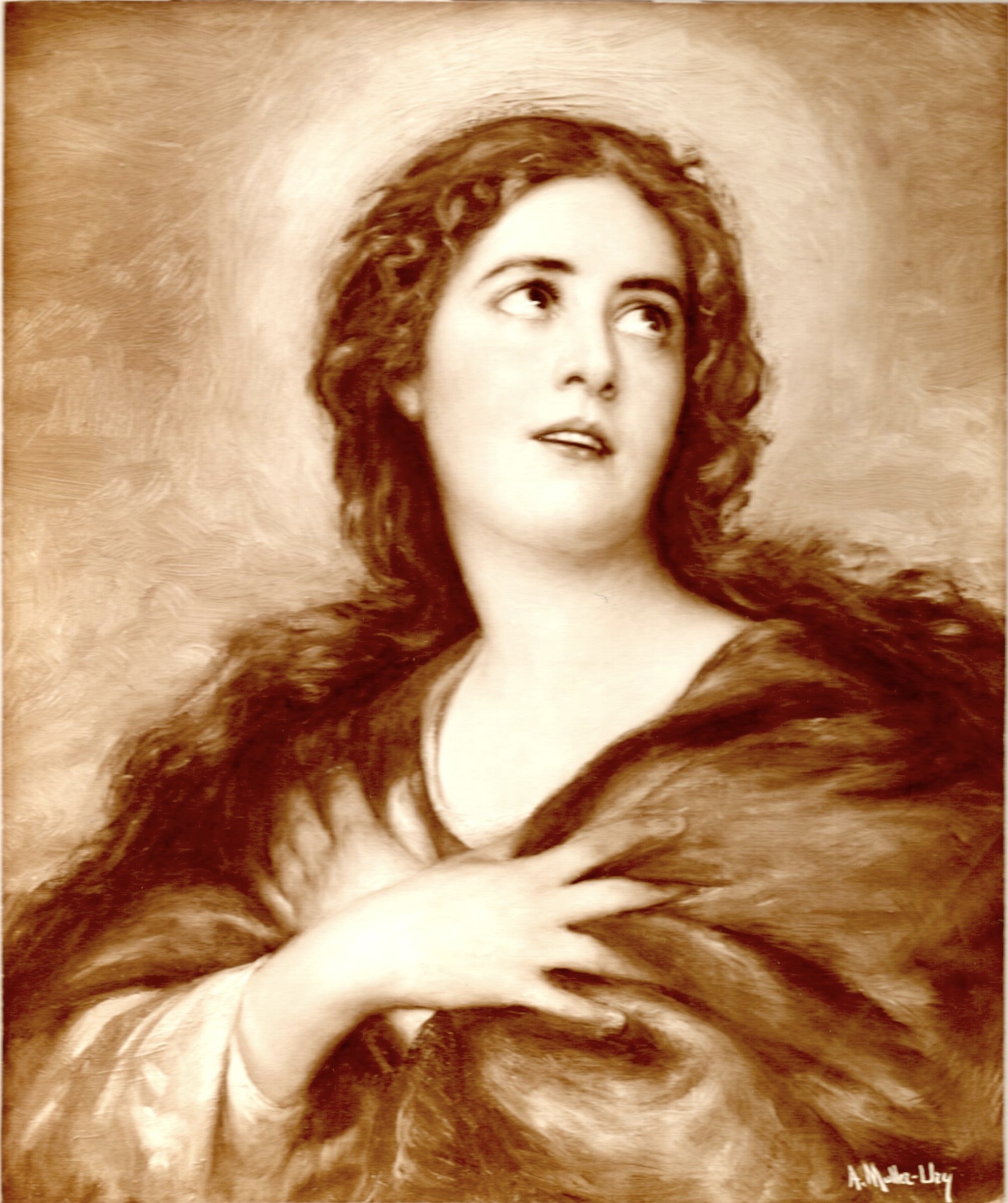 HOFFMAN, Emily, as the Madonna
Description:
Posed as a Madonna. Bust-length, with hands folded across her breast. Signed lower right.
Location:
Present Whereabouts Unknown.
Exhibition:
DURAND-RUEL GALLERIES, 389, Fifth Avenue, New York, March 1 – 15, 1897
Bibliography:
The New York Times, March 2, 1897
New York World, July 3, 1898, (line illustration)
New York Herald, December 25, 1898 (reproduced)
The Art Collector, New York, January 15, 1899
Amanda Mackenzie Stuart, Diana Vreeland, Empress of Fashion, London, 2012, p. 16.
Notes
Emily Hoffman (1876-1927) was the daughter of George Hoffman and Francis Scott Key of Baltimore; granddaughter of Mr. John Washington Ellis and Mary Martin Ellis (died 1920) of New York and Newport. She had a reputation as a dancer, but married a penniless Scot named Frederick Young Dalziel (died 1960) and lived for many years in Paris on the Avenue du Bois and in London. She was cited as the co-respondent in a divorce case after visiting Africa for a safari in early 1927, but died on September 12, 1927. One of her two daughters was the fashion guru Diana Vreeland, who worked for American Vogue in the 1960s, the other, who was called Alexandra, had a daughter, Emily Louise Kinloch "Emi-Lou", who became Mrs. Hugh Astor.
This picture may have belonged to James J. Hill, according to an annotated photograph in the artist's papers.
The brown sepia photograph in the artist's papers bears the stamp of Kurtz.
Notice
: id was called
incorrectly
. Product properties should not be accessed directly. Backtrace: require('wp-blog-header.php'), require_once('wp-includes/template-loader.php'), include('/themes/proud/woocommerce/single-product.php'), wc_get_template_part, load_template, require('/themes/proud/woocommerce/content-single-product.php'), woocommerce_output_related_products, woocommerce_related_products, wc_get_template, include('/themes/proud/woocommerce/single-product/related.php'), WC_Abstract_Legacy_Product->__get, wc_doing_it_wrong Please see
Debugging in WordPress
for more information. (This message was added in version 3.0.) in
/var/www/wp-includes/functions.php
on line
4986
Notice
: id was called
incorrectly
. Product properties should not be accessed directly. Backtrace: require('wp-blog-header.php'), require_once('wp-includes/template-loader.php'), include('/themes/proud/woocommerce/single-product.php'), wc_get_template_part, load_template, require('/themes/proud/woocommerce/content-single-product.php'), woocommerce_output_related_products, woocommerce_related_products, wc_get_template, include('/themes/proud/woocommerce/single-product/related.php'), WC_Abstract_Legacy_Product->__get, wc_doing_it_wrong Please see
Debugging in WordPress
for more information. (This message was added in version 3.0.) in
/var/www/wp-includes/functions.php
on line
4986