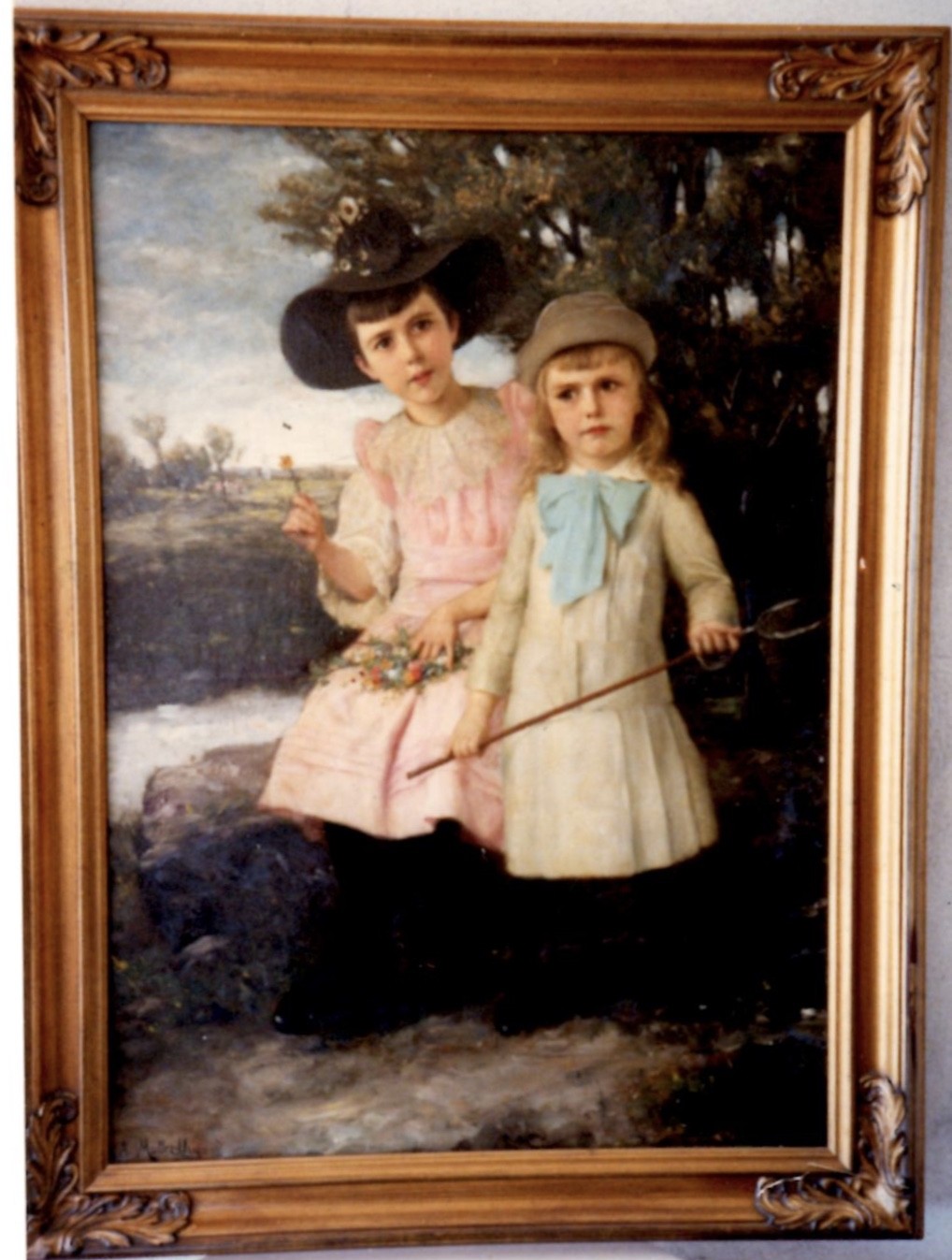 HILL, Rachel & Hill, Walter
Description:
Rachel Hill dressed in pale pink, wearing a hat, holding flowers in her lap and her right hand raised and holding what appears to be a buttercup, seated on a rock before a clump of trees, and a stream with a distant landscape, with her younger brother Walter standing beside her holding a fishnet and dressed in a white smock with pale blue bow at the collar and wearing a soft felt hat over his fair long hair. Oil on canvas, signed lower left 'A. Muller Ury'.
Location:
Private Collection, St. Paul, Minnesota.
Provenance:
James. J. Hill; by descent.
Notes
Rachel Hill (1881–1967), was the eighth child of James J. Hill, and married Egil Boeckmann of St. Paul; Walter Jerome Hill (1885–1944) was Hill's tenth and last child.
Muller-Ury wrote to Mrs. Hill on December 22, 1888 a letter of thanks for he hospitality and stated at the end '…I have begun some sketches for Walther and Richels (sic)picture and when you come to New York I will be happy to hear your idea about them…' (At this early date the artist signed himself 'A. Muller-Uri'). But Hill appears not to have acted for some time for another letter of June 16, 1889 partly says:
'Dear Sir,
Having near everything ready for the portraits of your children Master Walther and Richel (sic) I would be very glad if you would have the kindness and let me know when my coming to St. Paul is convenient to you. Any time you may appoint I will be at your disposition…
Hopping (sic) to see you soon I have the honor to be
Your most obedient Servant, A. Muller-Uri.'
A little while after the portrait was completed Muller-Ury was paid $3,500 by Hill on October 21, 1889 (All references to documents in the Hill Family Collection, Minnesota Historical Society, St. Paul).
Notice
: id was called
incorrectly
. Product properties should not be accessed directly. Backtrace: require('wp-blog-header.php'), require_once('wp-includes/template-loader.php'), include('/themes/proud/woocommerce/single-product.php'), wc_get_template_part, load_template, require('/themes/proud/woocommerce/content-single-product.php'), woocommerce_output_related_products, woocommerce_related_products, wc_get_template, include('/themes/proud/woocommerce/single-product/related.php'), WC_Abstract_Legacy_Product->__get, wc_doing_it_wrong Please see
Debugging in WordPress
for more information. (This message was added in version 3.0.) in
/var/www/wp-includes/functions.php
on line
4903
Notice
: id was called
incorrectly
. Product properties should not be accessed directly. Backtrace: require('wp-blog-header.php'), require_once('wp-includes/template-loader.php'), include('/themes/proud/woocommerce/single-product.php'), wc_get_template_part, load_template, require('/themes/proud/woocommerce/content-single-product.php'), woocommerce_output_related_products, woocommerce_related_products, wc_get_template, include('/themes/proud/woocommerce/single-product/related.php'), WC_Abstract_Legacy_Product->__get, wc_doing_it_wrong Please see
Debugging in WordPress
for more information. (This message was added in version 3.0.) in
/var/www/wp-includes/functions.php
on line
4903