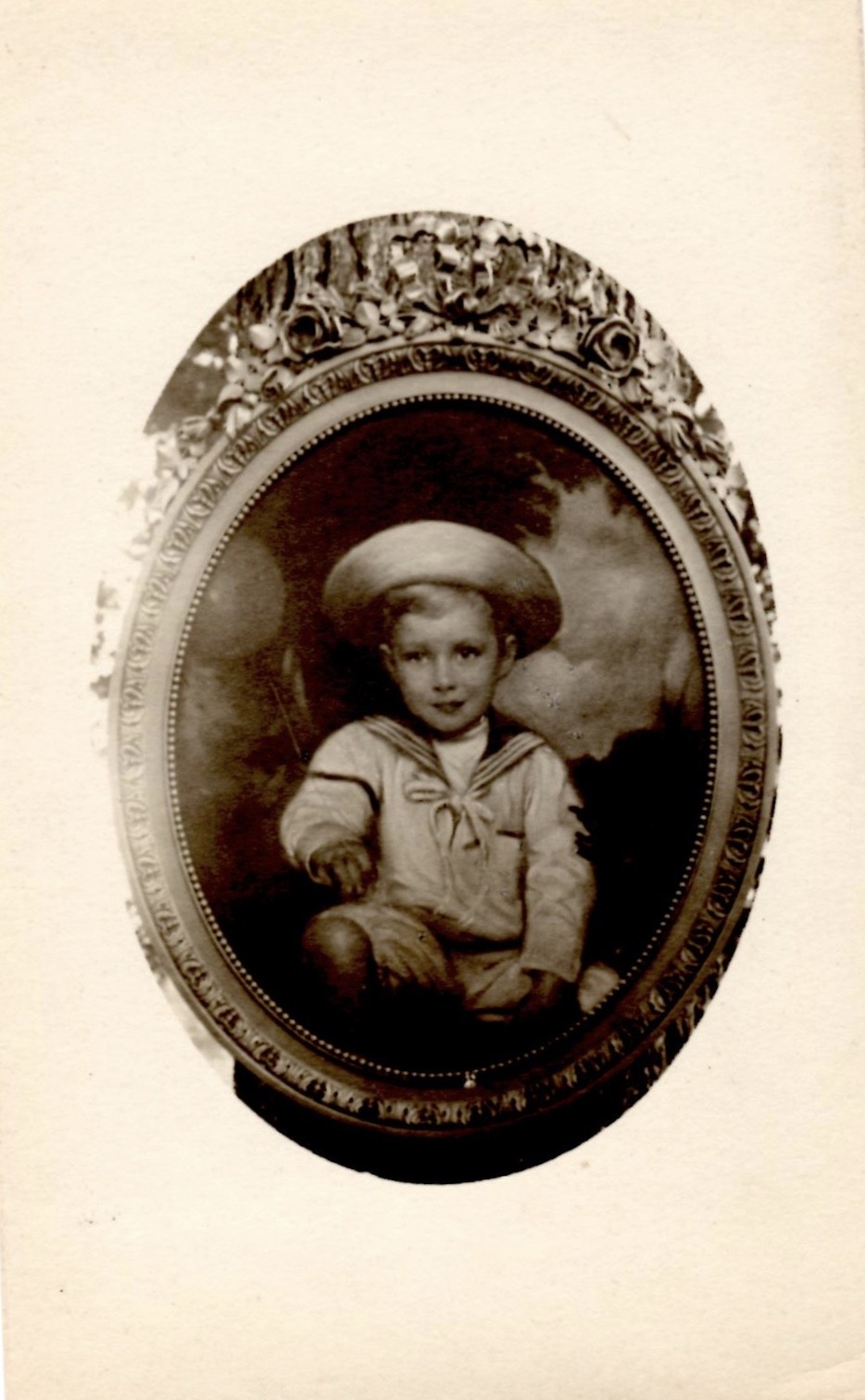 HAVEMEYER, Henry O. Jr.
Description:
Oval, bust-length, as a child, dressed in a sailor-suit, holding a balloon. Oil on canvas, 30.1/2" x 24" (77.5 x 60.96 cms). The frame, carved and gilt with a bow and ribbons to the top. The picture is unsigned.
Location:
Private Collection, Bridgehampton, USA.
Provenance:
H.O. Havemeyer Sr. (to 1965); the sitter, at 510, Valley Road, Mahwah, New Jersey (until 1992); his nephew.
Notes
Master H.O. Havemeyer (H.O. Havemeyer III) (1902 – 1992) was the son of Henry Osborne Havemeyer Sr. (1876-1965) ; he became an inventor with numerous patents to his name.
Muller-Ury painted this portrait in 1906. Apart from the head, the painting is very sketchy and would appear to have been painted quickly. The dimensions are similar to those for the portrait of his brother Frederick "Fritz", and are in similar frames.
A portrait of this subject may have been added as an extra exhibit at M. KNOEDLER & CO., 355, Fifth Avenue, New York, December 3 – 15, 1906 (see New York Herald, December 8, 1906, which, however, omits Mrs. Daniel Frohman.)
Notice
: id was called
incorrectly
. Product properties should not be accessed directly. Backtrace: require('wp-blog-header.php'), require_once('wp-includes/template-loader.php'), include('/themes/proud/woocommerce/single-product.php'), wc_get_template_part, load_template, require('/themes/proud/woocommerce/content-single-product.php'), woocommerce_output_related_products, woocommerce_related_products, wc_get_template, include('/themes/proud/woocommerce/single-product/related.php'), WC_Abstract_Legacy_Product->__get, wc_doing_it_wrong Please see
Debugging in WordPress
for more information. (This message was added in version 3.0.) in
/var/www/wp-includes/functions.php
on line
4903
Notice
: id was called
incorrectly
. Product properties should not be accessed directly. Backtrace: require('wp-blog-header.php'), require_once('wp-includes/template-loader.php'), include('/themes/proud/woocommerce/single-product.php'), wc_get_template_part, load_template, require('/themes/proud/woocommerce/content-single-product.php'), woocommerce_output_related_products, woocommerce_related_products, wc_get_template, include('/themes/proud/woocommerce/single-product/related.php'), WC_Abstract_Legacy_Product->__get, wc_doing_it_wrong Please see
Debugging in WordPress
for more information. (This message was added in version 3.0.) in
/var/www/wp-includes/functions.php
on line
4903