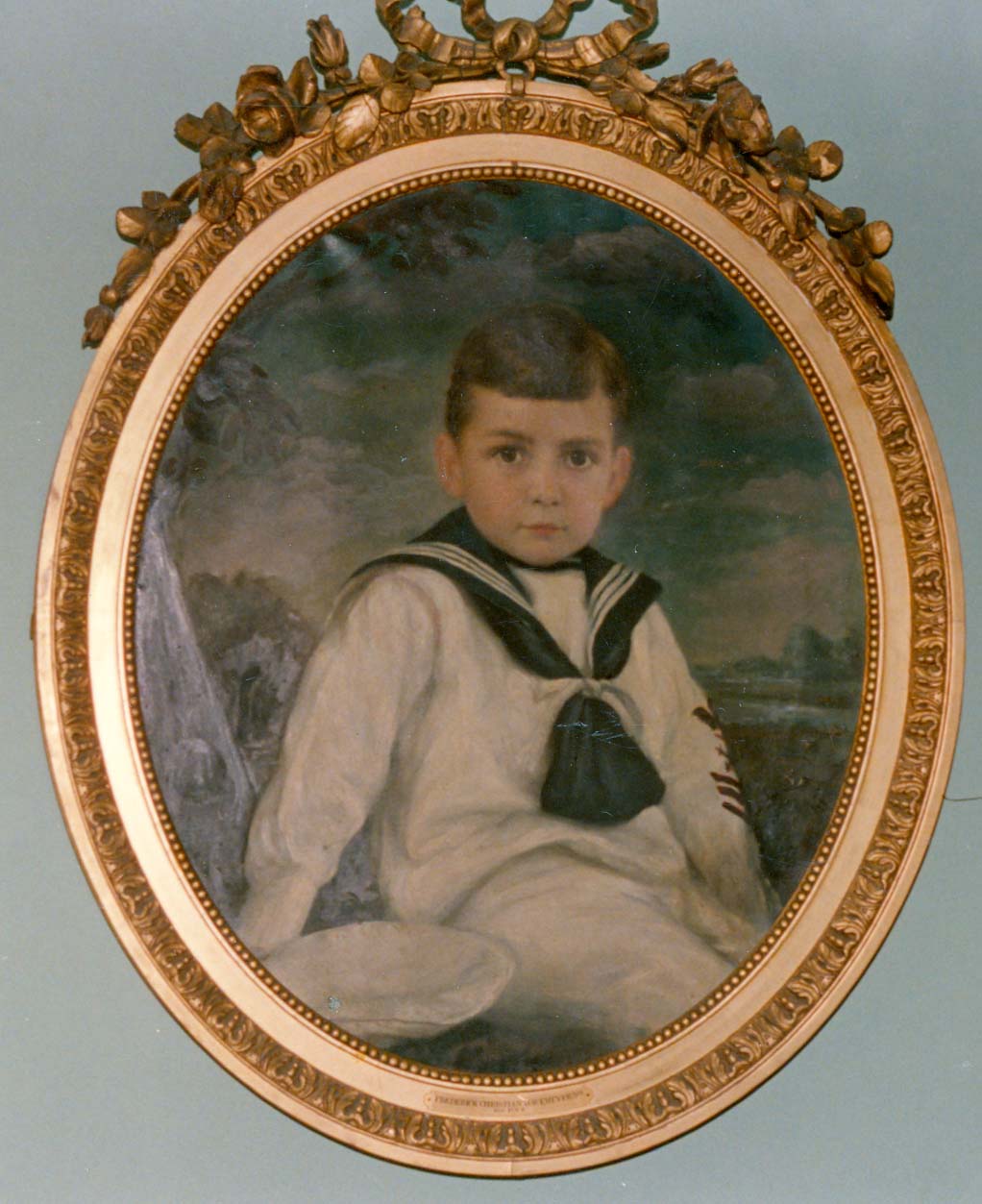 HAVEMEYER, Frederick Charles (Fritz)
Description:
Oval, bust-length seated, as a child, dressed in a sailor suit. Oil on canvas, 28.5/16" x 23.3/16" (71.9 x 59.69 cms), signed and dated lower left 'Muller-Ury 1912'. The frame, a gilded oval with carved horizontal bow and ribbon on the top.
Location:
The Preservation Society of Newport County, Rhode Island. Hung at Green Animals in 1993.
Provenance:
Gift from the Havemeyer family after the death of H. O. Havemeyer Sr. in 1965.
Exhibition:
M. KNOEDLER & CO, 556-558, Fifth Avenue, New York, March 31 – April 12, 1913, No. 9.
Bibliography:
New York Herald, April 2, 1913
Brooklyn Eagle, April 6, 1913
Notes
Fritz Havemeyer was born in 1908, the younger son of Mr. H.O. Havemeyer and Charlotte Adelaide Whiting Havemeyer. He married Mary Hill Beard, the granddaughter of James. J. Hill by his daughter Ruth Hill Beard Lorillard Heidsieck. Muller-Ury was instrumental in their engagement as a letter in the artist's papers from Frederick to the artist indicates. He had two children, Frederick and Ruth (Mrs Norwood). He died in 1969.
Described by the New York Herald, April 2, 1913 as '…with earnest boyish face and natural attitude' – and, in the Brooklyn Eagle, April 6, 1913 as another good example of portraiture in '…Master Fritz Havemeyer, the boy showing his slender arms and form by the wrinkles in his white blouse as he lounges in easy boyish attitude.'
Notice
: id was called
incorrectly
. Product properties should not be accessed directly. Backtrace: require('wp-blog-header.php'), require_once('wp-includes/template-loader.php'), include('/themes/proud/woocommerce/single-product.php'), wc_get_template_part, load_template, require('/themes/proud/woocommerce/content-single-product.php'), woocommerce_output_related_products, woocommerce_related_products, wc_get_template, include('/themes/proud/woocommerce/single-product/related.php'), WC_Abstract_Legacy_Product->__get, wc_doing_it_wrong Please see
Debugging in WordPress
for more information. (This message was added in version 3.0.) in
/var/www/wp-includes/functions.php
on line
4986
Notice
: id was called
incorrectly
. Product properties should not be accessed directly. Backtrace: require('wp-blog-header.php'), require_once('wp-includes/template-loader.php'), include('/themes/proud/woocommerce/single-product.php'), wc_get_template_part, load_template, require('/themes/proud/woocommerce/content-single-product.php'), woocommerce_output_related_products, woocommerce_related_products, wc_get_template, include('/themes/proud/woocommerce/single-product/related.php'), WC_Abstract_Legacy_Product->__get, wc_doing_it_wrong Please see
Debugging in WordPress
for more information. (This message was added in version 3.0.) in
/var/www/wp-includes/functions.php
on line
4986