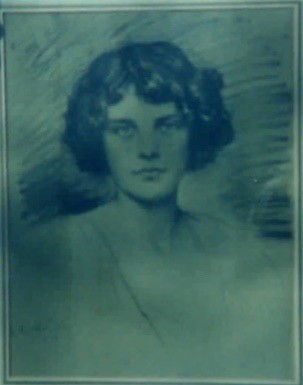 HAVEMEYER, Carlotta (Later Mrs Anson Bigelow) (1921)
Description:
Charcoal drawing, bust-length, 19" x 15" (inside the mount), signed lower left, 'A. Muller-Ury 1921'. The frame, 24.3/4" x 21".
Location:
Private Collection, USA.
Provenance:
H. O. Havemeyer (died 1965); the sitter; her daughter Mrs. Peter Quinn [Sophie Havemeyer Bigelow], North Edgecombe, Maine (1927-2013); By descent.
Notes
Carlotta Havemeyer was born in New York on 13 December 1901, the eldest child and daughter of H.O. Havemeyer Sr (1876-1965) and Charlotte Adelaide Green Whiting Havemeyer (1880-1962). She married Anson Alexander Bigelow (1897-1958) and was killed when run down by a car in Tuxedo Park on 12 February 1952. Muller-Ury painted more portraits of Carlotta Havemeyer than any other member of the family.
Somewhat in the manner of John S. Sargent.
Notice
: id was called
incorrectly
. Product properties should not be accessed directly. Backtrace: require('wp-blog-header.php'), require_once('wp-includes/template-loader.php'), include('/themes/proud/woocommerce/single-product.php'), wc_get_template_part, load_template, require('/themes/proud/woocommerce/content-single-product.php'), woocommerce_output_related_products, woocommerce_related_products, wc_get_template, include('/themes/proud/woocommerce/single-product/related.php'), WC_Abstract_Legacy_Product->__get, wc_doing_it_wrong Please see
Debugging in WordPress
for more information. (This message was added in version 3.0.) in
/var/www/wp-includes/functions.php
on line
4986
Notice
: id was called
incorrectly
. Product properties should not be accessed directly. Backtrace: require('wp-blog-header.php'), require_once('wp-includes/template-loader.php'), include('/themes/proud/woocommerce/single-product.php'), wc_get_template_part, load_template, require('/themes/proud/woocommerce/content-single-product.php'), woocommerce_output_related_products, woocommerce_related_products, wc_get_template, include('/themes/proud/woocommerce/single-product/related.php'), WC_Abstract_Legacy_Product->__get, wc_doing_it_wrong Please see
Debugging in WordPress
for more information. (This message was added in version 3.0.) in
/var/www/wp-includes/functions.php
on line
4986