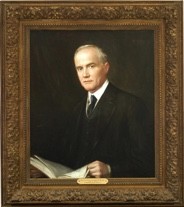 GREGORY, Thomas Watt
Description:
Seated facing left, dressed in a dark suit, papers before him lower left. Oil on canvas, 31.3/4" x 26 5/8" (80.6cm x 67.6 cms)
Location:
United States Department of Justice.
Exhibition:
THE LOTUS CLUB, 110, West 57th Street, New York, Artist's Show, October 1916.
Bibliography:
Boston Herald, May 6th, 1916
American Art News, Vol. 15, No. 20, February 24, 1917, New York, p. 2 as 'F. H. Gregory.'
The Washington Post, April 29th 1917.
Notes
The sitter was born on November 6, 1861 in Crawfordsville, Mississippi. Gregory entered the University of Texas in Austin in 1884 and graduated a year later with a degree in law which he practised from 1885 He was a political progressive and an attorney who served as United States Attorney General from 1914 to 1919, during President Woodrow Wilson's administration.
The portrait was painted in 1916; the sittings presumably took place early in the year. American Art News called it a 'sterling portrait'. On April 29th The Washington Post recorded that: 'Mr. A Muller-Ury of New York arrived here yesterday and was entertained at luncheon by Senator Frederick Hale of Massachusetts. Mr. Muller-Ury's portrait of Attorney General Gregory was hung in the office of the Attorney General today…' The Boston Herald, May 6, 1916 said Muller-Ury's portrait was presented to the Attorney General's office at the Department of Justice. It apparently cost $750.00 (Department of Justice website).
Gregory married Julia Nalle on February 22, 1893 and they had four children.  The sitter's home was in Houston, Texas. He trained as a lawyer, and with Edward House's growing influence upon Woodrow Wilson after the 1912 Democratic national convention he was named a special assistant to the United States Attorney General to conduct anti-trust legislation against the New York, New Haven and Hartford Railroad in 1913.  Appointed Attorney General in 1914, Wilson wished to appoint him judge in the U. S. Supreme Court, which he declined partly owing to his impaired hearing.  After attending briefly the Paris Peace Conference in 1919, he returned to private legal practice in Washington.  He died of pneumonia on February 26, 1933 during a trip from Houston to New York to confer with Roosevelt. 

Notice
: id was called
incorrectly
. Product properties should not be accessed directly. Backtrace: require('wp-blog-header.php'), require_once('wp-includes/template-loader.php'), include('/themes/proud/woocommerce/single-product.php'), wc_get_template_part, load_template, require('/themes/proud/woocommerce/content-single-product.php'), woocommerce_output_related_products, woocommerce_related_products, wc_get_template, include('/themes/proud/woocommerce/single-product/related.php'), WC_Abstract_Legacy_Product->__get, wc_doing_it_wrong Please see
Debugging in WordPress
for more information. (This message was added in version 3.0.) in
/var/www/wp-includes/functions.php
on line
4778
Notice
: id was called
incorrectly
. Product properties should not be accessed directly. Backtrace: require('wp-blog-header.php'), require_once('wp-includes/template-loader.php'), include('/themes/proud/woocommerce/single-product.php'), wc_get_template_part, load_template, require('/themes/proud/woocommerce/content-single-product.php'), woocommerce_output_related_products, woocommerce_related_products, wc_get_template, include('/themes/proud/woocommerce/single-product/related.php'), WC_Abstract_Legacy_Product->__get, wc_doing_it_wrong Please see
Debugging in WordPress
for more information. (This message was added in version 3.0.) in
/var/www/wp-includes/functions.php
on line
4778