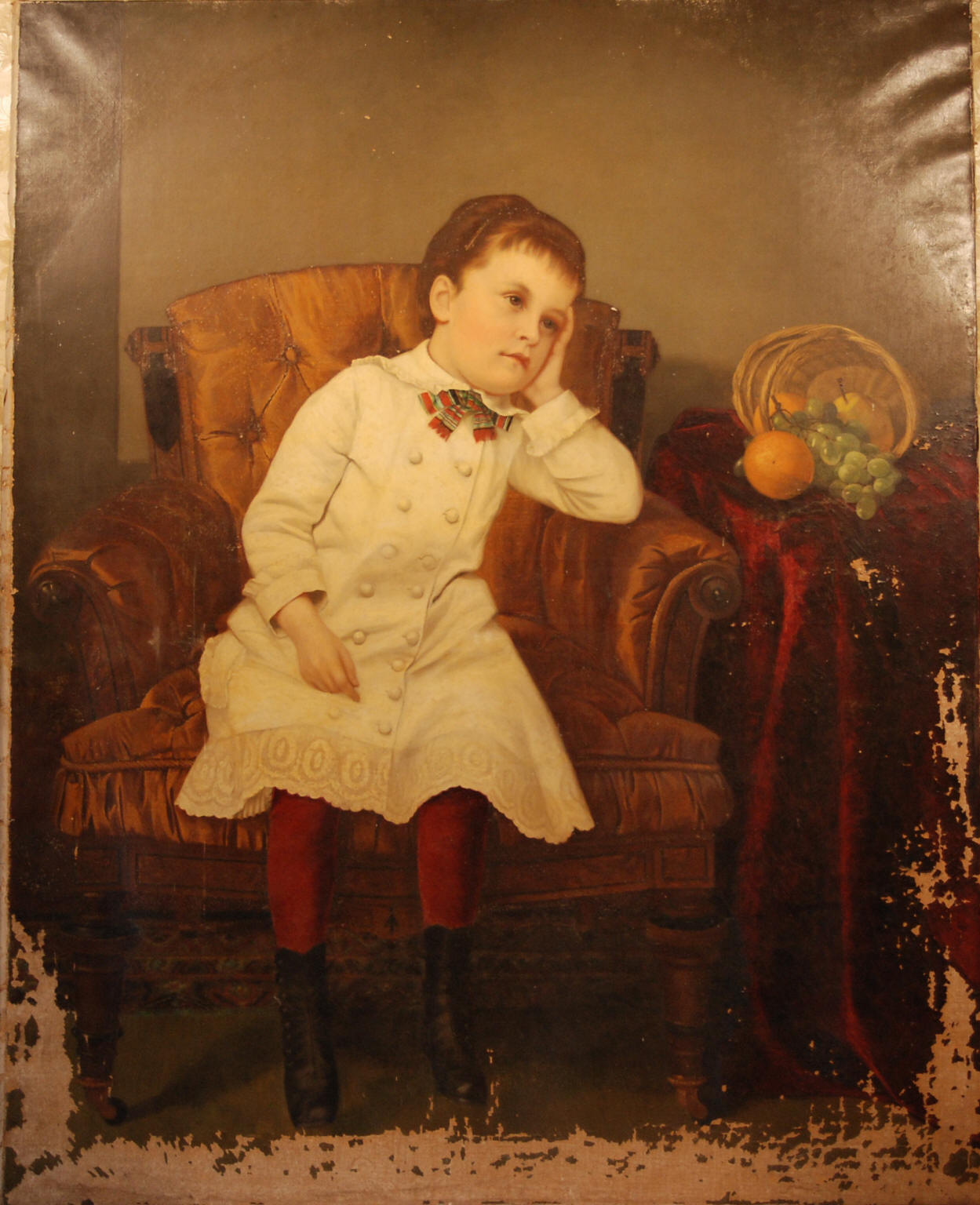 GREEN, Mimi
Description:
Seated, in a white dress, red stockings and black boots, in a yellow-leather (?) late Victorian armchair beside a table covered in a red cloth with a basket of fruit on its side. Oil on canvas, 50" x 40".
Location:
Private Collection, London, UK.
Provenance:
By family descent until 2006;
Eldred's Auction, 1483 Route 6A, East Dennis, Massachusetts 02641, USA, Sale June 29th 2006, Lot 363, Unattributed, Sold for $517.50, in an enormous overmantel frame;
Art Historie LLC, Dover-Foxtrot, Maine 04426-0343, USA;
Sold to present owner 2008 without the frame.
Notes
The Green family came originally from Baltimore, then at the end of 19th century moved to Cape Cod, Massachusetts. Founders of Craigville Conference Center, a ministry of the United Church of Christ, Cape Cod.The Society Visiting List of 1889 and 1890 by Miss Remington and published by Thos. E. Lycett & Co., 311 N. Charles Street, Baltimore, lists a "Dr. and Mrs Wm. Green" at 1124 Charles St. North, and a "Mrs. A. E. Green" at 1701 Park Place, a "Mrs. Wm. Green" at 213 Lanvale Street West, as well as a "Miss Green" at 1819 St. Paul Street, but which family commissioned the two portraits of Mimi is presently unknown.
Much paint loss along lower side and in red cloth on table, with presumed loss of signature, as at 2008, although the original heavy arched overmantel frame bore the annotations 'MUri' and 'Mimi Green'. There is a fragmentary label attached to the canvas for the Baltimore framers and dealers Myers & Hedian, so it may have been exhibited there. The canvas is from William Minifie & Sons. William Minifie (1805-1880) had completed his apprenticeship as a cabinetmaker before leaving England. In Baltimore, he became successively an architect and builder, professor of drawing, and author of books on geometrical drawing. (William was the son of James and Elizabeth (Hyne) Minifie, born in Tavistock, Devon, UK.)

Notice
: id was called
incorrectly
. Product properties should not be accessed directly. Backtrace: require('wp-blog-header.php'), require_once('wp-includes/template-loader.php'), include('/themes/proud/woocommerce/single-product.php'), wc_get_template_part, load_template, require('/themes/proud/woocommerce/content-single-product.php'), woocommerce_output_related_products, woocommerce_related_products, wc_get_template, include('/themes/proud/woocommerce/single-product/related.php'), WC_Abstract_Legacy_Product->__get, wc_doing_it_wrong Please see
Debugging in WordPress
for more information. (This message was added in version 3.0.) in
/var/www/wp-includes/functions.php
on line
4903
Notice
: id was called
incorrectly
. Product properties should not be accessed directly. Backtrace: require('wp-blog-header.php'), require_once('wp-includes/template-loader.php'), include('/themes/proud/woocommerce/single-product.php'), wc_get_template_part, load_template, require('/themes/proud/woocommerce/content-single-product.php'), woocommerce_output_related_products, woocommerce_related_products, wc_get_template, include('/themes/proud/woocommerce/single-product/related.php'), WC_Abstract_Legacy_Product->__get, wc_doing_it_wrong Please see
Debugging in WordPress
for more information. (This message was added in version 3.0.) in
/var/www/wp-includes/functions.php
on line
4903