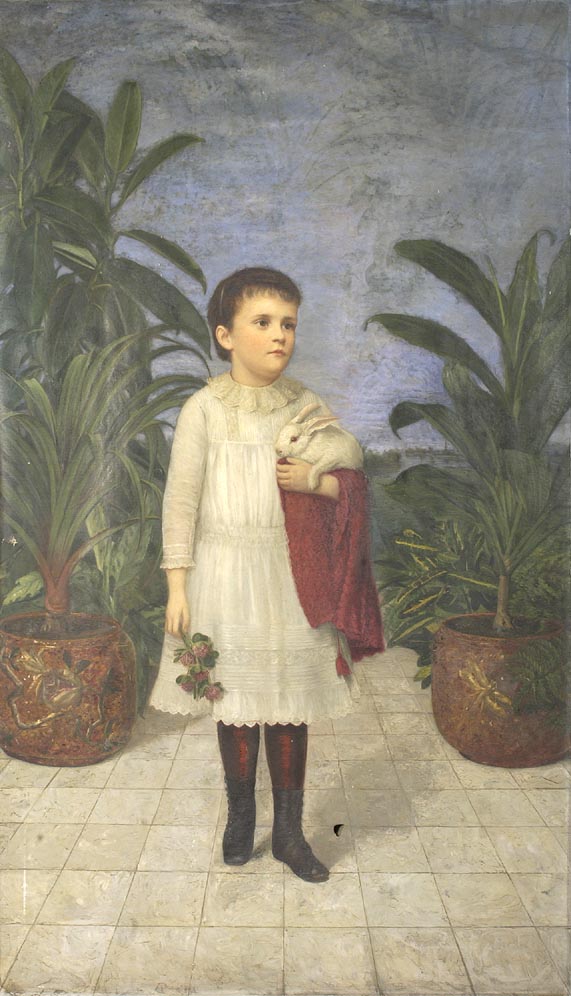 GREEN, Mimi
Description:
Full-length standing in a white dress on a tiled floor before some potted palms. Oil on canvas 72 x 42 ins.
Location:
Present Whereabouts Unknown
Provenance:
By family descent until 2006;
Eldred's Auction, 1483 Route 6A, East Dennis, Massachusetts 02641, USA, Sale June 29th 2006, Lot 364, Unattributed, Sold for $632.50;
Bought by John Dowd, Cape Cod. Sold shortly afterwards at a flea market.
Notes
The Green family came originally from Baltimore, then at the end of 19th century moved to Cape Cod, Massachusetts. Founders of Craigville Conference Center, a ministry of the United Church of Christ, Cape Cod.
The Society Visiting List of 1889 and 1890 by Miss Remington and published by Thos. E. Lycett & Co., 311 N. Charles Street, Baltimore, lists a "Dr. and Mrs Wm. Green" at 1124 Charles St. North, and a "Mrs. A. E. Green" at 1701 Park Place, a "Mrs. Wm. Green" at 213 Lanvale Street West, as well as a "Miss Green" at 1819 St. Paul Street, but which family commissioned the two portraits of Mimi is not presently known.
Notice
: id was called
incorrectly
. Product properties should not be accessed directly. Backtrace: require('wp-blog-header.php'), require_once('wp-includes/template-loader.php'), include('/themes/proud/woocommerce/single-product.php'), wc_get_template_part, load_template, require('/themes/proud/woocommerce/content-single-product.php'), woocommerce_output_related_products, woocommerce_related_products, wc_get_template, include('/themes/proud/woocommerce/single-product/related.php'), WC_Abstract_Legacy_Product->__get, wc_doing_it_wrong Please see
Debugging in WordPress
for more information. (This message was added in version 3.0.) in
/var/www/wp-includes/functions.php
on line
4986
Notice
: id was called
incorrectly
. Product properties should not be accessed directly. Backtrace: require('wp-blog-header.php'), require_once('wp-includes/template-loader.php'), include('/themes/proud/woocommerce/single-product.php'), wc_get_template_part, load_template, require('/themes/proud/woocommerce/content-single-product.php'), woocommerce_output_related_products, woocommerce_related_products, wc_get_template, include('/themes/proud/woocommerce/single-product/related.php'), WC_Abstract_Legacy_Product->__get, wc_doing_it_wrong Please see
Debugging in WordPress
for more information. (This message was added in version 3.0.) in
/var/www/wp-includes/functions.php
on line
4986