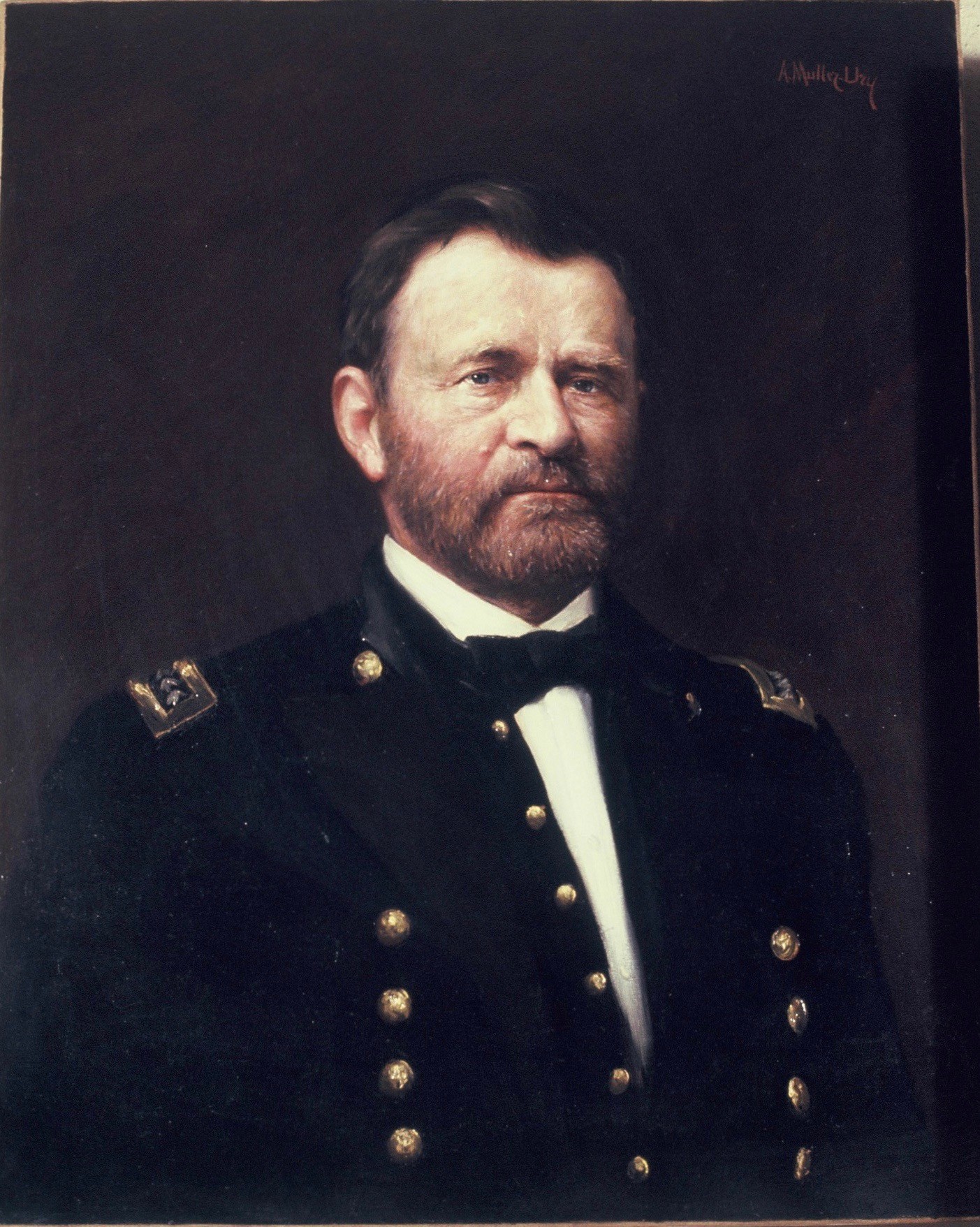 GRANT, General Ulysses S.
Description:
Head and shoulders. Oil on canvas, 31" x 24".
Location:
Present Whereabouts Unknown.
Provenance:
The artist; Jessica Dragonette; sold to Grant's family by Nadea Dragonette Loftus in the 1960s ($5000.00), possibly in California with a Mrs. Bruce Hazard. (She was the first wife of Mr. Bruce Hazard, of 4363 Gold Finch Street, San Diego, CA 92103.) This is presumably Mabel Chapman Grant (born 24th August 1918) a great-granddaughter of the sitter, who had three children, Terry Grant Hazard (b. 1943), Polly Boulton Hazard (b. 1945), Thomas Bruce Hazard (b. 1947).
Notes
Ulysses Simpson Grant (born Hiram Ulysses Grant on April 27, 1822 ) was an American politician, soldier, international statesman, and author, who served as the 18th President of the United States of America from 1869 to 1877. During the American Civil War Grant led the Union Army as its commanding general to victory over the Confederate States with the supervision of President Abraham Lincoln. He died on July 23, 1885. He was buried in a mausoleum at Riverside Drive, New York. A portrait of Grant by George P. A. Healy dated 1868 is in the Chicago Historical Society.
—
This is evidently the head study that Muller-Ury made first, and which enabled him to make the 1897 picture in the Corcoran Collection after the 1894/5 picture had left his studio.
Notice
: id was called
incorrectly
. Product properties should not be accessed directly. Backtrace: require('wp-blog-header.php'), require_once('wp-includes/template-loader.php'), include('/themes/proud/woocommerce/single-product.php'), wc_get_template_part, load_template, require('/themes/proud/woocommerce/content-single-product.php'), woocommerce_output_related_products, woocommerce_related_products, wc_get_template, include('/themes/proud/woocommerce/single-product/related.php'), WC_Abstract_Legacy_Product->__get, wc_doing_it_wrong Please see
Debugging in WordPress
for more information. (This message was added in version 3.0.) in
/var/www/wp-includes/functions.php
on line
4986
Notice
: id was called
incorrectly
. Product properties should not be accessed directly. Backtrace: require('wp-blog-header.php'), require_once('wp-includes/template-loader.php'), include('/themes/proud/woocommerce/single-product.php'), wc_get_template_part, load_template, require('/themes/proud/woocommerce/content-single-product.php'), woocommerce_output_related_products, woocommerce_related_products, wc_get_template, include('/themes/proud/woocommerce/single-product/related.php'), WC_Abstract_Legacy_Product->__get, wc_doing_it_wrong Please see
Debugging in WordPress
for more information. (This message was added in version 3.0.) in
/var/www/wp-includes/functions.php
on line
4986