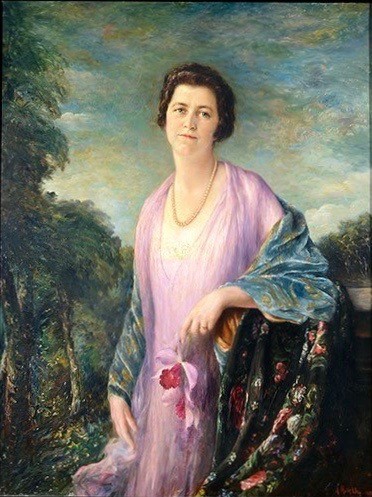 FLEISHHACKER, Marjorie (Later Mrs Martin Mitau)
Description:
Three quarter portrait dressed in lavender with a shawl standing in a landscape holding an orchid, oil on canvas 48 x 38 ins, signed and dated lower right, 'A. Muller-Ury 1925'.
Provenance:
The sitter's daughter, Patricia Mitau Rhein (January 24, 1928-April 26, 2013);
Sold at Bonhams, 220 San Bruno Avenue, San Francisco CA 94103, U.S.A., Period Art and Design, 11 May 2014, Auction: 21648, Lot 4047, as 'Portrait of a Woman in Lavender'; sold for $1000 (£593) inc. premium.
Michaan's Auctions, 2751 Todd Street, Alameda, CA 94501, Auction 7 September 2014, Lot 359, Est: $1000-1200 (where the picture had evidently been cleaned); Bought In.
Notes
An early California period picture. Marjorie Fleishhacker Mitau (1906-1983) was the only daughter of Herbert and May Fleishhacker – and the mother of the last recorded owner, Patricia Mitau Rhein – who would have been around 20 years old when this was painted.
It appears that Herbert Fleishhacker himself may have been an early sitter in his time in California and known to Archbishop Hanna of San Francisco, and it may have been the success of his own portrait and that of his daughter that enabled Muller-Ury to write to the Archbishop from his new studio in San Marino on December 21, 1925, 'Mr. Fleishhacker has writen [sic] to me about few Los Angeles gentleman wanting their portrait painted but I wait until after Christmas to see them.'
A photograph of the work in the artist's papers is stamped on the verso 'Gabriel Moulin, 153 Kearny, S. F. Calif.'
Notice
: id was called
incorrectly
. Product properties should not be accessed directly. Backtrace: require('wp-blog-header.php'), require_once('wp-includes/template-loader.php'), include('/themes/proud/woocommerce/single-product.php'), wc_get_template_part, load_template, require('/themes/proud/woocommerce/content-single-product.php'), woocommerce_output_related_products, woocommerce_related_products, wc_get_template, include('/themes/proud/woocommerce/single-product/related.php'), WC_Abstract_Legacy_Product->__get, wc_doing_it_wrong Please see
Debugging in WordPress
for more information. (This message was added in version 3.0.) in
/var/www/wp-includes/functions.php
on line
4903
Notice
: id was called
incorrectly
. Product properties should not be accessed directly. Backtrace: require('wp-blog-header.php'), require_once('wp-includes/template-loader.php'), include('/themes/proud/woocommerce/single-product.php'), wc_get_template_part, load_template, require('/themes/proud/woocommerce/content-single-product.php'), woocommerce_output_related_products, woocommerce_related_products, wc_get_template, include('/themes/proud/woocommerce/single-product/related.php'), WC_Abstract_Legacy_Product->__get, wc_doing_it_wrong Please see
Debugging in WordPress
for more information. (This message was added in version 3.0.) in
/var/www/wp-includes/functions.php
on line
4903