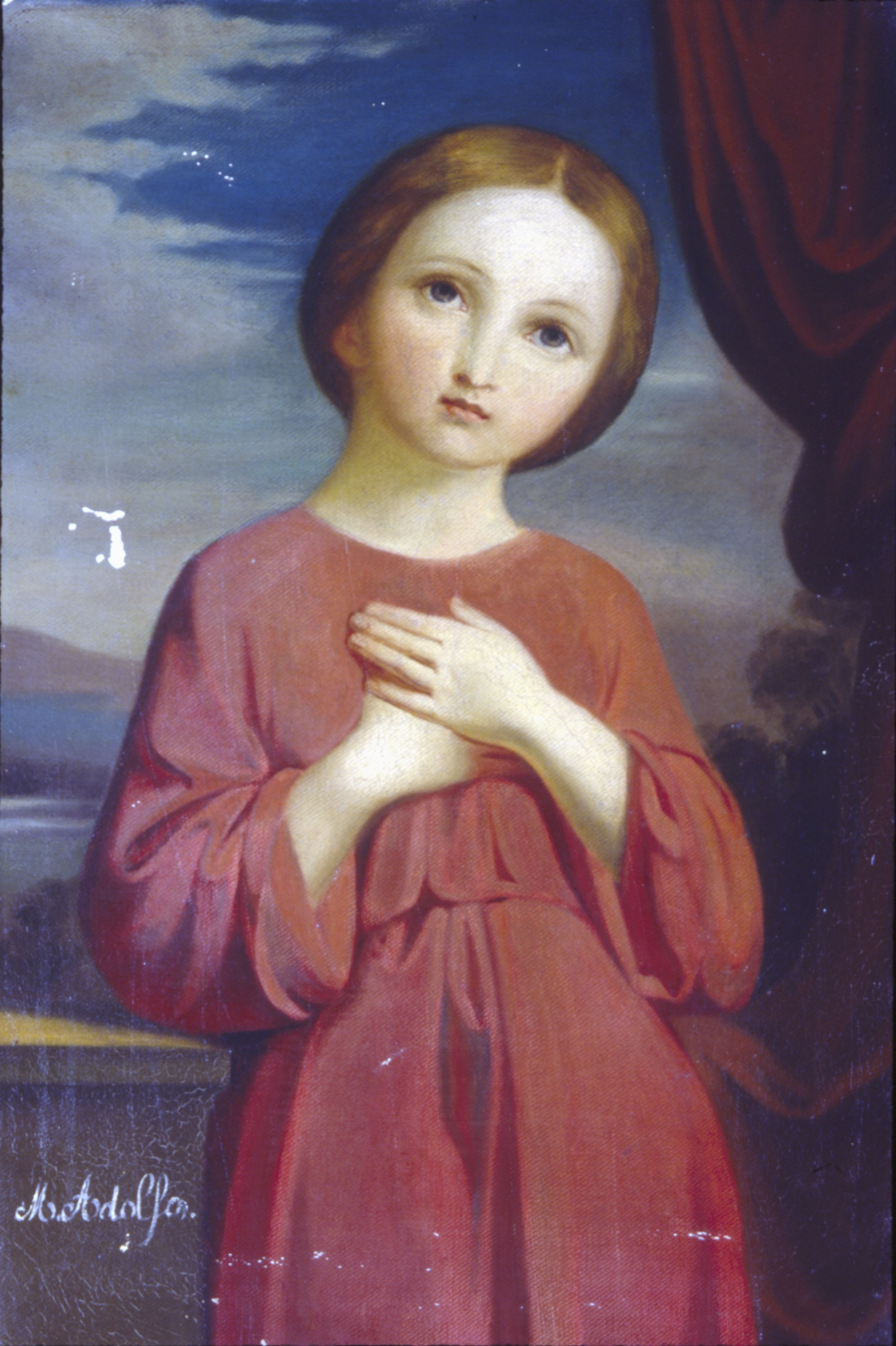 Female Child
Description:
A portrait of a girl, hands folded across her breast, by a red curtain. Oil on canvas, 21″ x 14″ (53.3 cm x 35.5 cm), signed "M. Adolfo" lower right.
Location:
Adolfo Muller-Ury Stiftung, Hospental, Switzerland.
Notes
Evidently a picture from the late 1870s in Deschwanden's religious style, and signed accordingly.
Notice
: id was called
incorrectly
. Product properties should not be accessed directly. Backtrace: require('wp-blog-header.php'), require_once('wp-includes/template-loader.php'), include('/themes/proud/woocommerce/single-product.php'), wc_get_template_part, load_template, require('/themes/proud/woocommerce/content-single-product.php'), woocommerce_output_related_products, woocommerce_related_products, wc_get_template, include('/themes/proud/woocommerce/single-product/related.php'), WC_Abstract_Legacy_Product->__get, wc_doing_it_wrong Please see
Debugging in WordPress
for more information. (This message was added in version 3.0.) in
/var/www/wp-includes/functions.php
on line
4986
Notice
: id was called
incorrectly
. Product properties should not be accessed directly. Backtrace: require('wp-blog-header.php'), require_once('wp-includes/template-loader.php'), include('/themes/proud/woocommerce/single-product.php'), wc_get_template_part, load_template, require('/themes/proud/woocommerce/content-single-product.php'), woocommerce_output_related_products, woocommerce_related_products, wc_get_template, include('/themes/proud/woocommerce/single-product/related.php'), WC_Abstract_Legacy_Product->__get, wc_doing_it_wrong Please see
Debugging in WordPress
for more information. (This message was added in version 3.0.) in
/var/www/wp-includes/functions.php
on line
4986