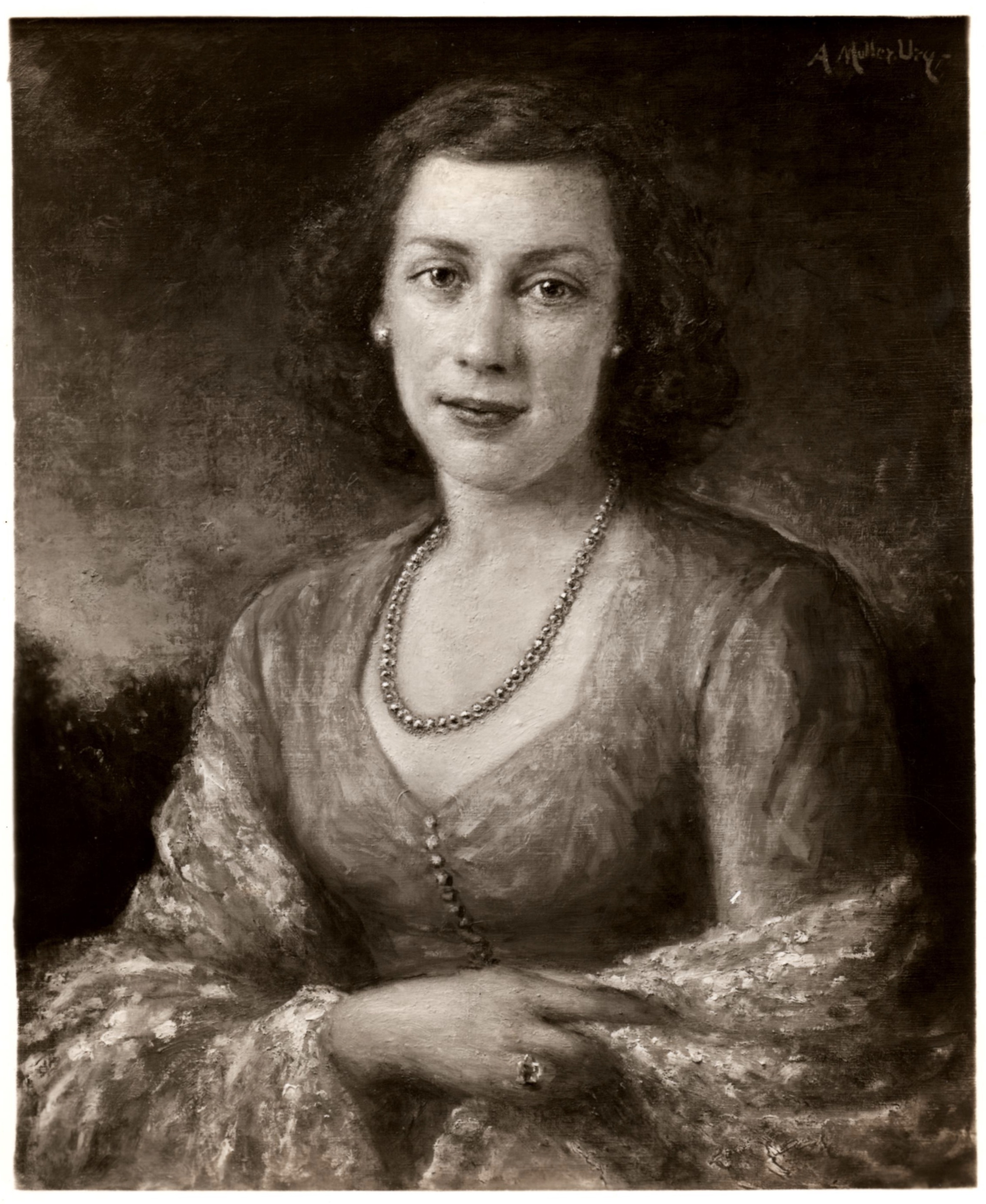 BOSSONG, Miss Evelyn (Later Mrs John Willetts)
Description:
Half-length, drawing a shawl around her, wearing a single string of pearls. Oil on canvas, signed upper right 'A. Muller Ury'.
Location:
Private Collection, Concord, North Carolina, U.S.A. (1994)
Provenance:
By Family Descent.
Notes
The present portrait was apparently the result of a commission in 1944 from the sitter's father who had been pleased with the portrait which Muller-Ury had painted of his wife. The portrait was originally to have been painted by an artist called Ivan Olinsky, but this artist apparently assaulted the sitter in his studio, and the commission was given to Muller-Ury instead. However, the sitter was not very pleased with the finished result which she considered made her face elongated and her eyes sad. The hands she thought flattering since Muller-Ury had made them smaller than they were in actuality. The sitter remembered that Muller-Ury had commented that it was difficult to paint hands. The picture must have been painted shortly after that of her mother.
Notice
: id was called
incorrectly
. Product properties should not be accessed directly. Backtrace: require('wp-blog-header.php'), require_once('wp-includes/template-loader.php'), include('/themes/proud/woocommerce/single-product.php'), wc_get_template_part, load_template, require('/themes/proud/woocommerce/content-single-product.php'), woocommerce_output_related_products, woocommerce_related_products, wc_get_template, include('/themes/proud/woocommerce/single-product/related.php'), WC_Abstract_Legacy_Product->__get, wc_doing_it_wrong Please see
Debugging in WordPress
for more information. (This message was added in version 3.0.) in
/var/www/wp-includes/functions.php
on line
4986
Notice
: id was called
incorrectly
. Product properties should not be accessed directly. Backtrace: require('wp-blog-header.php'), require_once('wp-includes/template-loader.php'), include('/themes/proud/woocommerce/single-product.php'), wc_get_template_part, load_template, require('/themes/proud/woocommerce/content-single-product.php'), woocommerce_output_related_products, woocommerce_related_products, wc_get_template, include('/themes/proud/woocommerce/single-product/related.php'), WC_Abstract_Legacy_Product->__get, wc_doing_it_wrong Please see
Debugging in WordPress
for more information. (This message was added in version 3.0.) in
/var/www/wp-includes/functions.php
on line
4986