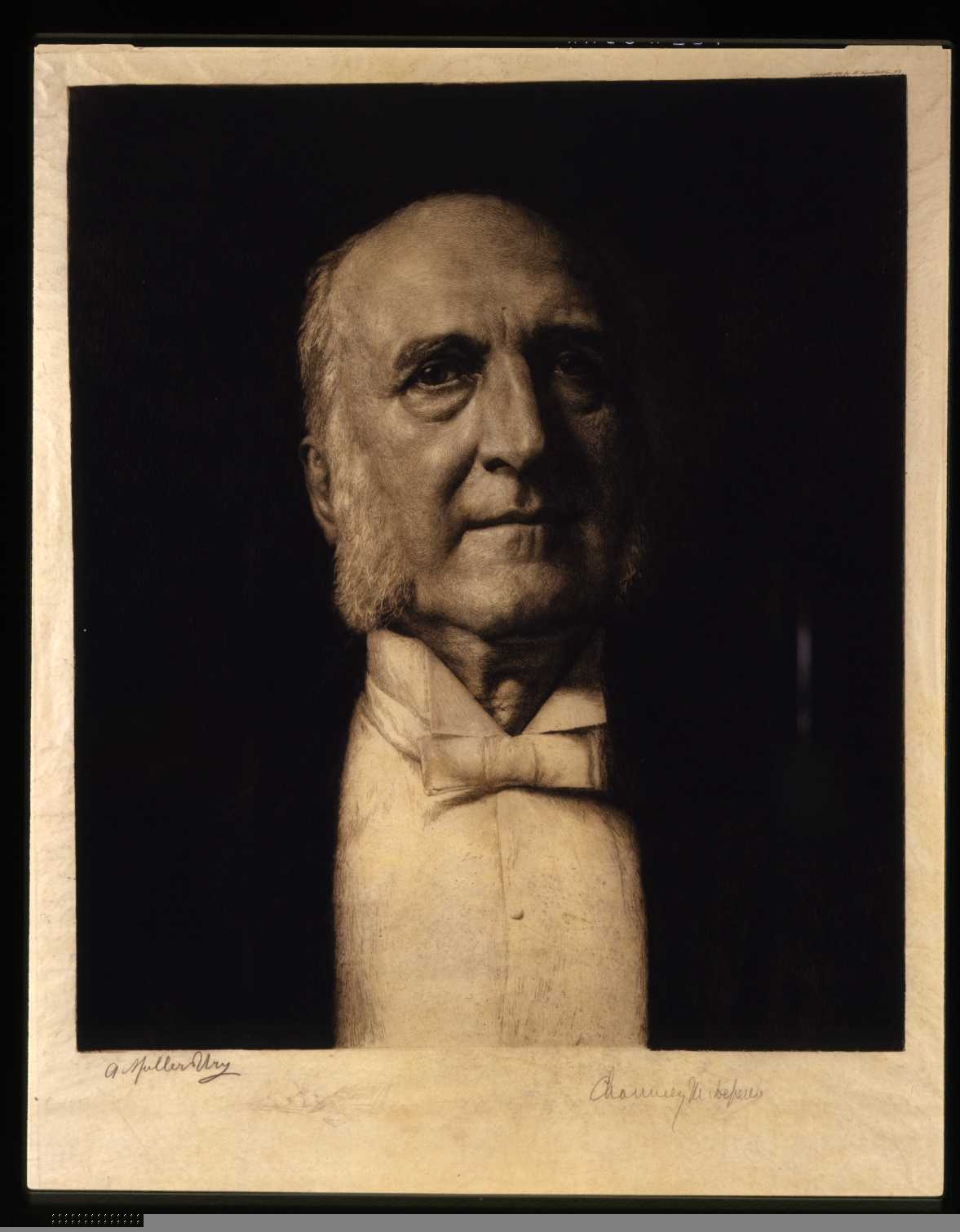 DEPEW, Senator Chauncey M. (Etching, 1890)
Description:
According to The Collector of March 15, 1891 the edition was limited to 50 copies, 16" x 9", signed by the sitter and the artist.
1. Location:
National Portrait Gallery, Smithsonian Institution, Washington D.C. (N.P.G. 67.60)
Provenance:
The artist; Jessica Dragonette; her gift to National Portrait Gallery.
Bibliography:
Collection Catalogue, Permanent Collection, Illustrated Checklist 1978. Compiled by L.T. Neumaier. (47.9cm x 40.5cms).
2. Location:
Preservation Society of Newport County, Rhode Island.
Provenance:
The artist; Jessica Dragonette; gift of her husband Nicholas M. Turner to the American Heritage Center at the University of Wyoming at Laramie, 1987; their gift to the present owner 2007.
3. Location:
University of Cincinnati, College of Design, Architecture, Art and Planning, 5470 Aronoff Center, PO Box 210016 Cincinnati, OH 45221-0016, U.S.A.
Provenance:
Acquired 1983.
Notes
The sitter was a United States Senator, President and Board Chairman of the New York Central Railroad, and notable Public Speaker. Son of Isaac Depew (d. 1869), shipowner and merchant, and Martha Mitchell Depew (d. 1872). Graduated Yale University in 1856, he was admitted to the bar in 1858. Served in the New York state legislature and elected New York's secretary of state in 1863. Depew joined the New York Central Railroad in 1866 at the invitation of 'Commodore' Cornelius Vanderbilt (1794-1877), advancing to the presidency in 1885. In 1899, at the age of sixty-five, he embarked on a twelve-year tenure in the United States Senate, but, until the end of his life, remained Chairman of the Board of the New York Central. In 1871 Depew married Elsie A. Hegeman (died 1893), with whom he had one son, Chauncey M. Depew, Jr. (1872-1931). He married secondly May Palmer (d. 1940) in 1901; they had no children. A leading business and political figure Depew was considered the most distinguished public speaker in America; in 1886 he delivered the principal address at the dedication of the Statue of Liberty; six years later he was chosen to speak at the laying of the cornerstone of Grant's Tomb; and, in 1892 he presented the dedicatory oration at the Chicago World's Fair. At the age of ninety-one, in 1925, his annual birthday speech was broadcast on the radio. He was known of "the most recognized living American, with the exception of the President of the United States." Depew died in St. Augustine, Florida, aged 94 on April 5, 1928 of bronchial pneumonia. He had signed his will on January 26, 1928, prior to his departure.
Bibliography of sitter:
William A. Eardley, Chronology and Ancestry of Chauncey M. Depew with Fifty-four affiliated families of New York, New Jersey and New England, Privately Printed, New York, 1918
Chauncey M. Depew, My Memories of Eighty Years, New York, 1924.
—
Müller-Ury executed this etching of Depew in 1890. The drawing for the etching is at the Stiftung Muller-Ury in Switzerland.
Notice
: id was called
incorrectly
. Product properties should not be accessed directly. Backtrace: require('wp-blog-header.php'), require_once('wp-includes/template-loader.php'), include('/themes/proud/woocommerce/single-product.php'), wc_get_template_part, load_template, require('/themes/proud/woocommerce/content-single-product.php'), woocommerce_output_related_products, woocommerce_related_products, wc_get_template, include('/themes/proud/woocommerce/single-product/related.php'), WC_Abstract_Legacy_Product->__get, wc_doing_it_wrong Please see
Debugging in WordPress
for more information. (This message was added in version 3.0.) in
/var/www/wp-includes/functions.php
on line
4986
Notice
: id was called
incorrectly
. Product properties should not be accessed directly. Backtrace: require('wp-blog-header.php'), require_once('wp-includes/template-loader.php'), include('/themes/proud/woocommerce/single-product.php'), wc_get_template_part, load_template, require('/themes/proud/woocommerce/content-single-product.php'), woocommerce_output_related_products, woocommerce_related_products, wc_get_template, include('/themes/proud/woocommerce/single-product/related.php'), WC_Abstract_Legacy_Product->__get, wc_doing_it_wrong Please see
Debugging in WordPress
for more information. (This message was added in version 3.0.) in
/var/www/wp-includes/functions.php
on line
4986