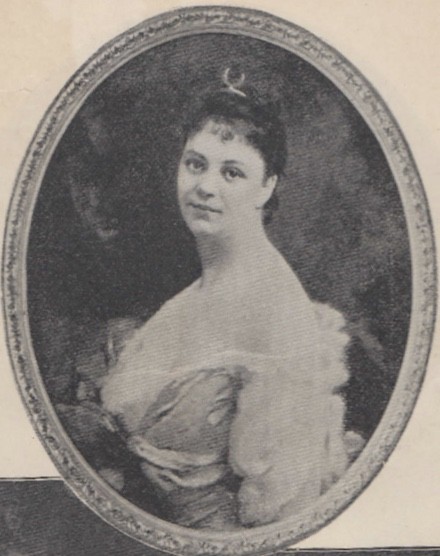 DE FOREST, Mrs George Beach (Anita Hargous)
Description:
Oval, half-length, wearing a Diana crescent.
Location:
Present Whereabouts Unknown.
Exhibition:
NATIONAL ACADEMY OF DESIGN, New York, November 1 – 22, 1894, in the 'Loan Exhibition of Women's Portraits'.
Bibliography:
The Illustrated American, October 27, 1894, p.516 (reproduced).
Notes
The sitter lived at the time Muller-Ury painted her, at 14 East 50th Street, New York City, and at "Train Villa", Bellevue Avenue, Newport, Rhode Island. She was the daughter of Louis S. Hargous and married George Beach de Forest (born 1848) on 4 December 1882 at St. Bartholomew's Church, New York, and later had a son called Louis Stanislaus Hargous De Forest. George de Forest was a capitalist, bibliophile, art connoisseur and in 1910 owned one of finest private libraries in America.
She was born in Mexico, a descendant of Jean Illion Hargous, of Bayonne in the south of France, the daughter of Louis Stanislaus Hargous and Susan Jeanette Gallagher, his wife. She was also a granddaughter of Jean Illion Hargous, who was captain in command of the French ship 'Jason' under orders of Count de Grasse, and who served during the Revolution.
Notice
: id was called
incorrectly
. Product properties should not be accessed directly. Backtrace: require('wp-blog-header.php'), require_once('wp-includes/template-loader.php'), include('/themes/proud/woocommerce/single-product.php'), wc_get_template_part, load_template, require('/themes/proud/woocommerce/content-single-product.php'), woocommerce_output_related_products, woocommerce_related_products, wc_get_template, include('/themes/proud/woocommerce/single-product/related.php'), WC_Abstract_Legacy_Product->__get, wc_doing_it_wrong Please see
Debugging in WordPress
for more information. (This message was added in version 3.0.) in
/var/www/wp-includes/functions.php
on line
4986