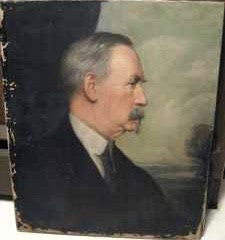 CARR, Dr William
Description:
Bust length, profile of balding man with a goatee beard before a curtain and landscape, a tree to the right. Oil on canvas 24" x 20", signed and dated lower left 1916.
Location:
Private Collection, London, UK.
Provenance:
Acquired from a private collection in Vernon, Connecticut, 2009.
Notes
The sitter would appear to be a Physician who had a practice at 560 Fifth Avenue in 1916 according to R.L. Polk & Co. Trow's New York City Directory, 1916, vol. 179, page 374. Which also confirms the home address given in Muller-Ury's handwriting on the stretcher in pencil 'Dr Wm Carr 375 Park'. There is some damage to the canvas edges and close to the signature.
Notice
: id was called
incorrectly
. Product properties should not be accessed directly. Backtrace: require('wp-blog-header.php'), require_once('wp-includes/template-loader.php'), include('/themes/proud/woocommerce/single-product.php'), wc_get_template_part, load_template, require('/themes/proud/woocommerce/content-single-product.php'), woocommerce_output_related_products, woocommerce_related_products, wc_get_template, include('/themes/proud/woocommerce/single-product/related.php'), WC_Abstract_Legacy_Product->__get, wc_doing_it_wrong Please see
Debugging in WordPress
for more information. (This message was added in version 3.0.) in
/var/www/wp-includes/functions.php
on line
4903
Notice
: id was called
incorrectly
. Product properties should not be accessed directly. Backtrace: require('wp-blog-header.php'), require_once('wp-includes/template-loader.php'), include('/themes/proud/woocommerce/single-product.php'), wc_get_template_part, load_template, require('/themes/proud/woocommerce/content-single-product.php'), woocommerce_output_related_products, woocommerce_related_products, wc_get_template, include('/themes/proud/woocommerce/single-product/related.php'), WC_Abstract_Legacy_Product->__get, wc_doing_it_wrong Please see
Debugging in WordPress
for more information. (This message was added in version 3.0.) in
/var/www/wp-includes/functions.php
on line
4903