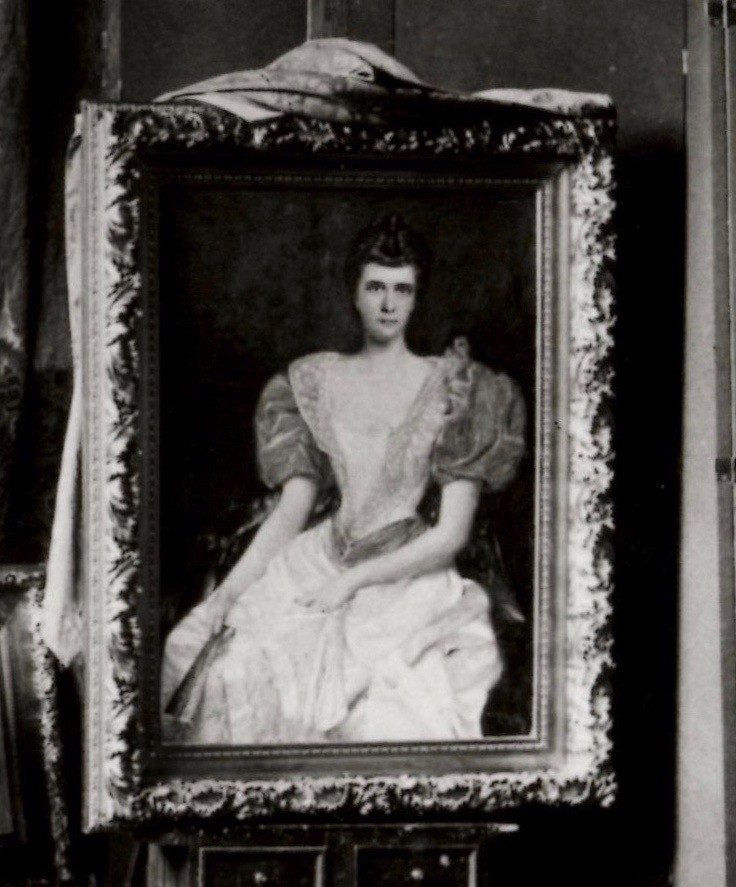 CHATFIELD-TAYLOR, Mrs Hobart C. (Rose Farwell)
Description:
Three-quarter length, seated.
Location:
Present Whereabouts Unknown.
Exhibitions:
M. KNOEDLER & CO., 170, Fifth Avenue, (corner 22nd Street), New York, February 1 – 15, 1894.
THE NATIONAL ACADEMY OF DESIGN, New York, 'Loan Exhibition of Women's Portraits', November 1 – 22, 1894.
Bibliography:
Mail and Express, New York, Wednesday Evening, January 31, 1894.
New Yorker Staats Zeitung, February 4, 1894
New York Commercial Advertiser, February 9, 1894
The Illustrated American, October 27, 1894, p. 516 (reproduced).
New York World, Sunday, October 28, 1894 (Line illustration)
Mail and Express, New York, November, 1, 1894
Mail and Express, New York, November 2, 1894
New York Tribune, November 3, 1894
New York World, Saturday Evening, November 3, 1894 (Line illustration)
New York Herald, Friday, November 30, 1894
The American University Magazine, May 1895, Vol. II, No. 1
Munsey's Magazine, New York, July 1895
Notes
Rose Farwell, the daughter of Senator Charles B. Farwell of Illinois, married popular novelist Hobart C. Chatfield-Taylor (1865 – 1945) on June 19, 1890. They lived at "Far Afield", 900 Hot Springs Road, Santa Barbara, California, and in Chicago at 99, Pearson Street, and in New York. She died on April 5, 1918. They had four children: Adelaide (1891-1982) an actress and night-club owner, Wayne (1893-1967) who served as Under Secretary of Commerce and Assistant Secretary of the Treasury under President Roosevelt and as a banker economic adviser of the Marshal Plan, Otis (1899-1948) a playwright and theatrical producer, and Robert (1908-1980) a businessman who died in a traffic accident.
A photograph of the sitter with her husband and son taken in 1915 exists in the Chicago Historical Society (negative 64,868). For further details on her husband see: Jessica Schwartz, 'Hobart Chatfield-Taylor's Place in History', Townsfolk Magazine, Chicago (?), June 1948, Vol. 38, No. 3.
—
Finished by October 1893. Mr. Chatfield-Taylor wrote to Muller-Ury from the Chicago Club on October 12, 1893 (artist's papers) saying that '…The portrait has been greatly admired by all who see it, and even those who did not like certain features are warm in their praises since the last touches.' Mrs. Chatfield-Taylor, however, writing from 99, Pearson Street, Chicago, wrote to Muller-Ury on December 14, 1893 (artist's papers) was not afraid to express some criticisms of the portrait:
'…Paul Bourget [the French writer] saw the picture and said that it was a good portrait, and a great many other people have seen it too. Most of them think that the hair is too dark, and I am inclined to think so too.
You ask for my crudest opinion of your work, and this is what it is – you have a wonderful talent for color, likeness and textures, but sometimes you are faulty with the drawing. – If I were you I would do some sketches in black and white and draw just as accurately and in as finished a way as possible. – It seems to me that if you could remedy this one fault that a brilliant future would be before you. – I hope that I have not put this in too abrupt a manner, but that is my best thought on the subject.'
Notice
: id was called
incorrectly
. Product properties should not be accessed directly. Backtrace: require('wp-blog-header.php'), require_once('wp-includes/template-loader.php'), include('/themes/proud/woocommerce/single-product.php'), wc_get_template_part, load_template, require('/themes/proud/woocommerce/content-single-product.php'), woocommerce_output_related_products, woocommerce_related_products, wc_get_template, include('/themes/proud/woocommerce/single-product/related.php'), WC_Abstract_Legacy_Product->__get, wc_doing_it_wrong Please see
Debugging in WordPress
for more information. (This message was added in version 3.0.) in
/var/www/wp-includes/functions.php
on line
4986
Notice
: id was called
incorrectly
. Product properties should not be accessed directly. Backtrace: require('wp-blog-header.php'), require_once('wp-includes/template-loader.php'), include('/themes/proud/woocommerce/single-product.php'), wc_get_template_part, load_template, require('/themes/proud/woocommerce/content-single-product.php'), woocommerce_output_related_products, woocommerce_related_products, wc_get_template, include('/themes/proud/woocommerce/single-product/related.php'), WC_Abstract_Legacy_Product->__get, wc_doing_it_wrong Please see
Debugging in WordPress
for more information. (This message was added in version 3.0.) in
/var/www/wp-includes/functions.php
on line
4986