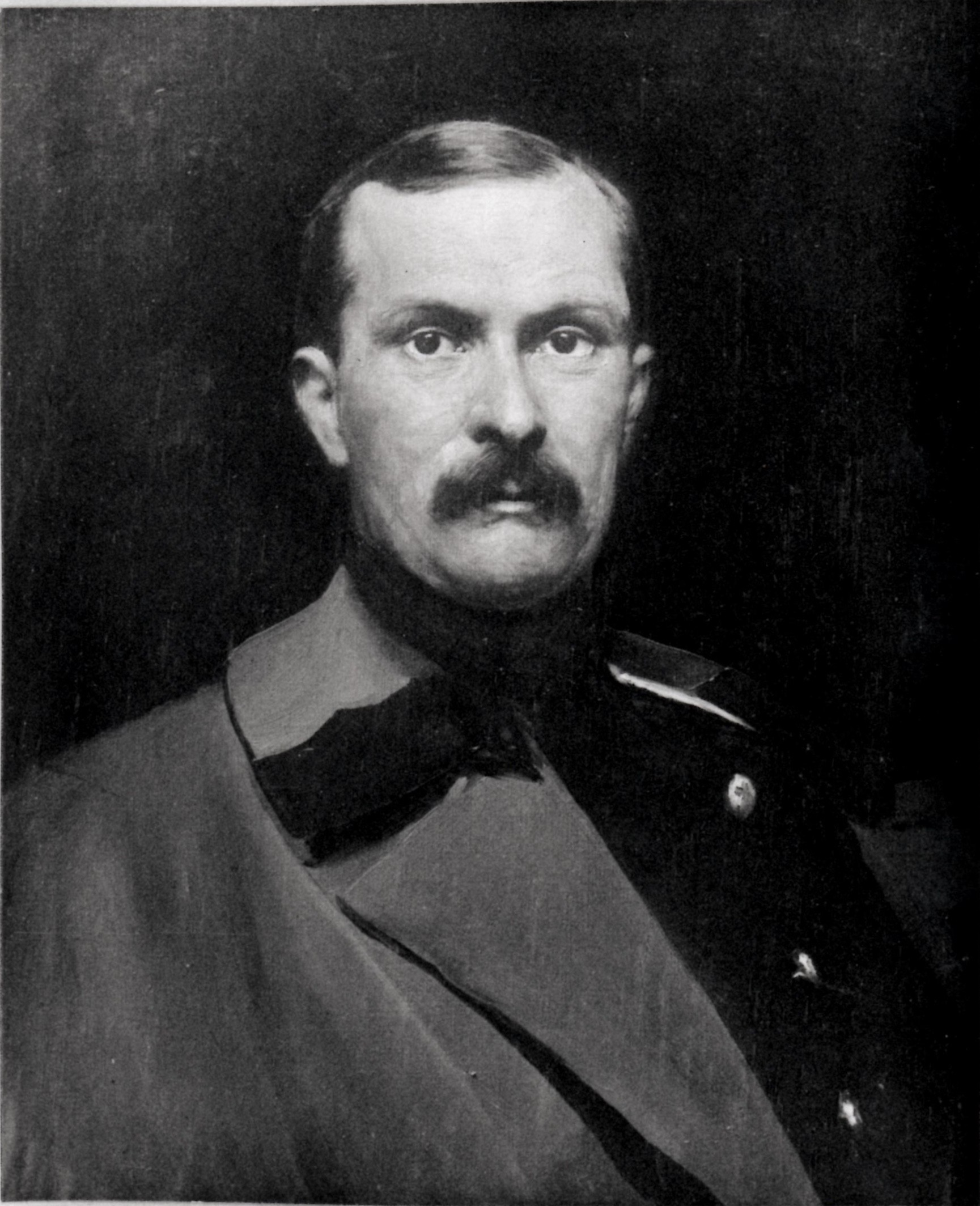 BOURCART, Charles-Daniel
Description:
Bust-length, wearing a grey military surtout with scarlet collar flapped open. Black background. Oil on canvas, 24″ x 20″ (60.9 x 50.8 cm), signed and dated upper right 'A. Muller-Ury 1899.'
On the stretcher the artist has written in pencil 'To His Excellency the Swiss Minister Burcard (sic) No. 11 Col[l]ingham Gdns SW' and, in another hand in pencil 'Dr. Bourcart'. (The frame bears the fragment of a label with the number 861/69773.) The canvas bears a large stamp in the centre of which is a letter B, around which are the words 'Nil Desperandum Brevete S.G.D.G.' and outside this, referring to the quality of the canvas, 'Marque de Fabrique Déposée' and 'Fine Moyenne'.
Location:
The Swiss Embassy, London (Property of the Swiss Government — No. fK11343)
Provenance:
By family descent to the sitter's grand-daughter Isabelle Bourcart (Brügg-bei-Biel) in 1971; purchased from her in November 1994 for 7000 Swiss Francs by the Federal Office of Culture in Berne for the London Embassy.
Notes
The sitter was born on May 20, 1860 (actually in Guebwiller in France), into an industrial family, the son of Charles (1828-1909) and Elise 'Emma' Bourcart-Grosjean (1829-1891), and educated in Basel and Leipzig. He began his political career in Paris in 1883, the year he qualified as a lawyer with his doctorate in Leipzig. He married Louise Burckhardt on 17 June 1890. Dr. Bourcart was the first permanent diplomatic representative of Switzerland in the UK. He first came to London in 1891 as Charge d'Affaires. He was promoted to Minister Resident in 1896 and to Envoy Extraordinary and Minister Plenipotentiary in 1900. Previously there had been since 1817 only commercial and consular representatives of the Swiss government in London. On 22nd October 1902 he presented his letters of recall to King Edward VII at Buckingham Palace (The London Gazette, 24th October 1902, p. 6734) and returned to Switzerland. (Danzig High Commissioner in the inter-War years.) In the 1930s he lived in Basel at Zürcherstrasse 1. He wrote a book: William Wickham, Britischer Gesandte in der Schweiz (1794-97 und 1799) in seinem Beziehungen zu Basel (Basel, 1908). He died on May 31, 1940 in Gstaad, Switzerland.
Certainly painted in the summer of 1899 when Muller-Ury was presented, on June 19, to the Prince of Wales at the Court of St. James by courtesy of the Swiss Minister (Swiss Federal Archives, E 2200 London 7/1).
Notice
: id was called
incorrectly
. Product properties should not be accessed directly. Backtrace: require('wp-blog-header.php'), require_once('wp-includes/template-loader.php'), include('/themes/proud/woocommerce/single-product.php'), wc_get_template_part, load_template, require('/themes/proud/woocommerce/content-single-product.php'), woocommerce_output_related_products, woocommerce_related_products, wc_get_template, include('/themes/proud/woocommerce/single-product/related.php'), WC_Abstract_Legacy_Product->__get, wc_doing_it_wrong Please see
Debugging in WordPress
for more information. (This message was added in version 3.0.) in
/var/www/wp-includes/functions.php
on line
4986
Notice
: id was called
incorrectly
. Product properties should not be accessed directly. Backtrace: require('wp-blog-header.php'), require_once('wp-includes/template-loader.php'), include('/themes/proud/woocommerce/single-product.php'), wc_get_template_part, load_template, require('/themes/proud/woocommerce/content-single-product.php'), woocommerce_output_related_products, woocommerce_related_products, wc_get_template, include('/themes/proud/woocommerce/single-product/related.php'), WC_Abstract_Legacy_Product->__get, wc_doing_it_wrong Please see
Debugging in WordPress
for more information. (This message was added in version 3.0.) in
/var/www/wp-includes/functions.php
on line
4986