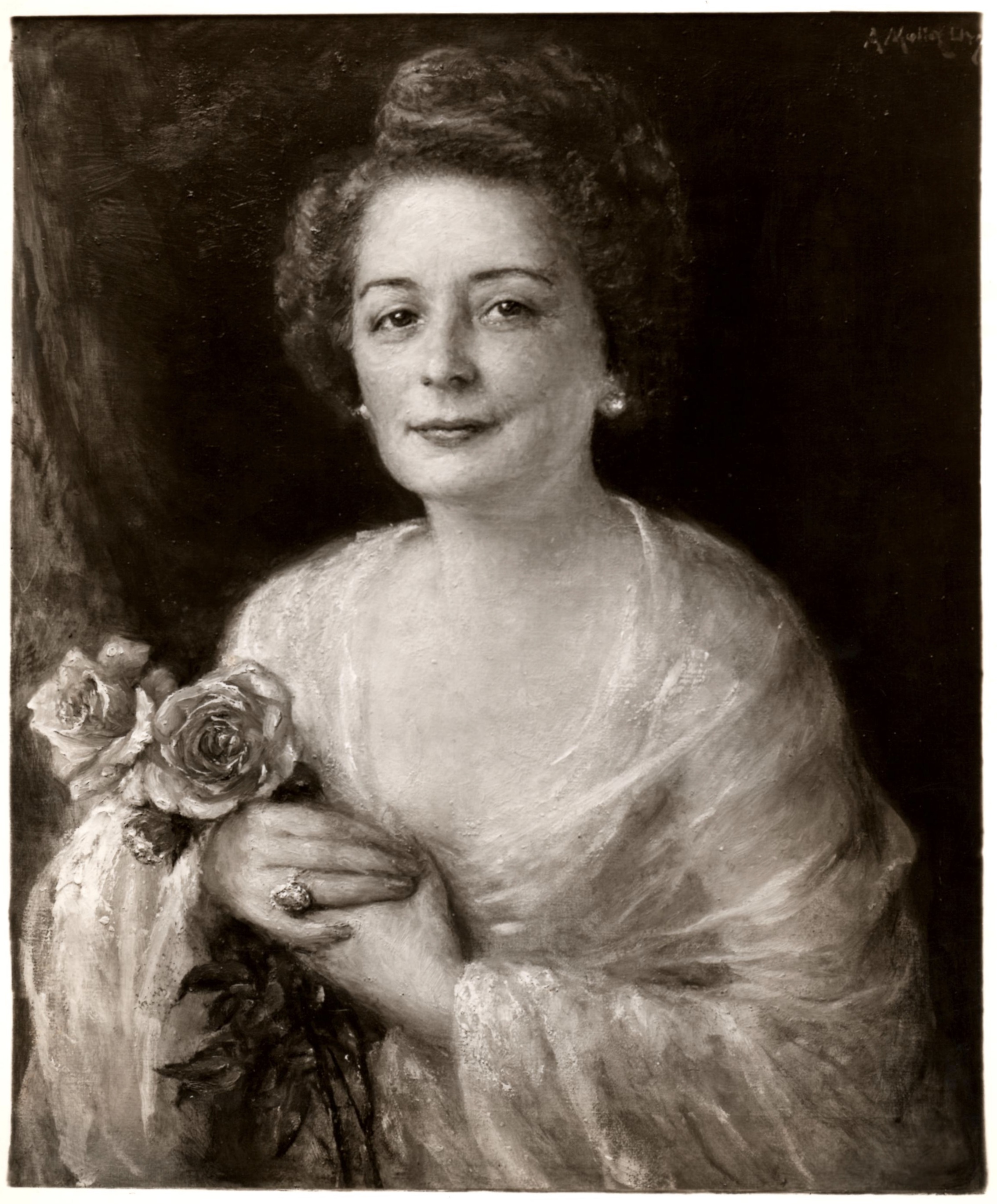 BOSSONG, Mrs Joseph (Evelyn Quenzer)
Description:
Half-length, hands clasping two open roses and a rosebud. Oil on canvas, signed upper right 'A. Muller Ury'.
Location:
Private Collection, Reno, Nevada, U.S.A. (1994)
Provenance:
By Family Descent.
Exhibition:
FRENCH & CO. INC., 210, East 57th Street, New York, April 21 – May 3, 1947, No. 24.
Notes
According to the sitter's daughter, Mrs. Evelyn Bossong Willetts-Baldauf the portrait was the result of a successful bid of $250.00 at an auction, possibly held at the Lotus Club, possibly in 1942, which may have been a benefit for War Bonds. Apparently four other artist's also donated their time and skill.
Notice
: id was called
incorrectly
. Product properties should not be accessed directly. Backtrace: require('wp-blog-header.php'), require_once('wp-includes/template-loader.php'), include('/themes/proud/woocommerce/single-product.php'), wc_get_template_part, load_template, require('/themes/proud/woocommerce/content-single-product.php'), woocommerce_output_related_products, woocommerce_related_products, wc_get_template, include('/themes/proud/woocommerce/single-product/related.php'), WC_Abstract_Legacy_Product->__get, wc_doing_it_wrong Please see
Debugging in WordPress
for more information. (This message was added in version 3.0.) in
/var/www/wp-includes/functions.php
on line
4986
Notice
: id was called
incorrectly
. Product properties should not be accessed directly. Backtrace: require('wp-blog-header.php'), require_once('wp-includes/template-loader.php'), include('/themes/proud/woocommerce/single-product.php'), wc_get_template_part, load_template, require('/themes/proud/woocommerce/content-single-product.php'), woocommerce_output_related_products, woocommerce_related_products, wc_get_template, include('/themes/proud/woocommerce/single-product/related.php'), WC_Abstract_Legacy_Product->__get, wc_doing_it_wrong Please see
Debugging in WordPress
for more information. (This message was added in version 3.0.) in
/var/www/wp-includes/functions.php
on line
4986