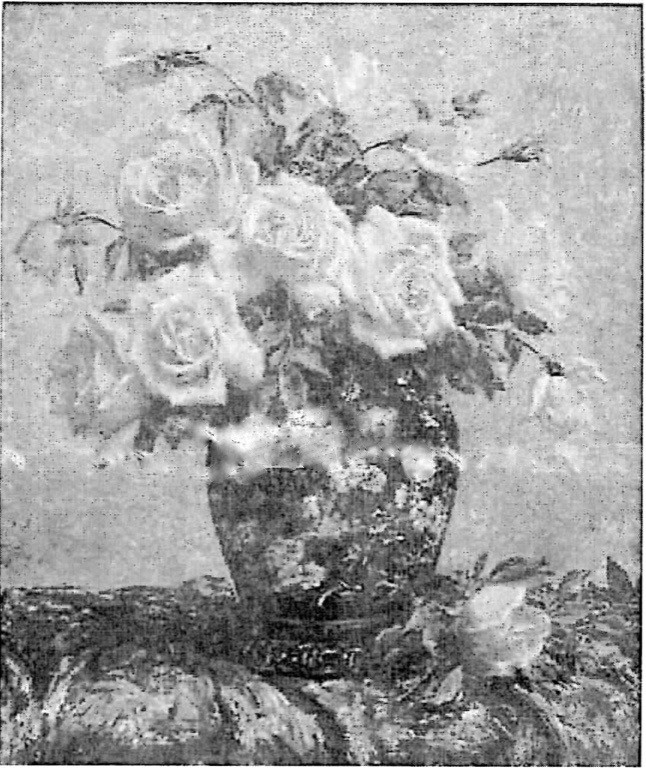 BELLE OF PORTUGAL ROSES IN A FAMILLE NOIRE CHINESE VASE ON A HARDWOOD STAND
Description:
Pink roses in a black Chinese vase decorated with white and pink blossom, on a hardwood stand, standing on a blue cloth. Oil on canvas, 24″ x 20″, signed lower left in red paint 'A. Muller Ury'.
Location:
Present Whereabouts Unknown.
Provenance:
Lady Cunard; Sold Sotheby's, May 10th, 1933, Lot 127, bought by Mrs. H. Warre for £1.10.00; London art market 2000; Sold, Gorringes, Lewes, East Sussex, 18 October, 2001, Lot 2432, £1400; bought by The Cider House Galleries, Bletchingley, Surrey, 2001.
Notes
There is an inscription on the stretcher which says 'Belle of Portugal Roses' in the artist's handwriting and another which reads:
'Bought Sotheby's 30/- May 10th 1933
by A. Muller-Ury The Property of Lady Cunard'
The words 'by A Muller-Ury' are probably in the artist's handwriting. On a small sticker on the stretcher is written the number C8042.
Lady Cunard sold a number of pictures, many of them still lives, in this sale, some by notable artists and including:
Lot 118, Bernard Meninsky, View of Camden Town for £1.10.00;
Lot 104, Mark Gertler, Flower Piece, dated 1921, £6.00.00;
Lot 122, Laura Knight, Flower Piece, 25″ x 20″, £20.00.00;
Lot 134, Marie Laurencin, chalk drawing of a head, dated 1926, £9.00.00;
and two landscapes by Philip Wilson Steer, Lots 125 and 126, which sold for £90 and £50 respectively.
A Maurice de Vlaminck river landscape with cottages, Lot 128, sold for only £11.
Notice
: id was called
incorrectly
. Product properties should not be accessed directly. Backtrace: require('wp-blog-header.php'), require_once('wp-includes/template-loader.php'), include('/themes/proud/woocommerce/single-product.php'), wc_get_template_part, load_template, require('/themes/proud/woocommerce/content-single-product.php'), woocommerce_output_related_products, woocommerce_related_products, wc_get_template, include('/themes/proud/woocommerce/single-product/related.php'), WC_Abstract_Legacy_Product->__get, wc_doing_it_wrong Please see
Debugging in WordPress
for more information. (This message was added in version 3.0.) in
/var/www/wp-includes/functions.php
on line
4903
Notice
: id was called
incorrectly
. Product properties should not be accessed directly. Backtrace: require('wp-blog-header.php'), require_once('wp-includes/template-loader.php'), include('/themes/proud/woocommerce/single-product.php'), wc_get_template_part, load_template, require('/themes/proud/woocommerce/content-single-product.php'), woocommerce_output_related_products, woocommerce_related_products, wc_get_template, include('/themes/proud/woocommerce/single-product/related.php'), WC_Abstract_Legacy_Product->__get, wc_doing_it_wrong Please see
Debugging in WordPress
for more information. (This message was added in version 3.0.) in
/var/www/wp-includes/functions.php
on line
4903