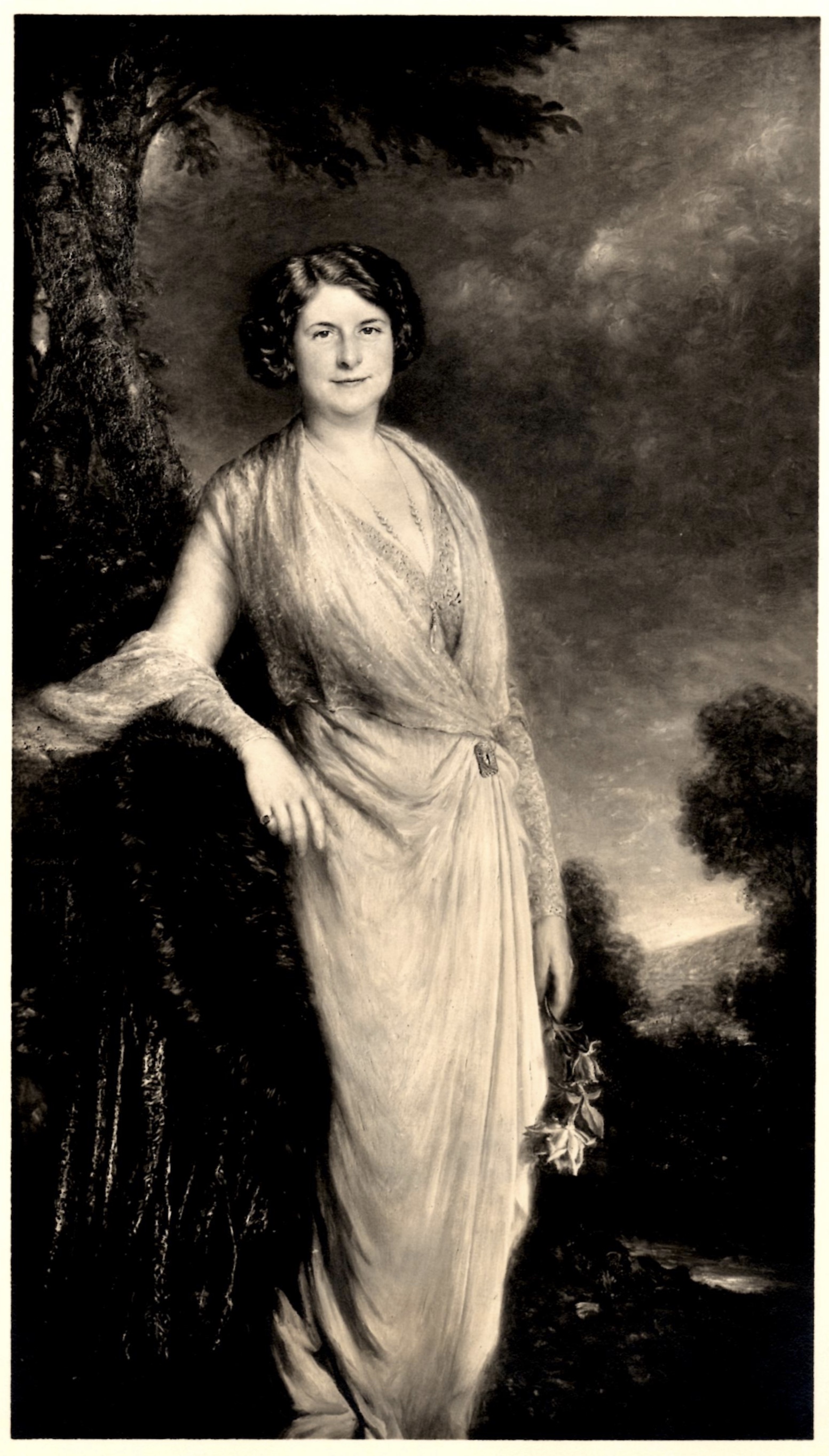 BELL, Mrs John W. F.
Description:
Full-length standing, a rose in one hand, a landscape to the right. Oil on canvas, 60" x 40".
Location:
Present Whereabouts Unknown.
Notes
Painted in 1931. The sitter lived in Beverly Hills at 704, North Bedford (Drive). On Sunday, August 6, 1931 the sitter's husband wrote the following letter (artist's papers):
'My dear Mr. Ury:
We received your note mailed before you left and appreciate very much for taking care of the frame. I am enclosing check to cover same.
Everyone who has seen the portrait thinks it is by far the finest piece of work done in recent years and many are of the opinion that it is a finer piece of work than any on exhibit in the Huntington Gallery. Of course, Mrs. Bell and I concur with the latter class.
We both hope you had a pleasant trip over and are already looking forward to your return.
         With kindest regards, I am,
                      Sincerely, John W. F. Bell.'
The sitter's husband apparently went bankrupt in 1932, and the bailiffs took everything they had, although the Bells managed to save the portrait.  Muller-Ury may not have been paid for his work as he wrote in his diary on February 20, 1932 that his friend Lawrence Newman of Pasadena was very sympathetic because he had chosen when to be paid for his work. The Los Angeles Times 25 February 1932 describes Mr. Bell as a capitalist and actor.
The duotone photograph in the artist's papers is stamped 'Keystone Photo Service, 1231 South Olive Street, Los Angeles, Calif.'
Notice
: id was called
incorrectly
. Product properties should not be accessed directly. Backtrace: require('wp-blog-header.php'), require_once('wp-includes/template-loader.php'), include('/themes/proud/woocommerce/single-product.php'), wc_get_template_part, load_template, require('/themes/proud/woocommerce/content-single-product.php'), woocommerce_output_related_products, woocommerce_related_products, wc_get_template, include('/themes/proud/woocommerce/single-product/related.php'), WC_Abstract_Legacy_Product->__get, wc_doing_it_wrong Please see
Debugging in WordPress
for more information. (This message was added in version 3.0.) in
/var/www/wp-includes/functions.php
on line
4986
Notice
: id was called
incorrectly
. Product properties should not be accessed directly. Backtrace: require('wp-blog-header.php'), require_once('wp-includes/template-loader.php'), include('/themes/proud/woocommerce/single-product.php'), wc_get_template_part, load_template, require('/themes/proud/woocommerce/content-single-product.php'), woocommerce_output_related_products, woocommerce_related_products, wc_get_template, include('/themes/proud/woocommerce/single-product/related.php'), WC_Abstract_Legacy_Product->__get, wc_doing_it_wrong Please see
Debugging in WordPress
for more information. (This message was added in version 3.0.) in
/var/www/wp-includes/functions.php
on line
4986