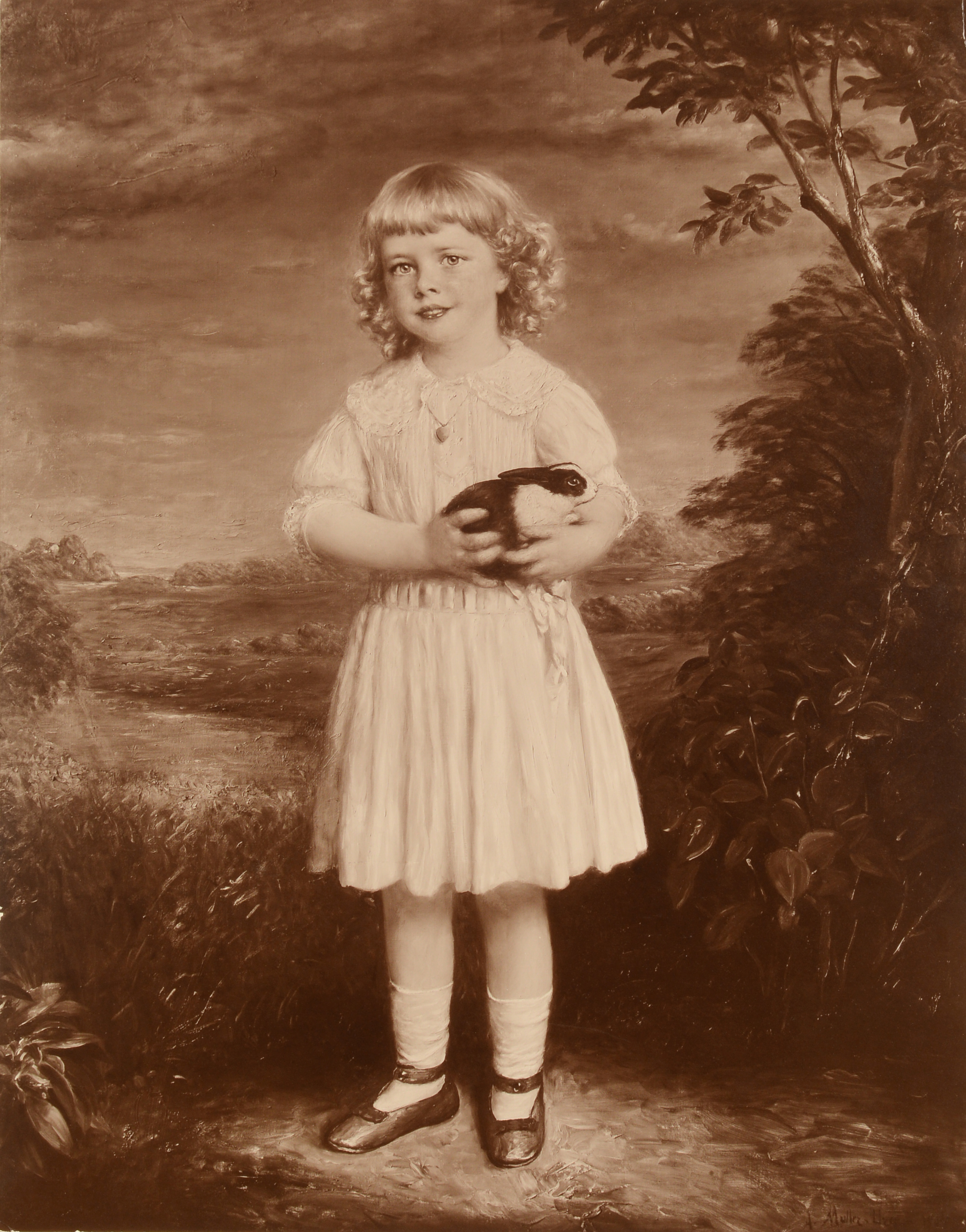 BEARD, Mary (Later Mrs Frederick Havemeyer)
Description:
Full-length, as a child, dressed in white, standing in a landscape, holding a black and white rabbit. Oil on canvas, 50" x 42" (127 x 106.7 cms), signed and dated lower right 'A. Muller Ury 1914'. In pencil on the original gilded frame is written 'Mrs. Beard 47 E 68'.
Location:
Private Collection, Bridgehampton, LI.
Provenance:
By Family Descent.
Notes
The portrait is in an excellent state of preservation. The sitter (born 1911) was the daughter of Ruth Hill, one of the daughters of James J. Hill, who married Anson Beard, a New York lawyer, in 1902. Mary Hill Beard married Frederick ("Fritz") C. Havemeyer V on October 22, 1932. The artist seems to have played a small part in encouraging the pair in their romance.
Monday, February 1, 1915: Mary Hill records in her diary (Hill Family Collection, Minnesota Historical Society, St. Paul) in New York that it was 'A dark rainy day. We went over to 33 West 67th Street to Muller Uri's studio this morning to see Mary Beard's portrait it is really very good.'
Notice
: id was called
incorrectly
. Product properties should not be accessed directly. Backtrace: require('wp-blog-header.php'), require_once('wp-includes/template-loader.php'), include('/themes/proud/woocommerce/single-product.php'), wc_get_template_part, load_template, require('/themes/proud/woocommerce/content-single-product.php'), woocommerce_output_related_products, woocommerce_related_products, wc_get_template, include('/themes/proud/woocommerce/single-product/related.php'), WC_Abstract_Legacy_Product->__get, wc_doing_it_wrong Please see
Debugging in WordPress
for more information. (This message was added in version 3.0.) in
/var/www/wp-includes/functions.php
on line
4986
Notice
: id was called
incorrectly
. Product properties should not be accessed directly. Backtrace: require('wp-blog-header.php'), require_once('wp-includes/template-loader.php'), include('/themes/proud/woocommerce/single-product.php'), wc_get_template_part, load_template, require('/themes/proud/woocommerce/content-single-product.php'), woocommerce_output_related_products, woocommerce_related_products, wc_get_template, include('/themes/proud/woocommerce/single-product/related.php'), WC_Abstract_Legacy_Product->__get, wc_doing_it_wrong Please see
Debugging in WordPress
for more information. (This message was added in version 3.0.) in
/var/www/wp-includes/functions.php
on line
4986