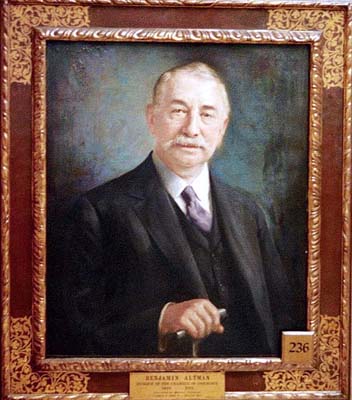 ALTMAN, Benjamin
Description:
Bust-length. Grey haired with grey moustache, dark suit, lavender tie, cane handle in right hand. Oil on canvas, 30" x 25" (76.2 x 63.5cms).
Location:
New York State Museum (2003.41.191).
Provenance:
New York State Chamber of Commerce, New York. Presented by Michael Friedsam, 1925. Given to New York State Museum in 2003 by The Partnership of New York City Inc.
Exhibition:
Probably DUVEEN GALLERIES, 720 Fifth Avenue, New York, April 6 – 18, 1925, No. 4.
Bibliography:
The Art News, Vol. XXIII, No. 27, April 11, 1925
Schweizer Zeitung/American Swiss Gazette, Thursday, April 23, 1925
Collection catalogue (Supplement) 1941, No. 236.
Notes
The sitter was born on July 12, 1840 and was a New York department store owner and art collector who is best known today for his large art collection, which he donated to the Metropolitan Museum of Art. He was the son of Bavarian Jews who emigrated to America in 1835 and who opened a small store on Attorney Street in New York City. After working in his father's dry goods store, Altman set out on his own. In 1865, Altman founded B. Altman & Co., a dry goods store located on Third Avenue and Tenth Street in New York. The company continued to prosper and expanded to several other locations. In 1877, he opened a new store on Sixth Avenue which eventually encompassed the whole city block.
Benjamin Altman was an avid collector of paintings by Rembrandt and Netherlandish and Dutch masters, Italian Renaissance paintings and Oriental porcelain, much of which he acquired through his friend, art dealer Henry J. Duveen, to whom he spoke in Yiddish. The painting collection alone was notable for including a Vermeer and some twenty paintings by or attributed to Rembrandt, all of which, after he died on October 7, 1913, were bequeathed to the Metropolitan Museum of Art to be kept together in galleries set aside for them alone.
It is interesting that this picture was given by Altman's successor in the business, Michael Friedsam, to the New York Chamber of Commerce in 1925. In view of the fact that Muller-Ury painted Friedsam at around the same time as this donation, could this picture perhaps be a cut down and reworked version of the larger one that is lost? Only X-rays and an examination of the canvas edges around the stretcher would confirm whether this was the case.
Notice
: id was called
incorrectly
. Product properties should not be accessed directly. Backtrace: require('wp-blog-header.php'), require_once('wp-includes/template-loader.php'), include('/themes/proud/woocommerce/single-product.php'), wc_get_template_part, load_template, require('/themes/proud/woocommerce/content-single-product.php'), woocommerce_output_related_products, woocommerce_related_products, wc_get_template, include('/themes/proud/woocommerce/single-product/related.php'), WC_Abstract_Legacy_Product->__get, wc_doing_it_wrong Please see
Debugging in WordPress
for more information. (This message was added in version 3.0.) in
/var/www/wp-includes/functions.php
on line
4986
Notice
: id was called
incorrectly
. Product properties should not be accessed directly. Backtrace: require('wp-blog-header.php'), require_once('wp-includes/template-loader.php'), include('/themes/proud/woocommerce/single-product.php'), wc_get_template_part, load_template, require('/themes/proud/woocommerce/content-single-product.php'), woocommerce_output_related_products, woocommerce_related_products, wc_get_template, include('/themes/proud/woocommerce/single-product/related.php'), WC_Abstract_Legacy_Product->__get, wc_doing_it_wrong Please see
Debugging in WordPress
for more information. (This message was added in version 3.0.) in
/var/www/wp-includes/functions.php
on line
4986